"You have to learn the rules of the game. And then you have to play better than anyone else." -- Albert Einstein
It was always my strategy in Monopoly to "fly under the radar" - always concealing my cash and property holdings. I would try to patiently assemble a blend of B and C properties at opportunistic pricing. When my cash account was adequately substantial, I would try to pounce on the trophy deals (like Boardwalk and Park Place) and then I would announce to the others, "this game is over fellas".
Like Monopoly, Excel Trust (NYSE:EXL) has a similar investment philosophy. While many of the larger retail REITs are focusing on densely populated trade areas, Excel Trust has been quietly flying under the radar picking up some very attractive mid-tier shopping centers. In previous Seeking Alpha articles, I wrote about KimCo (here), Equity One (here), and Federal Realty (here) – all mid-cap REITs with similarly focused densely populated demographic models and strategic "high barrier to entry" economic moats.
In all of the previous articles I described the safety of owning a quality shopping center in a market with significant population and an abundance of consumers with above average disposable income levels. As in Monopoly, many of these top-tier shopping centers trade for premium multiples (just like Boardwalk and Park Place!). Cap rates for the trophy, major metro assets are currently trading between 5.5 % to 7.0%; however, similar properties in second tier markets are trading at prices (cap rates) in the 7.5% to 8.5% range. Conversely, these centers are valued at between 100 to 200 bps above similar product spreads. While these trophy assets (in A markets) represent a defined "margin of safety", Excel Trust has built its sound mid-market strategy on a very compelling model aimed at high quality centers in dominant mid-market retail trade areas.
Core Product and Core Markets
Excel Trust was organized on December 15, 2009 and completed its initial common stock offering on April 28, 2010. With initial proceeds of $194.6 million, Excel chartered its mid-market acquisition model with no legacy assets. Although a new player in the game, Excel has been extremely busy over the past year. As of May 1, 2011, Excel owned 26 properties totaling approximately 3 million square feet (in 15 states). In addition to these core retail assets, the company also owns an 82,157 square foot office property (96.4% leased), its corporate headquarters. The company also owns two land parcels comprising approximately 31 acres proposed for retail development and a 50% interest in a property under development. Excel Trust has pursued an aggressive expansion of assets during the previous twelve months (click to enlarge):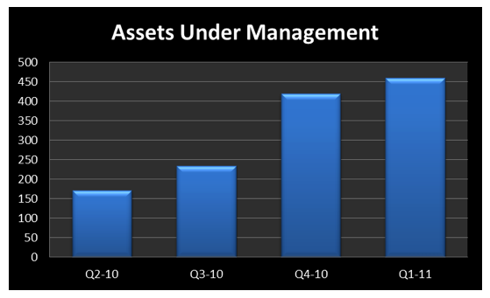 Click to enlarge
Many of Excel's shopping center properties are anchored by investment grade nationwide retailers and grocers. Some of the notable tenants include Lowe's, Publix, Kohl's, PetSmart, Trader Joe's, Pier One Imports, Edwards Theaters, and Old Navy. Recently (4-5-11) Excel acquired Gilroy Crossing, a 473,640 square foot shopping center in Gilroy, CA and also Edwards Theaters, a 100,551 square foot single tenant facility in San Diego, CA. Here is an illustration of accumulated assets acquired quarterly (click to enlarge):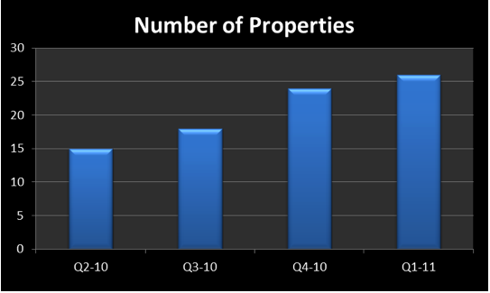 Click to enlarge
Excel Trust has focused its mid-market model on necessity brand tenants with a value oriented sales model. In addition the REITs growth model is to locate in hubs that form a lower circle around the United States. By connecting dots in San Diego, SF Bay, Phoenix, Dallas, Atlanta, and Washington DC, the "smile states" model forms a demographic footprint representing a broad base of retail tenants with above average sales per square foot.
As previously mentioned, many of the second tier markets are less expensive as compared to other towns and conversely, Excel has been able to purchase similar necessity anchored assets at reduced pricing levels. Here is a map illustrating core market acquisition strategies (click to enlarge):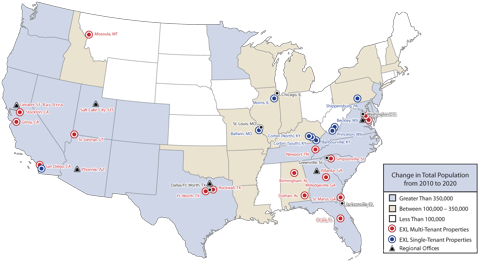 Click to enlarge

Core Management
Although a new REIT, Excel Trust has considerable experience and a proven track record. Many of the senior associates at Excel Trust were assembled during the time in which the company's Chairman, Gary Sabin, launched Excel Realty Trust. Not to be confused with the original Excel Trust, Excel Realty Trust was Mr. Sabin's initial vehicle when he started his career (in 1978) and later formed a public non-traded REIT in 1989. Mr. Sabin's former company, Excel Realty Trust went public in 1993 and had several exceptional years where his company was a top REIT performer (1995 and 1997). After a series of mergers, most of the assets at Excel Realty Trust were rolled into KimCo (2004). The "new" Excel Trust has over three decades of shopping center investment experience and his successful leadership is an essential element of the management team.
Core Results
With around a year of performance under its belt, Excel Trust has begun to assemble a growing portfolio. With 23 income producing assets, Excel has started to build an attractive mid-market revenue stream, as shown below (click to enlarge):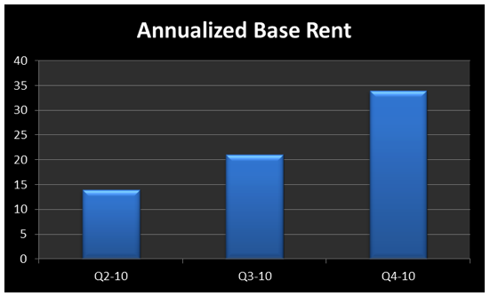 Click to enlarge
Of course, future performance is driven by capital, and during its first year of business, Excel has done an excellent job managing its cash and capital base. As previously mentioned, Excel Trust went public on April 28, 2010 and raised $194.6 million (net proceeds). In addition, Excel completed a preferred offering of $50 million on January 29, 2011, with $47.6 million in net proceeds used to reduce the credit facility and close on the Gilroy Crossing acquisition (April 2011). (The 2 million shares of preferred were at 7% for Series A cumulative convertible).
Recently, Excel amended its credit facility (with joint arrangers Wells Fargo and Key Bank) to increase capacity from $ 125 million to $200 million with an accordion feature that allows an increase of up to $400 million while also removing the interest rate floor, effectively lowering its interest rate by 200 bps. As of March 31, 2011, the credit facility had $36.3 million outstanding and the company had around $4 million in cash.
Core Dividend
As in Monopoly, REIT investors are also income oriented and a REIT investor loves the sustainability of the income stream. As I mentioned, my Monopoly strategy was to build a core base of mid-market properties and multiply the rent levels to force my opponents out of the game. There is nothing like getting rent checks at 3 times multiples and watching cash reserves grow. Compared to its peer REIT players, Excel Trust has one of the most attractive dividend payouts. Driven by its sound acquisition practices, Excel recently declared a 2nd quarter cash dividend of $.15 per common share (up $ .14 from the previous quarter).
With a growing acquisition pipeline, I expect Excel Trust to continue to grow the revenue (and AFFO) model and increase its dividends. Here is an historical illustration of dividends declared (click to enlarge):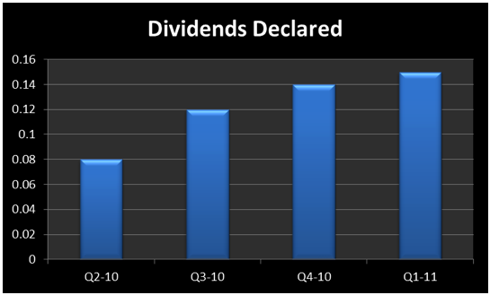 Click to enlarge
Summary
It is no question that many of the publicly traded and non-traded equity REITs have benefitted from the current dislocations in the commercial real estate sector. Because of historically low interest rates, real estate investors have creating some attractive cash yields. In addition, many of the retail REITs are benefitting from the decreasing supply of new product that has caused more demand in retail space (and more rent pressure on tenants of quality product).
In Monopoly, experience is essential to winning. In addition, adequate capital is a must. Experience and capital combined with a well thought out business model are the components essential to winning the game. With over three decades of experience and a well capitalized balance sheet, Excel Trust should provide investors with a growing 5.1 % dividend. In addition, Excel's innovative acquisition model should continue to drive spreads (or cap rates) above 150 bps as compared to many of the peer shopping center REIT sponsors.
By acquiring modestly priced retail assets (in mid-markets) and utilizing low cost capital, Excel Trust should be able to increase AFFO and enhance dividends paid. So as I learned in my earlier days playing Monopoly - the way to win is to make a commitment to your acquisition strategy. And remember, no mercy and no fear!
The stock closed yesterday (6-14-11) at $12.06 and I expect the stock to appreciate 15% or more (to around $14.00 in 12 months) and with the 5.1 % dividend, the new REIT player should generate annual returns in excess of 20%.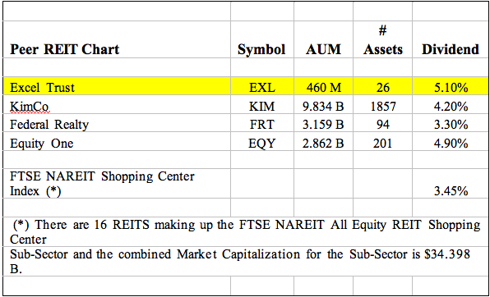 Disclosure: I have no positions in any stocks mentioned, and no plans to initiate any positions within the next 72 hours.