Investors have felt their fair share of pain owning banks this past quarter. The Regional Bank Holders (NYSEARCA:RKH) has fallen 9.56% since the start of Q3, nearly 7% worse than the S&P 500 Index. But, evidence is beginning to suggest banks, including JPMorgan (NYSE:JPM), are about to rally. And, if you're fortunate enough not to have owned the industry this quarter, now is a good time to sprinkle them into your portfolio.
Why? Because Q3 has historically been kind to banks. Across more than 525 large cap stocks in E.B. Capital Markets, LLC universe, the big cap financial sector boasts the best seasonality for finishing the quarter higher than it starts. And, out of the 73 large cap industries, foreign and domestic money center banks are tied for second best for seasonal strength. For its part, over the past 5 years JPMorgan has returned 15.69% on average in the quarter, finishing higher in all but 2007.
Short sellers seem to be paying attention. They've used the past month to significantly cut their exposure to large cap financials. On average, short interest stands at 2.95 days to cover for the sector, down from 4.39 days to cover only one month ago and 3.91 days to cover back in January. At JPMorgan, shares short declined from 35 million to 30 million. At Bank of America (NYSE:BAC), shares short have dropped from 100 million shares to 88 million. At Citigroup (NYSE:C), shares short dropped from 48 million to 42 million. PNC Bank (NYSE:PNC), Suntrust (NYSE:STI) and Northern Trust (NASDAQ:NTRS) are among others seeing a drop in shorted shares.
As a result, volume has been increasing. The 10-day average daily volume of Bank of America, Citigroup, JPMorgan, Wells Fargo (NYSE:WFC) and US Bancorp (NYSE:USB), on average, is 22% higher than the average 90-day daily volume. And, across these same banks, the average forward price to earnings ratio is 7.63. Not bad for a basket with expected earnings per share growth of nearly 30% in 2012. As for JPMorgan, the company has beaten the street earnings estimate in each of the past four quarters, prompting analysts to increase their 2012 earnings per share forecast to $5.64 per share from $5.59 90 days ago.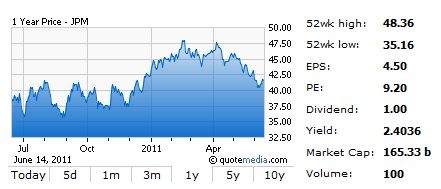 One of the reasons JPMorgan's fortunes may be shifting is the ongoing growth in commercial and industrial loans, a precursor to overall loan activity.
In May, commercial and industrial loans rose to $1,263.9 billion from $1,213.6 billion in November, up 4.1%. This growth has continued into June. The measure of commercial and industrial loans at reporting large commercial banks rose in 3 of the past 4 weeks. And, at $649.4 billion, the measure is up 1.7% month-over-month.
click to enlarge image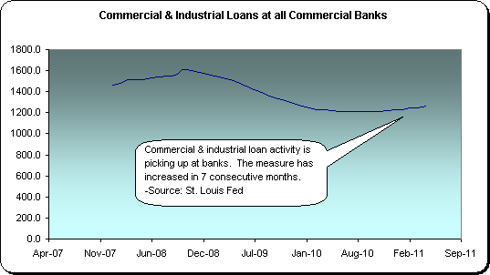 Also, total consumer credit outstanding has increased for 7 consecutive months through April, rising 1.3% to $2.428 trillion since the fall.
Meanwhile, the average net interest margin at banks is dropping - common following spikes in the early days exiting recession. This suggests easier access to credit amid rising demand. Also, non performing loans have fallen at banks for 4 consecutive quarters to 4.82% from a peak of 5.64% in Q1 2010. This has led to a steep drop in charge-offs. At the end of Q1, 2011, total average net loan charge-offs fell to 1.91% from 3.12% in Q1, 2010.
This is also reflected in credit card data. In April, late payments fell in April at all six of the largest credit card companies - including troubled Bank of America, where the rate was 4.52%, down from 4.82% in March. On average, the percentage of those making late payments fell 23 basis points at these lenders to 3.25%. Late payments at JPMorgan came in lower than average, at 3.15%.
All this has sparked resurgence in industry return on average equity, which increased to 7.79% exiting Q1, 2011 from a low of -1% in Q4 2010. At JPMorgan, trailing 12-month return on equity was 11.35% last quarter.
Competition has dwindled too. At the end of Q1 2011, there were 6401 banks, down from 6718 in Q1, 2010, a 4.7% drop.
In February, JPMorgan announced a robust market share grab to fill the gap. The company plans to open as many as 2000 branches nationally, with nearly 50% targeting hard hit California and Florida. This will grow JPMorgan's branch base by 40% and strengthen its brand in regions dominated by competitors Wells Fargo and Bank of America. For its part, Bank of America seems okay with JPMorgan's land grab, given plans to shutter 10% of its offices. Clearly, these two banks are diverging in their branch strategy. But, despite the closures, Bank of America intends to boost the number of bankers at remaining locations - a nod to the importance the industry is placing on wooing cheap customer deposits and cross-selling mom and pop.
Across the industry, the trend toward capturing market share is reflected in hiring. The Monster Employment Index for May showed a 4th consecutive month of expansion for online job postings for finance and insurance.
So, as we move into summer, investors have plenty to think about. Sure, banks have been lousy performers over the past few months. But, sometimes the greatest gains come from the least expected places. Given the evidence, banks like JPMorgan will prove the place to be next quarter.
Disclosure: I have no positions in any stocks mentioned, but may initiate a long position in USB, BAC, RKH over the next 72 hours.