While focusing on banks as a buy side analyst for several investment advisors since 1997, I have seen several examples of temporary irrational behavior by bank investors. During the height of the 'Friday FDIC bank closure' period, there was a tendency for the halted bank to have a monstrous rally right before they were halted.
See examples in Frontier Financial (OTCPK:FTBK), Cowlitz Bancorp (OTC:CWLZ), First State Bancorp (OTC:FSNM), City Bank (OTCPK:CTBK), Merchants Bancorp (OTCPK:MBNC), plus many others that had a last gas rally of 100%-500% in price. It is my belief that certain mutual fund companies that owned these stocks stopped lending them prior to the banks being seized by the FDIC so that the stocks would be squeezed up in price and the funds could then liquidate their positions.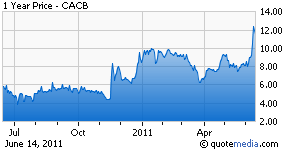 I am definitely seeing the same action in the recapitalized banks. Examples include Cascade Bancorp (NASDAQ:CACB), Hampton Roads Bankshares (NASDAQ:HMPR), Sterling Financial Corp (NASDAQ:STSA), TIB Financial Corp. (NASDAQ:TIBB), and Central Pacific Financial (NYSE:CPF). These banks, which in my opinion should have been closed, were instead recapitalized by private equity at prices close to book value. The stocks then received a reverse split and have, in some cases, moved up in price by 300% - 400%. Two banks on this list still stand out: Cascade, where tangible book value is about $4.4, but the stock is now trading at $12.5 or about 3x book value; and Hampton Road Bank, which is trading at 5X book value.
Cascade's reverse split of 1 for 10 and approximately 40 million shares have just become unlocked with subscription. It will take a few days to have the subscription removed. Holders of Cascade shares recapitalized the bank at $4.00 just a few months ago. So the investors listed below have a 300%+ gain in a few months in a bank with 11% non-performing loans. Once these loans are written off, the book value drops towards zero.
Hampton Road was recapitalized at $10, but then the bank lost more than $5 in book value the next two quarters. So the folks who recapitalized Hampton Road are sitting on a bank selling at $23.5 with tangible value of about $4.50 and non performing loans (bad debt) of about 14%.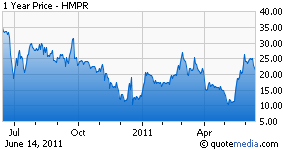 Both companies are going to be added to the Russell 2000 index on June 24. However, what many holders do not realize is that the shares held by strategic investors will not be part of the shares bought by the Russell index additions. I believe that these holders are waiting for Godot! They are not going to get the chance to sell into the Russell additions.
Keefe Ventures Fund, L.P. helped with the recapitalization of Cascade and has 600,000 shares of stock. In the last "What's going to be added to the Russell 2000 release" that KBW put out CACB was suspiciously removed. I called KBW and was told that the firm is restricted on Cascade. Could this be because KBW is negotiating with the Russell buyers to sell its 600,000 shares on June 24th?
With Hampton Road, the company has already filed to sell stock to the public. Does anyone honestly think that educated bank fund managers are going to pay more than book value ($4.5) in a secondary offering for Hampton Road? During the week of June 27th, after the Russell additions are done and these buyers are not able to sell at higher levels, I expect dramatic drops of 80% and 65% respectively in the price of Hampton Road and Cascade bank. As an update to this article, Wednesday morning Hampton Road filed that it is offering 5M shares through Sandler in an ATM equity offering.

Disclosure: I am short CACB, HMPR.