I'm sure we've all heard of Best Buy (NYSE:BBY), the well-known retailer of consumer electronics and entertainment products. The company trades at a notably low valuation based on its earnings power, a fact that has been much commented on. The reason for this may be an apparent lack of clear opportunities to generate growth, but the current free cash flow yield of nearly 16% - once the company's excess cash and investments are taken into account - suggests to me that Best Buy is an attractive candidate at this price even if growth is becoming hard to find.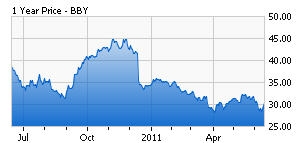 Best Buy recently announced earnings of 35 cents per share, as compared to 36 cents for the first quarter of last year. Comparable store sales were down 2.4% on the domestic front, while international comparable store sales were up 0.4%. Total sales were up 1.4% as compared to the same quarter last year. The company reported growth in the mobile phones, mobile computing, appliances, and services sector, offset by declines in televisions, digital imaging, and physical media. Best Buy's current plan appears to be a push with mobile products and services to replace any possible lost revenue in the company's traditional consumer electronics and entertainment divisions.
The market was pleased with these results, sending the stock up more than 4% on the day of the announcement, although this did occur on a day where the market saw a bounce after a long streak of selling. At any rate, this quarter's results are more or less in line with Best Buy's historical performance, and based on this performance, Best Buy is selling at a very attractive price.
Best Buy's comparable store sales have remained flat or declining slightly every year since 2008, but owing to store openings and the occasional acquisition, total sales have been improving. On top of the focus on the mobile sector, the company is now looking to find savings in its operations, intending to find operating efficiencies and even considering lowering the sheer size of its stores. This ongoing transition has occasioned a significant increase in restructuring charges, which are theoretically of a nonrecurring nature but which may be expected to appear for the next several years, although perhaps at a lower magnitude than currently.
Gross margins for fiscal year 2011 (Best Buy's fiscal year ends in February) increased 0.6% to 25.1% as compared to 2010, but net margins declined to 4.2% from 4.5%. I should note that nearly all of this decline can be explained by increased restructuring charges. 26% of Best Buy's 2011 sales come from outside of the United States, up from 25% for 2010.
Turning now to the financial statements, I first observe significant amounts of excess cash and investments on the balance sheet. Excess cash is defined as total cash and investments minus the extent to which noncash liabilities exceed noncash assets. In Dell's (NASDAQ:DELL) case we have $2208 million in cash and $318 million in investments, total $2526 million. Noncash current assets total $9085 million and current liabilities are $8736. As a result, all the cash and investments may be considered excess, meaning that they may be considered separately from the business's operating assets. Removing $2.5 billion from the current market cap of roughly $11.7 billion leaves $9.2 for the market value of the capital assets of the business.
In terms of earnings, for fiscal year 2011 sales were $50272 million, operating income was 2114 million, excess depreciation was $234 million, producing operating cash flow of $2348 million (not counting interest earned from the cash and investments, which have already been taken into account). Interest expense was $87 million, leaving $2261 million in pre-tax cash flow, or $1470 million after an estimated tax rate of 35%. (All figures taken from Best Buy's 2011 10-K).
Based on the current market value of $9.2 billion placed on Best Buy's business operations, this is a free cash flow yield of 15.9%, which I consider highly attractive even assuming that the company cannot produce any future growth at all. The growth question is not a foregone conclusion, either, considering the company's expansion plans and streamlining of operations.
2011

2010

2009

2008

2007

Sales (millions)
50272
49694
45015
40023
35934
Operating income
2114
2235
1870
2161
1999
Excess depreciation/

amortization

234
211
-510
-216
-224
Operating cash flow
2348
2546
1537
1945
1775
Interest expense
87
94
94
62
31
Pretax free cash flow
2261
2452
1443
1883
1744
After-tax est. free cash flow

(35% rate)

1470
1594
938
1224
1134
(All figures taken from Best Buy's 10-K filings)
As I alluded to before, restructuring charges were $222 million in 2011 and $52 million in 2010. This gap explains nearly all of the decline in free cash flows between the two years. Furthermore, capital expenditures were significantly higher in 2011 as compared to 2010: $744 million as compared to $615 million. If Best Buy is moving in a new strategic direction we may expect to see significant restructuring charges in future, although perhaps not of this magnitude. In the first quarter of fiscal year 2012 Best Buy recorded only $2 million in restructuring charges.
I should also note that fiscal year 2009 contains $177 million in noncash impairments, which have been reversed in the above table, and that capital expenditures were anomalously high: $1.3 billion when in the other years presented they were never above $800 million.
As we see from the annual results, free cash flow generation is very strong and stable. Aside from 2009 and its large capital expenditures, free cash flow generated in any year produces a free cash flow yield of well over 10% based on current prices. And, as I said, based on current free cash flows, Best Buy offers a free cash flow yield of 15.9%, which is unusually high for a company with stable operations and the possibility of modest growth in future. Most companies offering that kind of yield would be in a severe and incurable decline.
It remains to be seen how Best Buy's movement towards smaller, more focused stores will proceed. The company intends to expand its Best Buy Mobile stores, which deal only with mobile phones and related products and services. There are presently 177 such stores operating, and the firm intends to open 150 more in fiscal year 2012. Best Buy Mobile is based on a concept derived from the U.K.-based Carphone Warehouse, in which Best Buy acquired a 50% interest in 2008.
At any rate, it is clear that Best Buy has excellent cash flow generating power, and its earnings are at least stable. As such, the current high free cash flow yield on operating assets of 15.9% suggests to me that the current market valuation is inexplicably low. Therefore, I can recommend Best Buy as a candidate for portfolio inclusion.
Disclosure: I have no positions in any stocks mentioned, but may initiate a long position in BBY over the next 72 hours.