Last week the Organization of Petroleum Exporting Countries (OPEC) released a statement stating that demand for the oil that they produce will be expected to increase by 500,000 barrels a day. This would make the average about 29.8 million barrels every day. For 2011, the Non-OPEC nations are expected to have an increase of over 400,000 barrels a day, which will be added to its 52.7 million barrels. Very often, OPEC's number can be hard to verify. But it is interesting that even in bad economic times, OPEC is calling for more increases to oil demand. In response, the world's largest oil exporter (Saudi Arabia) stated it had plans to increase its production up to 10 million barrels a day. That would be the highest level in 30 years. If the Saudis can produce this increase, they would be adding 1.14 million more barrels a day on the open market. In a follow up response, OPEC stated that by the third quarter, demand will outstrip the total supply by 1.8 million barrels per day.
Whether the actual numbers are correct or not, one can see that demand for oil is still increasing in the current economic environment. As the Saudis made their statements last week about new production, they were successful in moving energy prices lower as fears were eased. It is thought that Saudi Arabia desperately wants to avoid another oil price crash like the nearly 70% drop that occurred in the second half of 2008. Regardless of whether they are successful, the overall trend for energy prices looks to be increasing, based upon higher demand. The question becomes what is the best way to invest in the trend.
The answer to that question is to send your investment dollars north to Canada. Canada is one of the best places to be investing for a variety of reasons. The Canadian banking system seems to be on solid ground, the economy is growing at a rapid rate, and there is virtually no national debt holding back progress. One key to this success is Canada's abundant supply of natural resources, especially oil and gas. If energy is the future, then Canada and its oil and gas industries are where one should be placing their bets. Many of these companies are listed on U.S. exchanges and that is where we will focus our search on this article. There are several more that trade on the Toronto Exchange which are available to U.S. investors through the pink sheets. These companies will be reviewed in an upcoming article so that we can keep this article's length manageable.
Listed below are six companies with brief introductions to aid in analysis of whether they are right for an investment portfolio. These companies should provide outsized gains as world demand for energy continues its march forward.
Enerplus Corporation (NYSE:ERF): Enerplus is a company that engages in the acquisition, exploitation, and operation of crude oil and natural gas assets. The company's property interests are located in western Canada in the provinces of Alberta, British Columbia, Saskatchewan, Manitoba, and Ontario. The company also has operations in Montana, North Dakota, Pennsylvania, West Virginia, Maryland, Wyoming, and Utah. The reserve life for the company is 10.7 years. Production outlook is estimated to be 78,000 to 80,000 BOE/day, which breaks down to 53% natural gas 47% crude oil & natural gas liquids. FY 2011 will be a very active year for Enerplus as it executes one of the largest capital expenditure programs in the company's history; worth over C$650 million. The company does pay a monthly dividend of 7% and looks to grow over the coming years.
Click to enlarge: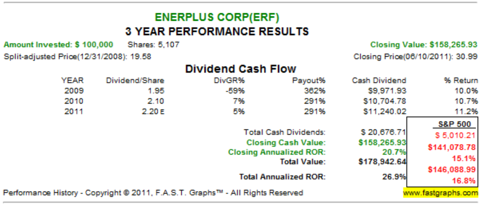 Click to enlarge
Baytex Energy Corp (NYSE:BTE): Through its subsidiaries, Baytex engages in the acquisition, exploration, development and production of petroleum and natural gas in the Western Canadian Sedimentary Basin and the United States. Baytex began as a junior exploration and production company in 1993. It converted to a trust in 2003 and then converted back to a corporation in 2010 as a result of changes to trust taxation laws in Canada. Capital expenditures for exploration and development activities totaled $87.0 million for the first quarter of 2011. During the first quarter, Baytex participated in the drilling of 71 wells, resulting in 60 oil wells, one natural gas well, six test wells, three thermal observation wells, and one dry and abandoned well for a 99% success rate. Needless to say, Baytex is executing its growth plan quite well. Measured from the fourth quarter of 2010 to the first quarter of 2011, oil production was increased by 6%. The company does pay a monthly dividend of 4.3% which should also grow as more production is added.
Click to enlarge: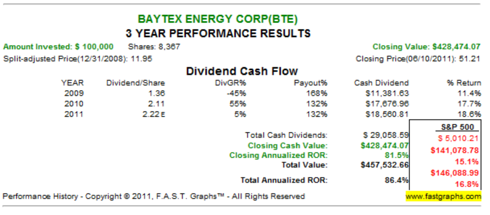 Click to enlarge
Cenovus Energy (NYSE:CVE): Cenovus is a Canadian oil company whose operations include oil sands projects in northern Alberta as well as natural gas and oil production across Alberta and southern Saskatchewan. The company also has a 50% ownership in two U.S. refineries. Cenovus was formed on November 30, 2009 from the split of Encana Corporation (NYSE:ECA) into two highly focused and independent publicly traded energy companies. Cenovus is to handle the integrated oil side of the house while Encana was to become a pure play on natural gas. The company continues to progress along the course it has set to expand operations. Cenovus expects to double the net asset value of the company by the end of 2015, compared with 2010. The expansions and increased efficiencies helped boost first quarter oil production from Cenovus' two oil sands facilities by 14%, compared with a year earlier. The Cenovus Board of Directors declared a second quarter dividend of $0.20 per share, which represents an annualized yield of about 2.2% that is paid out quarterly.
Click to enlarge: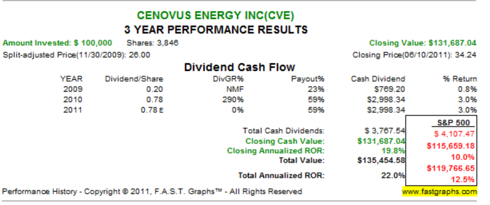 Click to enlarge
Suncor Energy Inc. (NYSE:SU): Suncor operates as an integrated energy company. Its oil sands business, located in northeast Alberta, is the bread and butter of the company's operations and still remains the engine for growth. Studies have placed Suncor with 6.1 billion barrels of reserves on hand. Needless to say, extracting oil from the sands is an expensive process. Oil prices need to remain high to sustain the company, but recently volatility in prices can really affect the bottom line profits. One way Suncor addressed this issue was to acquire Petro-Canada in 2009. The desired results were to make the combined company a more efficient player in Canada's oil patch and insulate the new company from potential foreign takeovers. With the merger, Suncor received a network of more than 1,500 retail and wholesale outlets across Canada, and a specialty lubricants business. Add to this four refineries and the end result was Canada's largest energy company and the fifth largest North American-based energy company. For the first quarter of 2011 the company had net earnings of C$1.028 billion compared to net earnings of C$779 million for the first quarter of 2010. If oil prices remain high and the economy continues to improve, Suncor will be able to continue to move forward on its ten-year growth strategy. The final result will be a Suncor that is one of the most powerful energy companies in North America.
Click to enlarge: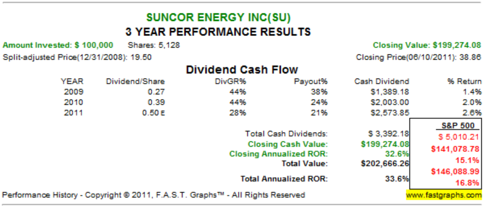 Click to enlarge
Canadian Natural Resources Limited (NYSE:CNQ): Canadian Natural Resources engages in the exploration, development, production, marketing, and sale of crude oil, natural gas liquids, and natural gas. The company also has a good amount of midstream activities include operation of three crude oil pipelines and an electricity generation facility. The company operates in a global arena from North America, the United Kingdom (including the North Sea), and offshore West Africa. Like other Canadian companies, Canadian Natural Resources has been hurt by the forest fires that were burning in North Central Alberta near their oil sands holdings. These fires resulted in the company having to evacuate workers and caused work stoppages. Damages from the fires were estimated to be C$350 million to C$450 million. Luckily for the company, an insurance program should cover the cost of the repair/rebuild. Add to this that the company also suffered a coker fire in early January on its oil sands operations. The result was a revenue decline of almost C$600 million. Looking beyond the string of bad luck for the company, operations seem to be returning to normal. Total revenue of C$2.95 billion was recorded in the first quarter but was down 8.6% from the prior-year quarter of 2010.
Click to enlarge: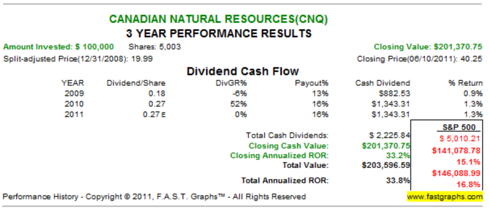 Click to enlarge
Penn West Petroleum (NYSE:PWE): Penn West engages in acquiring, exploring, developing, exploiting, and holding interests in petroleum and natural gas properties in North America. The land mass from which Penn West operates is quite large and totals 6.2 million acres. As a result, Penn West has been on a mission to try and increase its reserves and production. In 2010, strong drilling results led to an increase in the capital expenditures budget for the year from C$800 million to over C$1 billion. The anticipated 2011 expenditures are estimated to be C$1.1-C$1.2 billion. The company drilled 185 net wells in the first quarter of 2011 compared to 65 net wells in the same period of 2010. Gross revenue for the first quarter was C$844 million, which was an increase when compared to first quarter 2010's figure of C$806 million. Penn West pays out a quarterly dividend that is currently a 4.3% yield.
Click to enlarge: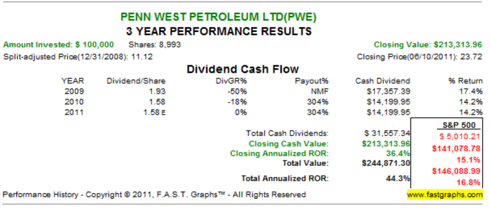 Click to enlarge