While the financial markets as a whole might have a bumpy rode ahead, I believe there are still some quality investments out there to be found. Below are three of my picks:
The Safe, Reliable Pick
BlackRock (BLK) is one of the world's largest investment companies based upon assets under management. The company has strong prospects heading into the second half of 2011. While the global economy continues to improve, so does the value of BlackRock's assets. With $3.5 trillion in assets under management and a market value of $38 billion, BlackRock has become the largest asset manager in the world. Two-thirds of all these assets come from institutional investors alone.
The increasing popularity of ETFs has benefited BlackRock tremendously by giving it a large international distribution network along with increased product reach. BLK sells at a premium compared to its peers; however, I still think it's a strong investment going forward. Analysts agree, with many rating BLK as a solid Buy. Credit Suisse expects BLK to trade at nearly 20 times 2011 earnings within the next year. If true, this bodes well for the stock, as we shall see a significant rise in its share price. With solid analyst coverage, good future prospects, and upbeat global markets, BlackRock should rise to more than $52 a share in 2011, all the way up to $240 a total yield of 28%. Add on to that a yield of 2.8% and you have a solid, safe investment pick to build your portfolio around.
The Long-Term Value Pick
Morgan Stanley (MS) is one of the premier investment banks. Its business operations include everything from investment banking, research, trading, asset management operations, etc. Morgan Stanley is a great pick for 2011 as many analysts predict this stock to outperform both the global markets and the financial services sector. Right now the stock is trading at a significant historical discount; some analysts say based upon MS's multiples that reflect the stock trading at a 60% discount compared to historical averages. This alone makes me want in.
A Morgan Stanley comeback is easily achievable based upon its strong franchise power and world-renowned name. With a rising stock market, Morgan Stanley has a chance to do very well in 2011 and beyond. It offers a dividend, but it's nothing sizeable at 0.7%. What it does have is a strong PEG ratio of 1, along with strong book of business boding well for the future, making me believe the stock can rise as much as 35% all the way up to $35 a share within the next year.
The Risky Pick: Potential 10-Bagger
Bank of America (BAC) is very cheap and probably a good trade right now. Don't believe me, just check out the graph below:
[Click to enlarge]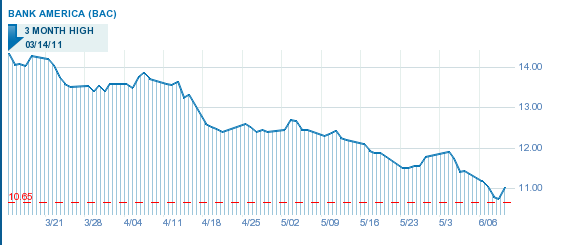 Bank of America has been hammered in 2011, falling 20%, 12% in the past four weeks. Hedge funds have heavily sold off Bank of America in the first quarter, mainly due to the risks I mentioned above about increased regulation and the threats of Basel III. If you were a short-time investor, then BAC would be a risky play as who knows what lies ahead, week by week? Long-term, I think it might be a steal. The business as a whole is still in act, evaluations are attractive, 6.8 times forward earnings, beta value of 2.2, and best of all it's cheap. It's been hit hard,but I think if you were to pick up Bank of America right now anywhere below $11 it would be a steal long-term. Twelve months from now we could easily see this stock trading at around $19, well worth the risk.