VF Corporation (NYSE:VFC) is the world's largest apparel company and a global leader in branded lifestyle apparel with more than 30 brands including: Wrangler, The North Face, Lee, Vans and Nautica. The business is organized into 5 divisions shown below with Q1 2011 revenue (in millions) and related percentages:

............................................Sales.......Percent

Outdoor & Action Sports___$788______41%
Jeanswear_______________679______35%
Imagewear_______________248______13%
Sportsware_______________111______5½%
Contemporary Brands______111______5½%

Total Q1, 2011__________$1937_____100%

2 months ago, VFC updated its long-term targets with new 5-year financial targets. The strategic plan is for a 10% annual revenue growth rate and EPS has a targeted 12% rate. Revenue is expected to rise to $12.7 billion in 2015. Key components of the revenue increase include:

** $3 billion from Outdoor & Action Sports growing 17% annually which should represent half the expanded revenue. The North Face and Vans, accounting for 75% of revenue increase, with targeted annual growth of 16% and 13%, respectively.
** $1 billion from growth in Jeanswear (Wrangler and Lee brands) led by expansion in international markets (i.e. Asia, Europe and Latin America).
** $1 billion from higher revenues across Sportswear, Imagewear and Contemporary Brands.

International revenue is expected to have 15% annual growth led by Asia, the fastest growing market, with revenues of $1.3 billion from a 12% annual growth rate. The largest international markets currently are Europe and the Americas, each targeted to grow 11% annually. The goal is for 40% of total revenues to come from international markets by 2015 with efforts concentrated in Europe, China, India, Brazil and Mexico.

Direct-to-consumer revenue is another important factor in growth and is forecasted to grow 15% annually with more than 700 new stores, bringing the total number to 1500 in 2015. E-commerce revenue is expected to triple to nearly $400 million.

The profitability of Outdoor & Action Sports, international and direct-to-consumer businesses are substantially above the corporate average. Higher growth in these profitable businesses will increase gross margins and operating margins over the next 5 years. By 2015 operating margins are expected to rise to 15% from 13.3% in 2010.

VFC just announced that it will merge with Timberland (NYSE:TBL) a global footwear and apparel company with revenue of $1.6 billion (over half is international) and is expected to close in Q3. It should add $700 million to 2011 revenues and should to be accretive to EPS, 25c in 2011 and 75c in 2012. After the announcement, TBL stock shot up over 40% to approximate the $43 offering price. But VFC also went up with a 10% gain, unusual for an acquirer, based on the expected increase in EPS.

VFC is an S&P 500 Dividend Aristocrat, having increased its annual dividend for 39 consecutive years. With a price of $101, the stock yields 2.6%. If corporate goals are achieved, EPS will be $12 in 2015 (up from guidance of $7+ for 2011), which would imply a $2 increase in dividends (40% of the $5 increase) to about $4.60. The yield based on the investment would be around 4½% in 2015. This plan covers a long time horizon, but management has delivered excellent results in the last 10 years (a difficult for many blue chip companies). Their growth strategy to capitalize on highly profitable, rapidly growing areas of business suggests investment in VFC offers substantial promise for capital growth and a continuation of annual dividend increases.

VF Corporation --- 10 years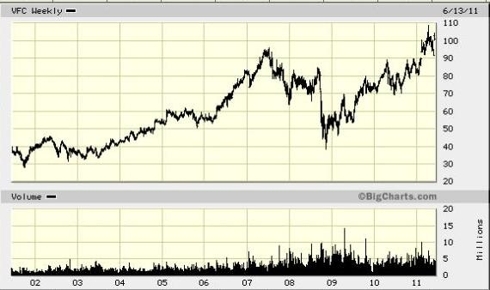 vfc.com

Disclosure: I am long VFC.