The broader indexes have been trending lower since the beginning of May and have been down for six straight weeks. According to Standard & Poor's, sub-sectors within the S&P 500 outperforming the overall S&P 500 benchmark have been Healthcare, Energy, Consumer Staples, and Utilities. The sub-sectors lagging the overall market performance thus far in 2011 have been Financials, Information Technology and Materials.
The S&P 500 published year-to-date performance figures reveal a positive 10.01 percent return for its Healthcare sub-sector, 7.19 percent in Energy, 4.68 percent in Consumer Staples, and 4.24 percent in Utilities. The three lagging subsectors -- Finance, Information Technology, and Materials -- are down by 7.25 percent, 2.54 percent, and 2.47 percent, respectively. The overall S&P 500 YTD performance returned 1.06 percent.
With so many stocks and sectors trading in narrow ranges and being highly correlated to one another thus far in 2011, investors have been forced to look more closely for companies in which demand for their goods and services have clear direction. By breaking down companies into sectors and subsectors based on the products and services they sell, we've been able to uncover the driving forces behind the YTD gains and losses within each of the general categories and their subsectors. The Revere Hierarchy tool pinpointed some very specific areas of strength and weakness.
Leading Subsectors
The Revere
Healthcare
sector tracks some 780 focused companies, those that derive more than 50 percent of their revenues from actual products and services related to Healthcare. In addition, we break them down further into 277 subsectors based on the specifics of what they sell. We found several subsectors that have produced YTD returns of close to four times that of the broader S&P Healthcare subsector and over 10 times greater than the S&P 500.
Interestingly, we found the greatest YTD returns within the Revere Medicare and Medicaid Managed Care sectors. These healthcare insurance programs cover more than 60 million Americans and spend close to $370 billion annually.
The Medicare Managed Care sector returned 49 percent YTD, outperforming the S&P Healthcare sub-sector by about 39 percent. These companies provide HMO medical plans for Medicare beneficiaries.

The Infectious Diseases sector, which is primarily focused on the research and development of effective treatment for diseases caused by bacterial, fungal, and viral infections, returned 43 percent YTD, outperforming the S&P Healthcare sub-sector by 33 percent.

The Medicaid Managed Care sector returned 27 percent YTD, outperforming the S&P Healthcare subsector by 17 percent. These companies provide HMO medical plans for Medicaid beneficiaries, who are eligible individuals and families with lower incomes and available resources.
[Click all to enlarge]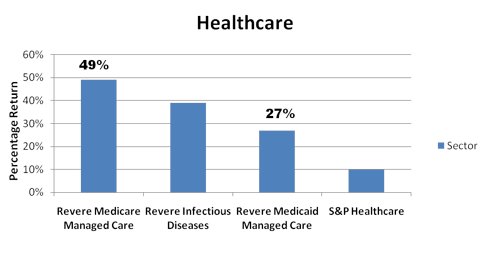 Within the Revere Consumer sector, we track almost 900 focused companies in 317 subsectors. The leaders here were:
Non-alcoholic beverages (25 focused companies) has a 16 percent YTD return. We further break down this sector into four additional subsectors, all of which have outperformed the S&P 500. They are: Bottled Water 14 percent YTD return, Bottling/Distribution 9 percent YTD return, Coffee/Tea/Cocoa 76 percent YTD return, and Juice/Soft Drink 10 percent YTD return. The major drivers have been found in Coffee/Tea/Cocoa and Bottling Distribution. Companies found here have all significantly outperformed the S&P Consumer Staples subsector by as much as 71 percent in the case of Coffee/Tea/Cocoa.

Fast Food Restaurants (30 focused companies) has a YTD return of 17 percent. More specifically within this subsector, we found some larger winners amongst pizza restaurants.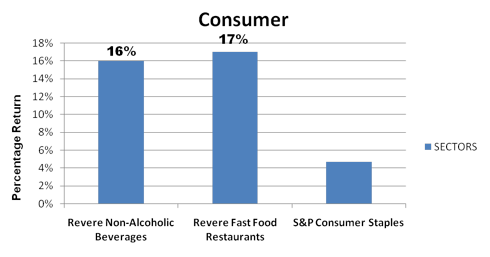 The Revere Energy sector tracks 478 focused companies in 70 subsectors covering Downstream, Midstream, and Upstream production. Looking beyond the obvious leaders such as Crude Oil Exploration companies and Petroleum Refineries, we found two subsectors showing significant outperformance:
Within Upstream companies' support activities, we found that the Well Servicing subsector (seven focused companies) provides well servicing operations such as maintaining and repair of equipment, structure construction, and drilling fluids supply and servicing. This subsector has produced a 30.32 percent YTD return.

Another support activities subsector, Gas Field Equipment Manufacturing/Drilling Equipment (consisting of 31 companies, four of which are focused companies) had a 17.23 percent YTD return.
Medicare/Medicaid Managed Care subsector
Amerigroup (AGP) primarily focuses on serving people who receive publically sponsored healthcare benefits. Current figures reveal AGP earns 23% of revenue from the state of Texas, 15% from Tennessee, 12% from Georgia and 11% from Maryland. In addition to the states mentioned AGP also includes the federal government as well as the states of FL, IL, NV, NJ, NM, NY, OH, SC, and VA as customers. YTD the company has produced a 52 percent return. AGP has exceeded earnings estimates over the last year – Q3 and Q4 of 2010 and Q1 of 2011 -- at 107 percent, 42 percent, and 63 percent respectively.

Centene Corp (NYSE:CNC) YTD has returned 34 percent. With 85 percent of CNC's revenues in Medicaid Managed Care, the state of Texas contributes 30%, GA 17% and OH 13%. The federal government also uses CNC's Medicaid Managed care services along with the states of IN, KS, MA, MO, and WI.
Hansen's Naturals (HANS) – which returned 38 percent YTD -- develops, markets, sells and distributes alternative beverages, including natural sodas, fruit juices, juice blends, juice drinks, energy drinks and energy sports drinks. The strong growth within energy drinks (sports included) has contributed over 90 percent of revenues where growth estimates are expected to exceed 14 percent over the next five years.
Coca-Cola Consolidated Co. (NASDAQ:COKE) returned 21 percent YTD. COKE is 27 percent owned by the Coca-Cola Company and primarily produces markets and distributes its products including POWERade, Vitamin Water, Minute Maid Juices, and Dasani water products.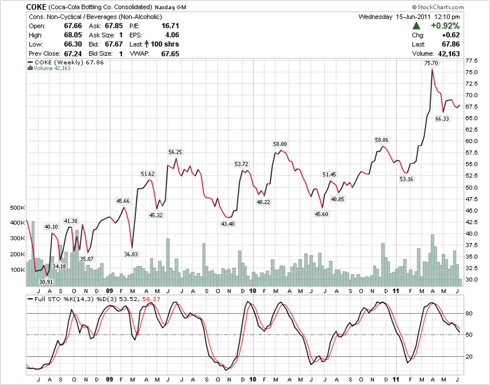 Consumer Fast Food subsector
Domino's Pizza, Inc. (NYSE:DPZ) YTD has returned 46 percent. Two of Domino's business segments, domestic stores and domestic supply chain, contribute 85 percent of revenue. The domestic supply chain division manufactures its dough and crust products, processes vegetables and distributes food, equipment and supplies to all company-owned stores and 99% of domestic franchise stores. Q1 of 2011 showed a 25% increase in oerating income and a 7% net income gain.
Chipolte Mexican Grill, Inc. (NYSE:CMG) produced a 38 percent YTD return. CMG's business model is solid and continues to produce solid growth. Currently CMG numbers reveal a 20.90% revenue growth and 41.10% EPS growth rate, which translates to estimates of $6.82 for 2011 and $8.47 for 2012.
Peet's Coffee & Tea, Inc (NASDAQ:PEET) produced a 21 percent YTD return with strong same store sales and higher coffee prices contributing to EPS jumping to $0.49 in the fourth quarter of 2010; longer term revenue growth is expected to remain steady at 8% on a three-year basis and 12% on a five-year basis.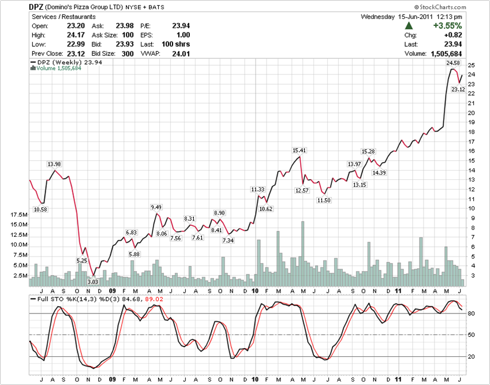 Energy Upstream subsector
Basic Energy Services, Inc. (NYSE:BAS) produced a 54 percent YTD return. BAS provides a range of well site services including construction.
Key Energy Services, Inc. (NYSE:KEG) produced a 25 percent YTD return. KEG provides several ancillary oilfield services in the continental U.S. and through operations based in Mexico, Argentina, and the Russian Federation.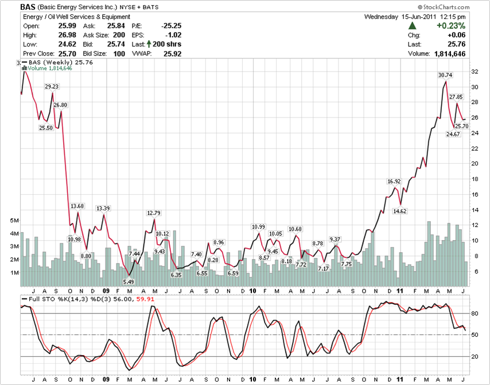 Lagging Subsectors
In the case of sectors that are lagging behind, the Revere Finance sector, which tracks 1,129 focused companies, has produced a YTD performance of negative 7.69 percent. By digging deeper within this sector, we found that the U.S. Domestic Commercial Banks subsector (which includes 355 focused companies) posted a negative 6.04 percent return.
Commercial Banks within the South Atlantic region, which include 86 focused companies in Florida, Georgia, North and South Carolina, Virginia and West Virginia, produced a negative 7.15 percent return, with Commercial Banks in Florida contributing a staggering

negative

30.8 percent YTD return.
Commercial Banks within the Midwest East North Central region, which include 57 focused companies in Illinois, Indiana, Michigan, Ohio, and Wisconsin, produced a negative 8.6 percent return.
Interestingly and in contrast, we found that Savings Institutions in the same Midwest East North Central region, which include 33 focused companies, produced a positive 3.36 percent return.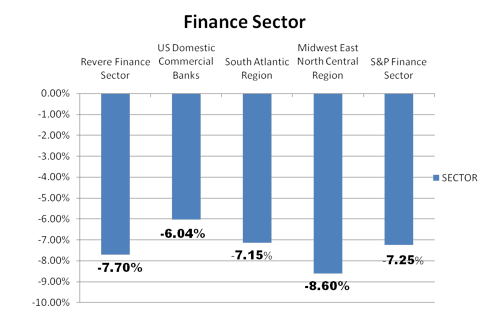 Summary
In the wake of the tumultuous past six weeks, investors have had an increasingly difficult time determining investment opportunities based on the direction of the overall market as well as the major industry sectors. However, using our in-depth hierarchy, investors are able to delve deeper into the sectors and subsectors that have posted differentiated results — both positive and negative.
For example, within the Healthcare sector, the Medicare Managed Care sector posted the highest YTD returns. Within the Consumer Staples sector, the Limited Service/Fast Food Restaurants subsector posted the greatest YTD returns, and within the Energy sector, the Upstream Well-Servicing subsector produced the largest YTD returns.
Among sectors lagging the S&P 500, Commercial Banks in the Midwest East North Central region posted the lowest YTD returns — close to a 10 percent difference from the performance of the market benchmark. Within the Consumer Retail subsector, Classifieds and Directories brought in the lowest returns within the subsector — producing results that were more than 65 percent below the overall market.
Investors should continue to focus on a company's products and services and lean towards companies with clear customer demand as they should continue to lead.