It seems often true in contemporary America that when an absurdity is plainly in view, its origins are found amid the infestations of rules, regulations and tax laws brought on by the federal government. Over the three years ending December 2010, long standing home appliance manufacturer Whirlpool (NYSE:WHR) managed to accumulate just over $1.25 Billion in pre-tax earnings, roughly equal to $14.80 per share. Another $155 Million was poured on over the March 31 quarter, yet over this time the company's aggregate Income tax liability amounted to zero. In fact, income tax credits poured into the registers totaled a not insignificant $128 Million.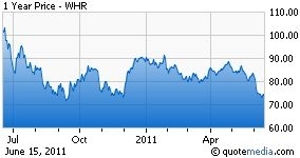 How can this happen? Not easily, but buried somewhere in 40,000 or so pages of codes and regulations is WHR's claim to be green. This current year's IRS largesse is estimated at $4.00 per share, so investors are cautioned against applying literal interpretations and multiples to consensus Earnings Per Share postings now centered on $12. All things in the present state of national finance lead forcefully to the presumption that energy credit provisions in current tax law will not be extended beyond their December 31, 2011 scheduled expiration.
Beyond the pending disruption and the company's perforce return to the more familiar world of both death and taxes is the still parlous state of U.S. new housing construction, which traditionally brought in 22-24% of WHR's revenue streams. Other naysayers on the stock cite a recent buildup in receivables, which are said to "borrow" from future period sales. They may prove right, but the numbers I have recently assembled point to a steady days sales outstanding reading at below 50. A disagreement with the premise necessarily prompts me to dispute the conclusion.
Adjusted 2011 estimates converge at $7.90-8.00 a share (adjusted), with 2012 seen in a zone bounded by $8.00-11.50. Accepting the lower ends still leaves a P/E ratio of less than 10 times at current market. Maybe not the ultimate door prize, but even veteran, jaded investors occasionally need to begin somewhere. It looks to me as though -- barring full throated acquisitions -- $11.00-12.00 a share in Free Cash Flow will course through WHR's checkbooks this and next year, which if so can be applied to several useful purposes:
Common equity is less than 30% of the balance sheet. Some debt repayments recommend themselves.
As with most U.S. long standing industrial manufacturers with a history of unionized work force, WHR 's balance sheet is studded with unfunded pension liabilities, in the instant case equal to over 13.5% of footings and alternatively expressed as an eye-catching $28 per share. The company's workforce of today remains 60% or so under labor union umbrellas.
It nevertheless seems to me that entry into the stock between $70-75 is advisable. Not only would the door be pried open at 12% under the 200-day moving average, but at an inviting 30% dip below the 52-week high. And while this is in no way intended as a prediction, it should be noted that despite its age the company's market capitalization comes to only about $6 Billion. If recent action in Lubrizol (LZ) and Linkedin (NYSE:LNKD) is in fact a harbinger of a resumption in the always energizing animal spirits, it cannot be placed entirely out of question that Whirlpool might find itself the apple in some acquirer's eye.
Nor is there any recent history of product defect, recall or related manufacturing disappointments. In fact, a few recent WHR news headlines -- delivered by outside sources -- read as follows:
Whirlpool Canada named 2011 Energy Star Manufacturer for third consecutive year.
Whirlpool Brand meets homeowner accessibility needs with new ADA-compliant ranges.
It all sounds good to me. I believe the Buy tickets should be fetched from the dryer and placed into active service.
Disclosure: I have no positions in any stocks mentioned, and no plans to initiate any positions within the next 72 hours.