You would think most companies would get hurt by troubled economic times and high oil prices. In the case of Polycom (NASDAQ:PLCM), the opposite may be true.
This company provides communications solutions to enable voice, video and content communications. These solutions make businesses more efficient. They save money. For instance Polycom provides telepresence, room, desktop and personal video products. One person or a whole conference room full of people can meet effectively with another group via teleconferencing without having to travel thousands of miles to get there. With the cost of air travel going up as oil goes up, this would seem a business necessity. Aside from the travel costs, teleconferencing saves all of the travel time, which is a cost too. Not surprisingly Polycom has been doing well lately. It hit bottom at the market low in 2009, and it has been going up ever since. Few stocks have charts that look this nice.
The two-year chart of PLCM is below:
Click to enlarge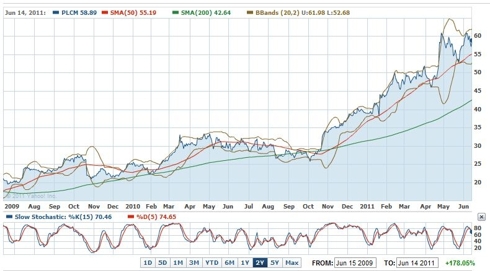 Click to enlarge

Why buy it now? Polycom has just made major new releases. It unveiled five new innovations at InfoComm to further accelerate unified communications. These addressed many major concerns of customers: scalability, interoperability, ease of use, price and performance. Polycom has even addressed the cloud-based networks with new software that gives it carrier class Telepresence in the cloud. It has formed a cloud consortium for open video exchange with leading telecom service providers such as Verizon Communications (NYSE:VZ), Telefonica S.A. (NYSE:TEF) and AT&T (NYSE:T). It has a strong partnership with Microsoft (NASDAQ:MSFT). It has recently made personnel moves designed to strengthen its leadership position in the public sector and in federal business. Polycom has recently bought Hewlett Packard's (NYSE:HPQ) Visual Collaboration Business for $89M in cash. This should help it expand into some of the markets dominated by Cisco Systems (NASDAQ:CSCO). All these announcements should give Polycom some near term upside. If the market starts to rally it should rally strongly with it.
The fundamental financial data in the table below gives an investor an overall view of how viable an investment Polycom is. The data are from Yahoo Finance and TDameritrade.
| | |
| --- | --- |
| Stock | PLCM |
| Price | $59.89 |
| 1 year analysts' avg. price target | $61.83 |
| PE | 53.49 |
| FPE | 21.34 |
| Average Analysts' Recommendation | 2.1 |
| Price/Book | 4.19 |
| Price/Cash Flow | 32.27 |
| 5 Year EPS Growth Estimate per annum | 17.00% |
| Beta | 1.04 |
| Short Interest as a % of Float | 2.40% |
| Total Cash per Share (mrq) | $5.70 |
| Market Cap | $5.20B |
| Enterprise Value | $4.69B |
| Total Debt/Total Capital (mrq) | 0% |
| Quick Ratio (mrq) | 2.48 |
| Interest Coverage (mrq) | 28.28 |
| Return on Equity (ttm) | 8.36% |
| EPS Growth (mrq) | 507.49% |
| EPS Growth (ttm) | 98.00% |
| Revenue Growth (mrq) | 24.63% |
| Revenue Growth (ttm) | 26.41% |
| Annual Dividend Rate | -- |
| Gross Profit Margin (ttm) | 59.26% |
| Net Profit Margin (ttm) | 7.54% |
| % Held By Institutions (from Q1 data) | 98.26% |
All of the financial data above look good. The PE is on the high side, but this stock has been a fast grower. It is slated to grow 45.30 % this year. (Yahoo Finance). With its relatively high grow rate it still can go up. With its total lack of debt it can more easily be highly profitable. With PCLM's multiples I would not want to buy it in a down trending market. However, it has a Beta of only 1.04, which is great for a fast grower. If the market starts to turn around, PCLM merit's a "leg in" strategy. It should move up with the market. It may well move up much more quickly. The markets have been showing signs of rallying. However, today (Wednesday) may not be the day to test them. The EU ministers are having trouble agreeing on terms for the second Greek bailout. Plus Moody's put several top French banks on review for a possible rating downgrade due to their exposure to Greek debt. It might be best to be wary today. For the longer term you will probably want to pay attention to a small company called Vidyo, which may give Polycom some competition in the future.

Disclosure: I have no positions in any stocks mentioned, but may initiate a long position in PLCM over the next 72 hours.