By David Urani
The NAHB (National Association of Homebuilders) gave out its monthly housing market index, which generally tracks homebuilders' confidence in the market. It may not come as the biggest shock, then, that the index took a hit, falling from a reading of 16 to 13, to its lowest level since September 2010. The components were lower across the board, but what really struck me were the expectations for conditions in the next six months, which plunged to the lowest level since March 2009. Unlike late 2009 and 2010, there will obviously not be the benefit of a federal tax credit this year for homebuyers, and it appears homebuilders are really starting to concede to the idea that they are going to have to deal with an anemic market for the rest of the year without the luxury of that incentive. There were previously some hopes for a nice spring rebound but the regular spring selling season has not panned out quite as strongly as hoped.
As we have noted before, it's not just the stagnancy in the overall market that's hitting homebuilders, but the fact that the new housing market is so much tougher than the market for existing homes. The glut of foreclosed inventory, which continues to flow onto the market, is largely competition for new homes, and most of the time the prices are hard to beat.
(Click charts to expand)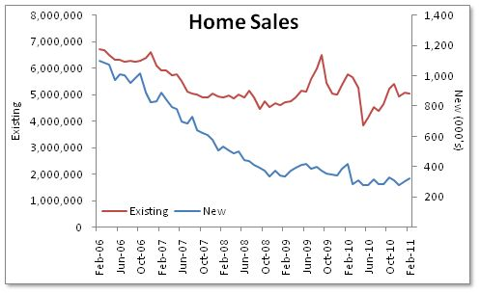 It gets to the point where a lot of the time the projected selling price of a new home in a certain area does not justify the building costs, so the builders don't even try. Add in the fact that for smaller homebuilders, it can also be hard to find credit to fund new construction. Consequently, homebuilders are finding it hard to sell brand new homes. As you can see in the chart below, build to order homes (homes for sale for which construction hasn't started) are few and far between.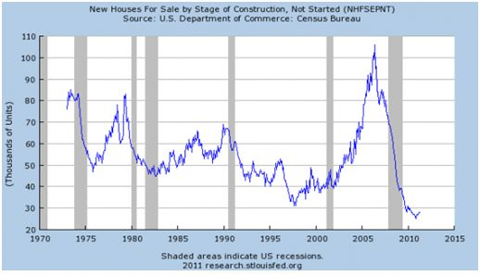 The one area that did show a slight increase in homebuilder confidence during the month was the Northeast, which never really caught the new home frenzy epidemic like the rest of the nation. Nevertheless, the index in the Northeast is still at the second lowest level since October.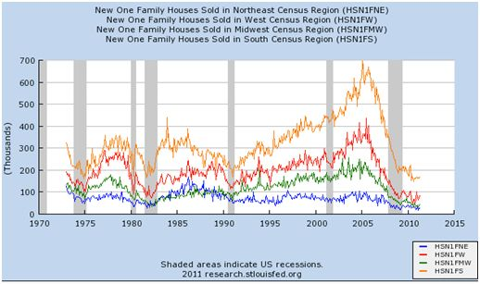 One final item to note is that homebuilders surveyed by the NAHB have begun to bring up the effect of rising materials costs as a deterrent. Costs of copper, roofing, wallboard and other items have gone up, consistent with the inflation seen everywhere else in the economy. That only detracts further from homebuilder gross margins, which were already constrained in the first place.
That's why we're reluctant to invest into any homebuilders until we see some significant improvement in the housing market.