Wednesday was a rough day of trading across the markets as fears over the Greek debt situation weighed on stocks and other risky assets across the globe. The Dow finished down 179 points, close to 1.5%, while the broader S&P 500 and Nasdaq both tumbled by about 1.75% in comparison. Unsurprisingly, shares of European banks and U.S. firms with heavy exposure to the continent were the most impacted, although markets were awash in a sea of red throughout the session. Oil markets were especially hard hit by the fears over Greece, as WTI crude tumbled by more than 4% on the day, only surpassed by a 4.8% plunge in Brent trading, suggesting a grim outlook for European markets. In light of the trend toward safe havens, gold and silver both gained on the day while the soft commodities, led by cotton, corn and wheat, all plunged by at least 2.4% to close out the day. This plunge in commodity markets shouldn't be that hard to believe for investors considering that the U.S. dollar index roared higher by the close to 1.6% to finish the day just below the $76 mark. This was largely the result of a huge drop in value by the euro, which plunged close to 2.7 cents against the greenback, although resource currencies such as the Australian dollar also fared poorly on the day as well. Thanks to this flight to the U.S. dollar, yields on U.S. government debt plunged across the board: 10-year bonds saw yields sink by 13 basis points while the 2-year saw a .07 drop, down below the 0.4% mark once again, as fears over a Greek default came to a head in Wednesday's session. "There are legitimate fears about Greece. It's not unsolvable but it needs more imagination than European leaders are showing now," said David Kelly, chief market strategist at J.P. Morgan Funds.
One of the biggest winners in the ETFdb 60 today was the iPath S&P 500 VIX Short-Term Futures ETN (NYSEARCA:VXX), which gained 8.5% in Wednesday trading. Today's gains came as investors fretted about the prospects of a Greek default and the risk of this spreading to other highly indebted nations such as Portugal, Spain and Ireland. Thanks to these worries, many sought refuge in this exchange-traded representation of the "fear index," helping to propel VXX to a solid day of trading. The product also traded on extremely high volume - over 50 million shares - enough to put VXX on the list of the 20 most traded products during Wednesday's session. Should this extreme volatility continue, look for VXX to continue to surge higher later in the week. If, however, the Greek debt situation miraculously gets under control, look for VXX to slump in the days ahead.
Click to enlarge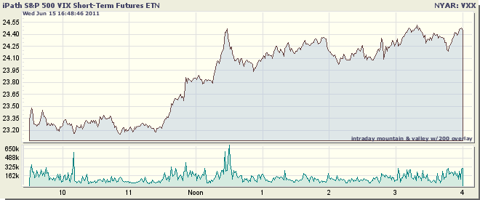 One of the biggest losers on the day was the Vanguard MSCI Europe ETF (NYSEARCA:VGK), which slumped by just over 3.8% in the session. These heavy losses were undoubtedly from the ongoing crisis in Greece which is now on the verge of spiraling out of control. The Greek Prime Minister, George Papandreou, has offered to step down if a coalition government would promise to carry out austerity measures, but at time of writing, there was no word on if that would be accepted by the opposition, further highlighting the political risk in the market. Thanks to this uncertainty, sky high interest rates for Greek debt, and general strikes across the country, some investors are beginning to worry about Western European banks and their credit exposure to the region. According to the Financial Times, French and German banks have a combined $87 billion in exposure to Greece so worries are quickly spreading that there might be a bank run in other nations if Greece were to default on its debt. "Following the deterioration of Greece's creditworthiness, although still manageable, the risk is likely to have increased for certain banks," said Nick Hill, analyst at Moody's Investors Service. "This results from both the direct effects of a potential default and the secondary effects, in terms of a potential deterioration of Greek private sector credit." As a result, VGK, which is roughly 20% financials, saw severe weakness on the day and could continue to face resistance if the Greek market continues to deteriorate.
Click to enlarge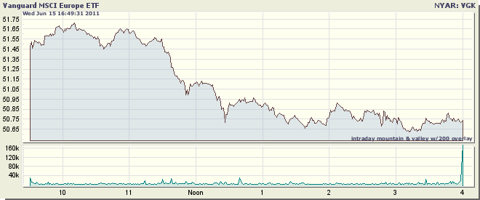 Disclosure: No positions at time of writing.
Disclaimer: ETF Database is not an investment advisor, and any content published by ETF Database does not constitute individual investment advice. The opinions offered herein are not personalized recommendations to buy, sell or hold securities. From time to time, issuers of exchange-traded products mentioned herein may place paid advertisements with ETF Database. All content on ETF Database is produced independently of any advertising relationships.