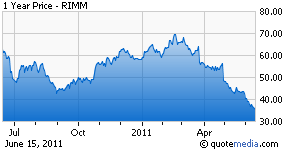 Tomorrow, Research in Motion (RIMM) will report its FY1Q2012 quarterly results. Current Street expectations, which have been lowered twice in the last few months, call for the company to deliver earnings of $1.32 per share on revenues of $5.15 billion. As a reminder, the company twice warned of lower than expected results that reflect share loss, a lackluster product lineup and ASP pressure that reflects greater competition in the smart phone space as well as incremental growth in the mid-and low-tier categories.
While RIMM shares have fallen 50% since mid-February to the current $35.44, I continue to see more risk in the shares as other mobile phone manufacturers, such as Samsung and Nokia (NYSE:NOK), double down on their smart phone initiatives. At the same time, other new entrants that include Chinese manufacturers ZTE and Huawei will further crowd an increasingly competitive space. These pressures will spill over into the tablet space, where Research in Motion's Blackberry Playbook has been less than a success. Apart from issues in the core business, the company is plagued by other issues, including a class action lawsuit that alleges certain of its officers made materially false and misleading statements regarding the company's financial condition and business prospects lawsuits, a patent suit brought on by Dolby Laboratories (NYSE:DLB) regarding the use of digital audio compression technology, and recent management departures. In early May, co-chief executive officer Jim Balsillie took over as the head of marketing.
While RIMM has pre-announced results for the quarter, what really matters when the company reports its results is the guidance it will share. On April 28, when Research in Motion cut its FY1Q 2012 outlook, it maintained its FY2012 forecast for $7.50 in earnings per share. Considering Street consensus estimates for the first half of the company's FY 2012, Research in Motion would have to deliver 64% or $4.75-$4.80 in the second half of the year to hit that earnings forecast. In my view, this will be particularly challenging given the expected onslaught headed into the seasonally stronger second half of the year for mobile devices. I am not alone in this thinking as the Street currently expects RIMM to deliver earnings of $6.76 in FY2012 before falling to $5.60 in FY2013. That $6.76 in FY2012 assumes a 30% increase in second half earnings vs. the first half of FY2012.
In my view, that remains over optimistic. I continue to favor "bullets over guns" in my Powering Connected Devices investing theme and as such continue to recommend shares of Kopin Corp. (NASDAQ:KOPN) and InterDigital, Inc. (NASDAQ:IDCC), the later of which offers a compelling valuation and several pending events that will serve as catalysts to drive the shares higher in the coming quarters.
Disclosure: I have no positions in any stocks mentioned, and no plans to initiate any positions within the next 72 hours.