Many authors, both on Seeking Alpha and other financial publications, have written about the benefits of following insiders as they purchase their own company's stock. After all, who is in a better position to have an opinion about a firm's future prospects than an executive? It is important, however, to look somewhat more closely at the type of buying that is occurring. Open market purchases are far more indicative of an insider's outlook than an option exercise, for example.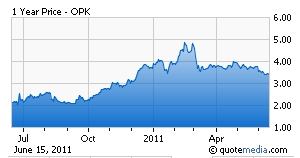 In that regard, one company has stood out recently for the prolific buying of its CEO. I have never seen such consistent open market purchases by an insider as with Opko Health (NYSEMKT:OPK) and its CEO, Philip Frost. Opko Health is a development stage biotech company and is focused not only on pharmaceuticals, but also molecular diagnostics.
As published in the January, 2011 issue of the journal Cell, Opko has had some early success with a blood test for Alzheimer's Disease. The company expects a broader validation study of this test to be completed by late 2011 with marketing to begin in 2013.
They have entered into a non-exclusive agreement with Bristol-Meyers Squibb (NYSE:BMY) on this effort. Although this project is in its early stages, it has significant potential. Protein biomarkers for Alzheimer's is expected to be a $9 billion cumulative market over the next decade. They are also working on diagnostic tests for pancreatic cancer, Parkinson's disease and non-small cell lung cancer among other diseases.
On the pharmceutical side, Opko is developing a protein-based flu vaccine. They purchased rolaiptant and other neurokinin-1 assets from Schering Plough in 2009 and continue its development. It is potentially a best in class anti-nausea treatment which has been outlicensed to Tesaro, Inc., an oncology focused biotech company. The market for anti-emetics is more than a $1.6 billion market. Opko acquired a small equity stake in Tesaro as part of the deal. Opko has also make equity investments in three other development stage biotech companies.
The firm is not an one-trick pony and has numerous programs and partnerships. This is in no small part due to the vision of its founder and CEO, Dr. Philip Frost. By way of introduction, Dr. Frost has had a long career in biotech and finance, having previously served as the Chairman of the Board of Ladenburg, Thallman, Co-Vice Chairman of the American Stock Exchange (now NYSE Amex), Chairman of the Board of Directors of Key Pharmaceuticals from 1972 until the acquisition of Key by Schering Plough Corporation in 1986, and CEO of IVAX from 1987 until is acquisition by Teva (NYSE:TEVA) in 2006. Dr. Frost has a very strong track record of developing pharmaceutical companies and then selling them for large profits, having accomplished that twice in his career.
Dr. Frost certainly backs up his words with actions. He has made open market purchases on forty-one different trading so far days in 2011, purchasing more than 680,000 shares. These purchases bring Dr. Frost's total position to over 40% of outstanding shares (Dr. Jane, Hsiao, Vice Chairman and Chief Techincal Officer owns over 7% of the outstanding shares). Dr. Frost is in the market on a continuous basis on the buy side. If you attribute any weight to insider purchases, Opko Health is a textbook example of a company that's worth a look.
Disclosure: I am long OPK.
Additional disclosure: I may increase my position in OPK in the next 72 hours and do not have any plans to sell my current position.