Since the February high, market participants have been subjected to a stream of weak and worsening fundamental economic data. In the weeks since the June 1st high, this trend appears to have accelerated. Investors have begun to question the viability of an ongoing bull market in the context of an increasingly questionable economic future.
Let's review the recent data (the following tables are courtesy of Briefing.com).
click to enlarge images

Click to enlarge
June 1 began the early morning with news that the Mortgage Bankers Association Index had plunged 5.1% from its previous reading.
From Econoday:
Applications for refinancing dropped 5.7 percent and raised commentary from the Mortgage Bankers Association, which compiles the data, that many borrowers are unable to qualify because of low home equity. The association notes that the last time mortgage rates were this low, refinancing volume was more than 20 percent higher.
While the Challenger Job Cuts data was benign, the ADP Employment numbers were very disappointing. ADP estimated that private payrolls rose only 38,000 in May which was far below expectations for 210,000.
ISM Manufacturing Index came in far weaker than expected, though still a positive number showing growth in manufacturing sector.
From Econoday:
Importantly, new orders slowed a very significant 10.7 points to 51.0, still over 50 to indicate growth compared to April but well under April to indicate a much slower rate of growth. Manufacturers drew heavily on backlog orders which fell 10.5 points to 50.5. Other readings show a significant slowing in production, a moderate slowing in hiring, and decreasing delays in delivery times that are consistent with slowing conditions. Inventories interestingly contracted in the month, suggesting that manufacturers were quick to keep levels down given slowing demand.
Construction Spending figures were a mixed bag and Auto and Truck Sales came in weaker than expected. Overall the data was sufficiently bearish to spark selling in stocks that retraced almost all of the gains from the prior 5 days of rally.

Click to enlarge
On June 2nd, Initial Jobless Claims came in essentially flat and had little market impact. Market participants and commentators began to reflect on the persistence of claims above the 400,000 threshold, however.
The chart begins to show a potential renewed upwards trend in claims: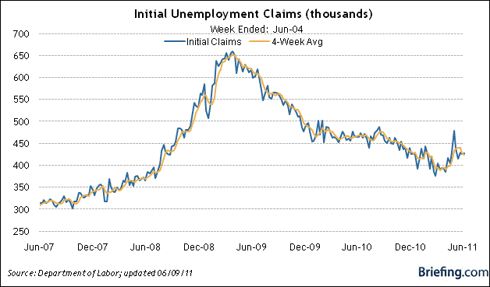 Click to enlarge
Factory Orders fell more than expected and this conformed to the weakness seen in the industrial production and ISM reports. Eventually the market succumbed to additional selling pressure as the data of the day only served to increase suspicions about the economic outlook.

Click to enlarge
Friday, June 3rd saw some additional strong selling as the Unemployment rate rose to 9.1% and Non-Farm Payrolls increased by a only 54,000 jobs, well below the 169k expected. Markets ended at the lows of the day and of the week.

On Wednesday, the MBA Index fell again. Later in the morning, the Fed's Beige Book report indicated that economic growth was decelerating in all but one Fed district. This sparked an additional round of selling in the stock markets.

Click to enlarge
On Thursday the 9th, Initial Claims rose once again, continuing the disturbing pattern of higher claims above the 400k threshold. This time there was little market reaction as a rally which had begun overnight in Asia and Europe absorbed the blow. Stocks rallied to a breakout of the downtrend from the June 1 high.

Click to enlarge
On Tuesday, Retail Sales declined for the first time since June 2010.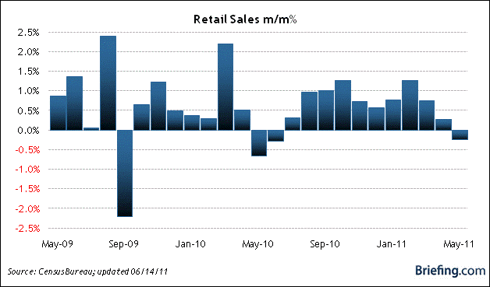 Click to enlarge
The decline was "less bad" than the consensus estimate, and coupled with bad but "less bad" economic news out of China, markets rallied. As we'll see below, it was little more than a technical relief rally and was bound to be reversed.

Click to enlarge
Today, Empire Manufacturing came in far worse than expected and this, coupled with neutral to poor readings in other data, helped to spark a full retracement of the prior day's gains and a close to a fresh low.
Of course there are a variety of views about this data sequence and the market's reaction to it. At this time the consensus opinion appears to be that it represents an anomalous blip related to exogenous factors such as the Japan earthquake and nuclear crisis and the recent flooding in the south of the US. During periods when it's difficult to derive firm conclusions from fundamental data regarding the future of the economic environment, it helps to turn to technical analysis to see if that analytical tool set can shed any light on the situation.
Given the surprise turn for the worse in the fundamental backdrop, it it possible that the markets are in the early stages of a crash or meltdown of some kind? I think there are significant signals in the current market that a crash or meltdown scenario could unfold sometime in the next 1-2 weeks. Crashes are rare events and nearly impossible to predict, but many elements that could combine to produce a financial market calamity appear to be present at this time.
The video below reviews the current technical condition of the major world stock markets. In it I examine each index in terms of the relationship between price and the uptrends from March 2009 and August/September 2010, the April 2010 top and March 2011 low, the 20, 50 and 200 Exponential Moving Averages and areas of significant horizontal support/resistance.
Here's a direct link to the video.
Every major stock market in the world is either hovering just above or directly upon or has already broken a critical area of technical support. Ordinarily this might represent a major buying opportunity. But the current market setup may be anything but ordinary. In fact it may be quite extraordinary.
By moving dramatically ahead of the markets and leading price lower, the market's underlying technicals tend to indicate that a sharp break to the downside is imminent. Many indicators have led the market lower and now price will likely play catch up to the underlying technical condition of the market. Here is just one of many examples: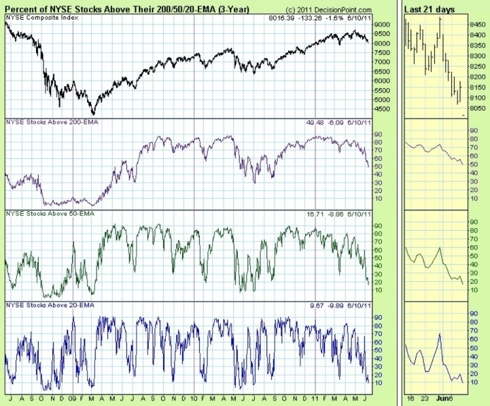 Click to enlarge
In spite of a very modest 7.5% decline over 6 weeks of trading (1.25% per week), Percent of Stocks Above the 20, 50 and 200 EMA have declined to precipitous lows usually associated with huge selloffs. This is a prime example of the technicals leading the market lower.
Here's a closer view of NYSE Percent of Stocks Above the 200 EMA: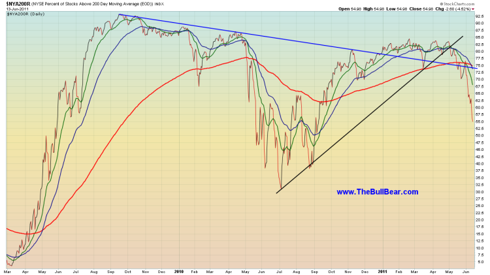 Click to enlarge
Only 55% of NYSE stocks are trading above their 200 EMA after a minor 7.5% correction. Even though market price has yet to take out the March low, the indicator has plummeted below its March low and is not far from its August 2010 low. It's moving averages have crossed into bear market mode. So on a long term basis nearly half of the stocks traded on the NYSE are trapped under long term resistance in a market that is showing historically weak buying pressure and significant and rising selling pressure.
Many analysts are calling this a signal of an oversold market. I think they are wrong. An oversold condition requires some capitulation selling and some fear and we have not seen that. Remember, crashes and capitulations generally come from oversold conditions. An oversold condition is also only a buy signal under bull market conditions and there are many reasons to believe that we are no longer in a bull phase.
There is very little fear in this market. Until today, VIX had barely budged. Today it peeked above downtrend resistance: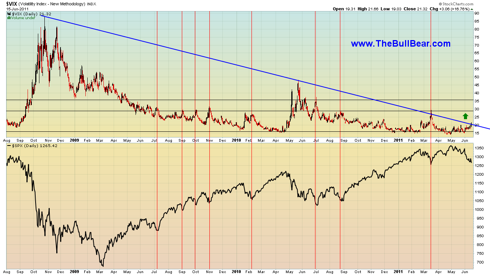 Click to enlarge
Near market bottoms when fear is strong, traders switch to the use of ETFs instead of individual equities in order to insure that there will be adequate liquidity to exit the market in a hurry if things should turn ugly. This is represented in the SPY Liquidity Premium indicator: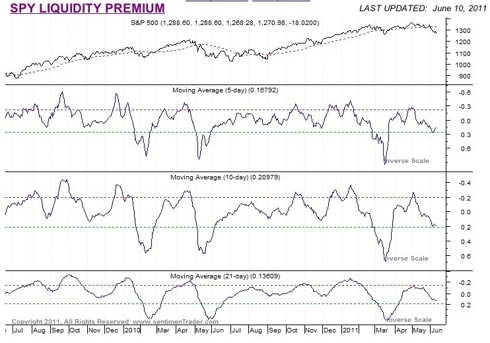 Click to enlarge
Where is this indicator in relationship to its March low or April 2010 low? Not even close to showing the fear usually associated with a bottom.
This technical evidence tells me that the selling HAS BARELY EVEN STARTED. And it is likely to get started soon. Today's action may have been the harbinger of much more to come.
When you have a situation where price needs to play catch up to the underlying technicals and market participants are not fearful and are still buying the dip, you have the recipe for a selling panic of some kind.
Tuesday's weak bounce was just another selling opportunity. Early action in Asia, US futures and the Dollar suggested that the upwards correction was over already: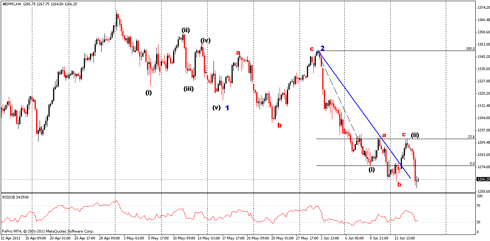 Click to enlarge
This is wave C as I see it at this time. 2 of C was a large abc flat and (ii) of 3 of C may have been a smaller version with c falling short of a, making it a bearish running flat.
The NYSE closed the day below its 200 EMA after bouncing off it on Tuesday. Volume on Tuesday's rally was POOR but volume on Wednesday was strong: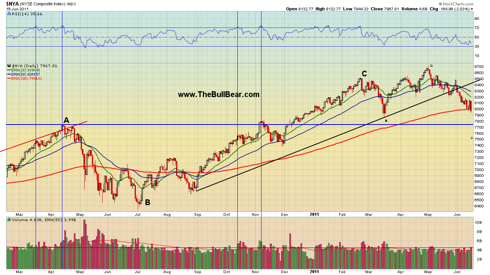 Click to enlarge
On the Tuesday decline, volume was lower than the 50 MA of volume, lower than any of the down days in the month of June.
Summation Index actually FELL on Tuesday's rally and continued strongly today: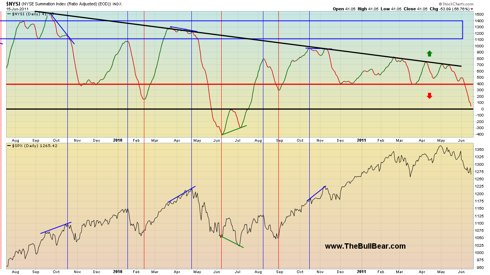 Click to enlarge
On Tuesday, in spite of the rally, McClellan Oscillator gave a negative reading (though higher than the prior day) and the 50 EMA did not budge at all: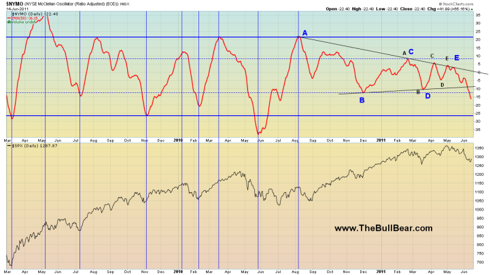 Click to enlarge
Breadth Thrust Indicator FELL on Tuesday's rally, a particularly ominous sign, since if this were a real bottom of any kind there would be a breadth thrust signal of some kind: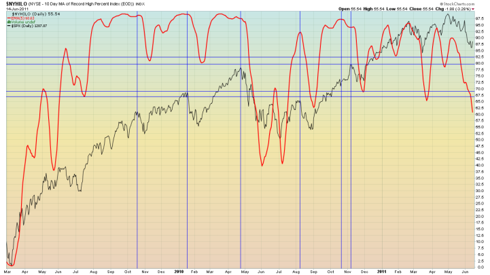 Click to enlarge
Many other indicators, such as Bullish Percent Index, did not even register a blip. It was evident to the astute analyst that the technical quality of Tuesday's rally was very poor and would be easily reversed.
A move from risk to cash is likely under way, as the Dollar Index moved strongly to close just above its long term downtrend: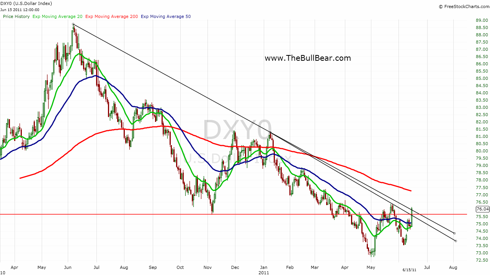 Given the overall fundamental and technical picture described above, I think it is squarely within the realm of possibility that not only is the bull market over, we may be in the early stages of yet another violently bearish episode. This is not time for investors to remain complacent or attempt to catch a falling knife.

Click to enlarge
Initial Jobless Claims, Housing Starts and Philadelphia Fed reports will be released this morning and may provide the news catalyst needed to send markets into a tailspin of selling if they support the thesis of fundamental economic weakness. Leading Economic Indicators and Michigan Sentiment on Friday could be the coup de grace to end the week.
Disclosure: I am short SPY.