Over the last two weeks a lot about Imax (NYSE:IMAX) has been said that could be correlated to the recent downtrend in the stock itself. Though the general market has fallen several percentage points, Imax is leading itself, as it has fallen more than 15 % from its highs just a few weeks ago. Currently trading at $30.21, Imax is undervalued.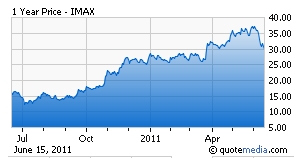 3D is a fad: For any Imax investor, this argument for Imax's eventual fall is the most frustrating. First of all, CEO Richard Gelfond has made it clear on several occasions through presentations and Q&A that Imax is not dependent on 3D format. Imax provides the best theater experience in the world and the medium of which the film is displayed does not change this experience. Super 8, with only a 50 million dollar budget, is being displayed in 2D in Imax. One week into its release, the film will exceed the budget and will be labeled a success. This film will have three weeks to run before Cars 2 will take over most Imax screens, but either way, Imax theaters have grossed 12% of the box office with only 4% of the total theaters. With the premium, this still shows a great incremental increase in the number of those who are willing to see a film in either 2D or 3D. (2011 IMAX Analyst & Investor Day, IMAX Corp at JPMorgan Technology, Media and Telecom Conference)
Finite Theaters: Gelfond has made it clear that the estimates of 1,200 zones is not static and that as international and domestic markets grow or stabilize, this number will have an increasing correlation. Imax has discovered that theaters in locations they previously thought of as a low potential zone have shown to be the most rewarding in both Imax revenue and exhibitor demand as incremental bodies travel to these theaters and therefore increase exhibitor revenue as concession increase accordingly. This is just the domestic argument.
China's government entertainment division has made estimates of theater growth to 40,000 screens in China by 2020 in which Imax is poised to gain from their long term relationship with exhibitors and their reputation. Looking at box office revenue alone, it is easy to notice that many international markets love movies more then the U.S. Consumer. Russia and China both complement huge demand in box office figures with only a fraction of the exhibits in these locations, in which demand exceeds supply. The best theater, Imax, will help fill this void in demand and continue Imax expansion. (2011 IMAX Analyst & Investor Day, IMAX Corp at JPMorgan Technology, Media and Telecom Conference)
Analyst Estimates: For Q2, estimates for revenue come in around $72 million. With installation and maintenance accounting for more than box office last quarter, the bullish case is easily made that box office revenue, as it has increased exponentially from the first 3 months, and installation and maintenance will easily meet this estimate. Imax accounts for 5% of box office revenue of those films released in Imax, i.e. Fast 5, Thor, Pirates, Born Wild, Kung Fu Panda II, and Super 8, with Cars 2 still to go.
Summer is always the 'full force ahead' release time of the year as distributors go after summer vacation consumers and better weather. When the case is made in which Imax theaters are not showing these films long enough, it is complete nonsense. The exhibitor chooses what film they want to show with their Imax product or Imax makes the decision with their joint revenue ventures. Either way, they are capitalizing on the distributors' advertisements and therefore are maximizing their revenue.
Imax today is completely different than that of Imax a decade ago. With expansion through demand, whether margin on sale of product of joint revenue ventures, Imax will have a very remarkable future as more exhibitors look to buy the product and directors and distributors look to Imax for the best medium outlet for their media.