In the following graphs, we show how the Dax index clearly overperformed other eurozone countries equity markets since 2003 when the Germany economy started to benefit from structural reform implemented in early 2000.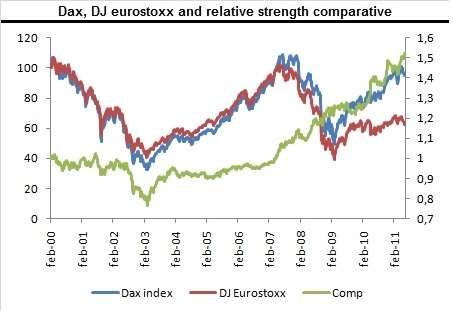 The relative strength comparative of the Dax index versus the DJ Eurostoxx (Dax index/ DJ Eurostoxx) is still in an upward trend and we expect this trend to continue in the next few months. Indeed, the German economic outlook is stronger than the outlook of other eurozone major countries:
1) According to the Spring '11 European Commission estimate (.pdf), the German economy should grow by 3.6% in 2011 and 3.5% in 2012 (nominal GDP growth) versus 3.1% and 3.5%, respectively for the eurozone;
2) The public account outlook is rosy, with the deficit/GDP ratio expected to decline from 3.3% in 2010 to 2% in 2011 versus 4.3% in the eurozone (source: European Commission);
3) The IFO business confidence index remains close to its historical high, signaling that the strength of the Euro and the ECB tightening monetary policy may have a limited impact on the German economy;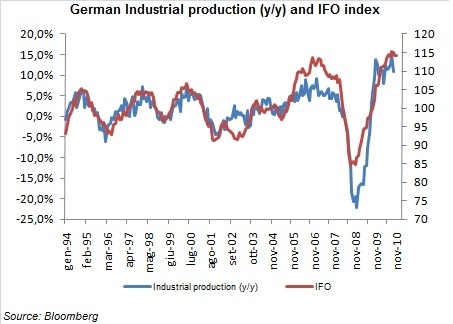 4) The real exchange rate is lower than in other major eurozone countries, a sign the competitiveness of German companies is higher than other eurozone economies;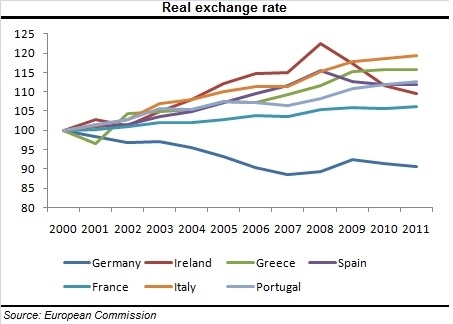 5) Consumer spending may improve from H2 '11 as the unemployment rate is in a steady downward trend (it fell to the historical low of 7.1% in April), and may boost consumer spending, especially in durable goods orders after the weakness of demand in the last few years;
6) Germany may attract more foreign direct investment than the UK (actual leader) according to a recent Ernst and Young report in the coming years.
With the economic outlook for Germany still positive, we expect that the overperformance of German equity markets may continue in the years ahead. For this reason, investors that want to diversify in the eurozone should consider EWG, the iShares MSCI Germany index ETF
Disclosure: I have no positions in any stocks mentioned, and no plans to initiate any positions within the next 72 hours.