By Carlos Guillen
Affected by the rapid rise in commodity costs that have been occurring since the middle of last year, consumer prices continued climbing during May. Perhaps the fact that prices are increasing is not a major cause for concern; however, the fact that the increase is occurring at an unexpected rate is sure to raise some flags.
This past Tuesday, the Labor Department reported that The Producer Price Index (PPI) for finished goods rose 0.2 percent in May (month-to-month), which was higher than the 0.1 percent that the average economist expected. On a year-over-year basis, PPI increased 7.3 percent, as the cost of raw materials has been on a rapid uptrend. While wholesalers have been able to attenuate some of these rapid price changes, they are more and more passing these costs to the consumer. Reflecting this dynamic, the Department of Labor announced on Wednesday that the Consumer Price Index (CPI-U) increased 0.2% in May, landing higher than the Street's estimate of 0.1%. Excluding the food and energy contributions to inflation, core CPI was 0.3% higher than the Street's estimate of 0.1%. Perhaps a bit encouraging was that CPI increased 3.6 percent from the year-ago level, which was a much smaller rate of increase than that of PPI.

Click to enlarge
While I would like to see inflation resulting from strong demand for goods, this does not appear to be the case. What is much more likely is that the cost of raw materials is rising very quickly with end demand remaining somewhat stagnant. In fear of losing revenues, wholesalers have been sacrificing gross margins, but this scenario appears to be changing faster than many anticipated, causing CPI the increase faster than consensus estimates.
Contrary to public perception, inflation is not necessarily dangerous for an economy; however, unanticipated inflation can certainly throw a wrench in the macroeconomic gears, and today's unexpected inflation data will surely sound the sirens at the FED. Moreover, the fact that wages have been virtually stagnant while prices have been increasing much faster is a recipe for a consumer spending slowdown. What this means is that already battered consumers are really taking a wage cut. Consumer spending is a very critical component of the economy, currently representing 71% of GDP, and if consumers hold back on spending as a result of difficulties in meeting budgets, the economy can dip back into another recession. Government spending could help, but with tight fiscal budgets, that will be unlikely. At the end of the day, consumer spending has to be sustained on its own legs, not assisted by the government.
Up until now consumers have been expecting inflation as they look far into the future, but their inflation expectations have been decreasing as their economic outlooks have also been moderating. The logic here is that consumers are not as optimistic about strong demand as they were back in the beginning of this year. Six months ago, this optimism had lifted GDP expectations quite high, consequently lifting inflation expectations, but simmering optimism has pulled back inflation expectations.
From a different perspective, I can observe that the yield curve has been shifting lower. The higher GDP growth expectations back in January had allowed for a sharper upward sloping yield curve (the blue line below), but economists in general have been pulling back on GDP growth estimates allowing for a less upward sloping yield curve (the green line below). The reason why this occurs is because reductions to expected GDP growth rates are usually caused by a softer expected demand, which in turn reduces expected inflation rates. Lower inflation rates reduce the cost of borrowing, since lenders require less return to overcome the lower rise in the prices of goods; this is what caused the yield curve to shift down in the chart below.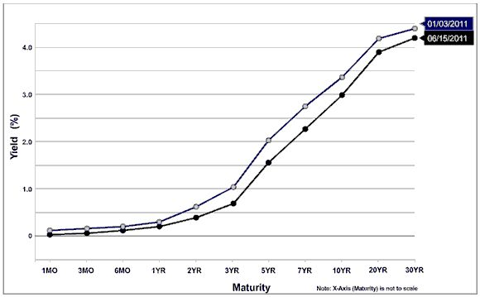 Click to enlarge
In conclusion, my fear is that inflation is beginning to become unpredictable, and this unpredictability will cause inefficiencies that will slow economic growth. As already mentioned, one of these inefficiencies is that wages will not increase as fast as inflation, essentially giving Americans a greater than expected wage cut, causing a serious consumer spending retraction.