The domestic equity markets are driven by earnings driven by growth in the economy. Currently there seems to be a divergence between the S&P earnings' estimates for this year and next and the respective estimated GDP. Each is going in opposite directions.

The most recent aggregate estimates for the S&P 500 is for earnings per share to be up 15% this year and half again that in 2012. In contrast, economic growth is being ratcheted down. With high food and gas prices in the U.S., GDP is in peril of slipping below 3.0% in 2011. While some will argue that half of the S&P 500's earnings come from overseas, the global GDP is estimated to be hovering slightly above 3.0%.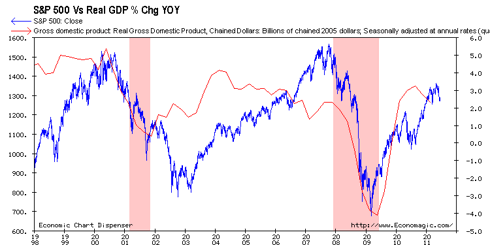 Additionally, there will less likely be incremental gains from labor productivity and lower financing costs to boost earnings. This issue intensifies if the dollar is the last currency standing in an unstable euro environment.
As a consequence, something's got to give. Either estimated earnings will have to come down, or economic growth rates will be raised. I'd probably bet on the former. If earnings come down, either the stock market adjusts by moving lower or the price earnings' multiple will expand allowing the market to retain its current valuation. It's unlikely that stock multiple expands. The key component for "multiple" expansion is interest rates. The lower the interest rates, the higher the multiple.

[Click to enlarge]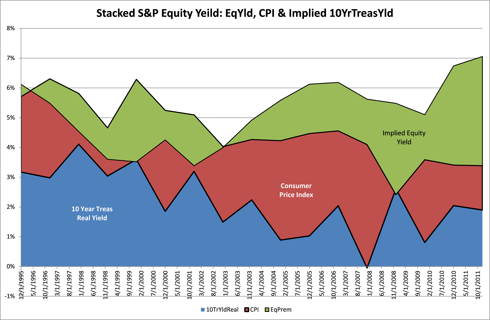 Click to enlarge
The chart demonstrates the projected equity yield is well above the historic norm, implying earnings estimates are too high and will likely come down taking stock values with them.
The next several weeks will be a dangerous time to be an equity investor for the short-term.
Disclosure: I have no positions in any stocks mentioned, but may initiate a long position in SH over the next 72 hours.