Last week, my ETF Pullback strategy (see below for details and performance information) played for a bounce in what would have to have been considered by pretty much any technical analyst to have been a badly oversold market. Here was last week's list; a group you would not necessarily have wanted to have played had you anticipated trouble ahead:
First Trust Consumer Staples AlphaDEX (NYSEARCA:FXG)
PowerShares Dynamic Energy E&P (NYSEARCA:PXE)
PowerShares Dynamic Energy (NASDAQ:PXI)
PowerShares Dynamic Sm. Cap Growth

(PWT) *

Rydex S&P MidCap 400 Pure Growth (NYSEARCA:RFG)
* NOTE: As of June 16, this fund will be known as the RAFI Fundamental Small Growth Index and the ticker changes to PXSG.
The good news is that we did, indeed, get an oversold bounce. The bad news is that it was confined to just one day.
The news that may perhaps be more disconcerting is that it really didn't seem to have made much of a difference whether or not I was in the "right" ETFs. Figure 1 is a screen shot tracing my live-money performance over the past two weeks.
Figure 1
[Click all to enlarge]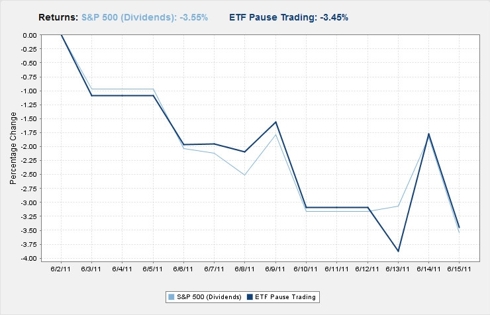 At first glance, you might just observe that I pretty much matched the market and say, "Whatever." But followers of this series may recall that two weeks ago, the model specifically sent me into a very defensive ETF group, exposed mainly to consumer staples, which should have fallen less than the market as a whole. That did not happen. Last week, the model went into a group better suited to bullish conditions, which should have underperformed a down market. Except for one oddball aberration, that too did not happen.
That suggests it really doesn't make a difference what you own. If it's a stock, it's getting slammed, or at least it will get slammed as long as investor sentiment remains the way it is. In other words, the market seems to be de-emphasizing analysis and simply rejecting equities as an asset class, with exceptions more likely to be random than systemic, suggesting the only viable solutions may be cash or short ETFs.
For the week ahead, the model is taking an intermediate view. It's emphasizing ETFs with silver exposure:
My first reaction when I saw the list was to cringe. But on reflection, considering why the market has been so horrible, this list might have a shot at succeeding. After all, the current bearish catalyst is the increasingly pessimistic view of Greece's deteriorating financials, and as Greece struggles, we have to wonder how far behind Portugal, Ireland, Italy, Spain and the rest of the euro zone will be. Notwithstanding some recent pain the model experienced with the correction in silver prices, perhaps an emphasis in hard assets, spiced by exposure to economies that might be seen as non-core to the events du jour, might just work this week. I'm crossing my fingers.
To create this model, I started with a very broad-based ETF screen I created in StockScreen123.com.
Eliminate ETFs for which volume averaged less than 10,000 shares over the past five trading days.

Eliminate HOLDRs (I don't want to be bothered with the need to trade in multiples of 100 shares).

Eliminate leveraged and short ETFs (I think of these as hedging tools rather than standard ETF investments of even trading vehicles).
Then I sorted the results and select the top five ETFs based on the StockScreen123 ETF Rotation - Basic ranking system, which is based on the following factors:
120-day share price percent change -- higher is better (15%).

One-Year Sharpe Ratio -- higher is better (15%).

Five-day share price percent change -- lower is better (70%).
The idea of using weakness as a bullish indicator is certainly not new. But often it's an add-on to other factors that, on the whole, emphasize strength. Here the weakness factor is dominant, with a 70 percent weighting.
This model is designed to be re-run every week with the list being refreshed accordingly. I trade through FolioInvesting.com, where I pay a flat annual fee rather than a per-trade commission, so I don't care about the fact that turnover form week to week is often 80-100%. If you want to follow an approach like this but do have to worry about commissions, the strategy tests reasonably well with three ETFs, or even with one. (Cutting the number of ETFs is far preferable to extending the holding period.)
Figure 2 shows the result of a StockScreen123 backtest of the strategy from March 31, 2001 through Dec. 30, 2010.
Figure 2
Figure 3 covers the past five years, a very challenging market environment that witnessed the fizzling of many strategies that had succeeded for a long time.
Figure 3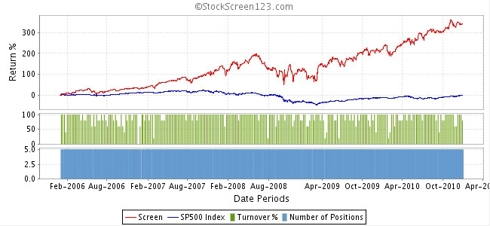 Figure 4 is a screen shot from the FolioInvesting.com account I use to trade the strategy.
Figure 4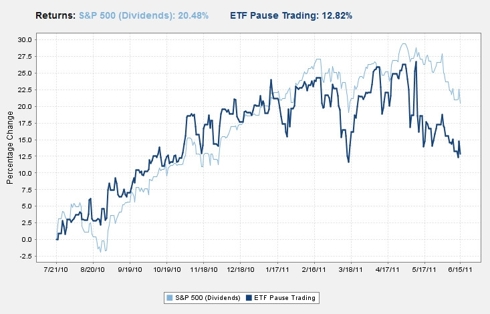 As noted in recent weeks, the model has been on a cold streak as trends have come and gone with unusual rapidity. Volatility, noteworthy for being low early on, has really picked up of late as the model wrestled with commodity-related gyrations, the most recent of which has had an especially deleterious impact on performance.