Investors buying MREITs need to distinguish between 100% agency MREITs vs. hybrid MREITs. Non-agency backed MREITs possess more risk than agency-backed securities. Hybrid MREITs will hold mortgage debt which is not backed by government-sponsored entities.
American Capital Agency Corp (NASDAQ:AGNC) defines agency securities, page 6, as:
"These investments consist of securities for which the principal and interest payments are guaranteed by government-sponsored entities ("GSEs"), such as the Federal National Mortgage Association ("Fannie Mae") (OTCQB:FNMA) and the Federal Home Loan Mortgage Corporation ("Freddie Mac") (OTCQB:FMCC), or by a U.S. government agency, such as the Government National Mortgage Association ("Ginnie Mae"). We refer to these types of securities as agency securities and the specific agency securities in which we invest as our investment portfolio."
Non-agency securities are addressed in the book "The Handbook of Non-Agency Mortgage-Backed Securities", by Frank Fabozzi. The book's chapter "Risks in Non-Agency Securities" identifies the risks of a non-governmental mortgage security vs. a governmental sponsored mortgage security. Non-agency securities include senior debt securities issued by financial institutions, and any non-collateralized securities pledged by a non-governmental institution. Third party guarantees, made by non-governmental institutions, carry the risk of inability to cover a mortgage security payment during times of severe economic stress.
An example of a government sponsored entity is Fannie Mae. Fannie Mae is approved by the U.S. government to issue agency-backed mortgages up to the following limits:



A hybrid MREIT, which holds non-agency currencies, risks the loss of book value if the mortgage security defaults. A non-agency backed mortgage security offers less legal recourse to collect than from a GSE. If a non-agency MREIT security defaults, then the hybrid MREIT is likely to incur a portfolio loss. This net portfolio loss can decrease the MREIT's book value. The book value is what MREITs utilize to issue secondaries. Investors focus upon book value to determine what the MREiT's net value is based upon borrowings, lendings, and hedging actions.
As agency MREITs provide 12%-18% annual dividend yields, investors are currently receiving high yield dividends backed by GSE paper. To error on the side of caution, an investor can focus exclusively on agency MREITs and not risk loss of share value due to non-GSE backed securities.
American Capital Agency Corp. (AGNC)
AGNC invests solely in agency securities. The company's business model is to monetize the discrepancies in the relative valuations in the agency securities market. This value creation is based upon positive difference between interest earning assets and the interest costs of the company's borrowings as well as the ongoing hedging activities.
AGNC currently offers a 18.4% annual dividend based upon a $30.37 share price. The company announced a $1.40 second quarter dividend. The ex-dividend date is June 21st.
Click to enlarge



Digging into the SEC financial statements, page 13, the investor can identify the type of agency securities owned by AGNC. AGNC owns agency-MREITs backed by Federal National Mortgage Association ("Fannie Mae"), the Federal Home Loan Mortgage Corporation ("Freddie Mac"), and the Government National Mortgage Association ("Ginnie Mae").
Click to enlarge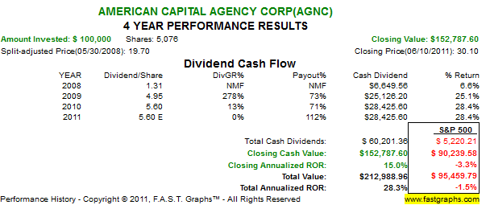 Chimera Investment Corporation (NYSE:CIM)
Chimera business model allows the company to stray into the non-agency MREIT playing field. This explicitly means CIM is exposed, if its non-agency securities default, it leads to book value deterioration and potential dividend cuts. My decision is to avoid this business model due to the extremely rich dividends paid by 100% agency MREITs.
Click to enlarge



CIM owns, as of quarter ending March 31st, $4,964,554 (figures are priced in millions) in non-agency securities. This represents a 48% of CIM's total assets. In an economy with weak housing prices, this is a significant percentage of total mortgage assets. I want to avoid this name and focus upon a pure agency security MREIT.
CIM's five-year total annualized returns have been abysmal compared to the agency backed sector. The five-year average rate of return was -26.9%.
CIM's current annual dividend yield is 15.8%. The first quarter dividend was 14-cents. On an annual basis, this is a total dividend of 56-cents.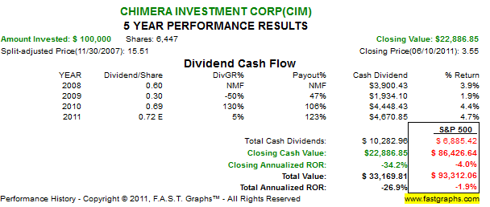 Hatteras Financial Corp (NYSE:HTS)
Hatteras is a 100% agency-securities MREIT. HTS's four-year rate of total annualized rate of return stands at 15.4%. The company's MREIT assets include only agency-securities.
Hatteras book value is $26.11 as of March 31st. HTS announced a $1.00 per share quarterly dividend. The dividend is payable on July 22nd. The ex-dividend date is June 23rd.
The stock currently yields a 15.3% annual dividend yield. This assumes a $4.00 annual dividend and a current $28.78 stock price.
Click to enlarge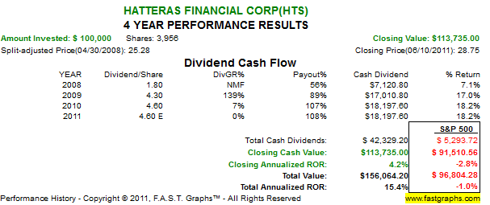 Annaly Capital Management, Inc. (NYSE:NLY)
Annaly invests primarily in agency-securities, per the recent 10-Q, page 6:
"The company invests primarily in mortgage pass-through certificates, collateralized mortgage obligations and other mortgage-backed securities representing interests in or obligations backed by pools of mortgage loans, and certificates guaranteed by Ginnie Mae, Freddie Mac or Fannie Mae (collectively, "Agency Mortgage-Backed Securities")."
NLY's FIDAC subsidiary externally manages Chimera investments. Per page 12 of NLY's 10-Q, Annaly, as of March 31st, owns 45 million shares of hybrid agency MREIT Chiimera. To the extent CIM loses book value per share, this will be reflected on NLY's fair value estimate of CIM common shares.
Annaly has an impressive 15.7% total annualized rate of return over the past five-years. This significantly beats the S&P 500's rate of return of -.9%.
NLY is currently providing a 13.8% annual dividend yield based upon an $18.35 stock price. The first quarter dividend was 62-cents per share.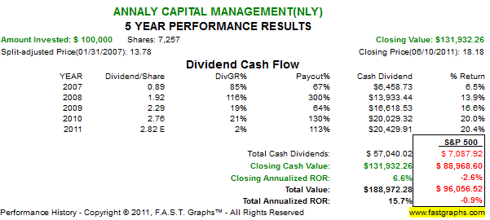 Disclosure: I am long AGNC.