You will have trouble finding two companies that are more opposite of one another than Netflix (NASDAQ:NFLX) and Apple (NASDAQ:AAPL). First, take a look at their respective stock prices. Then, compare the quality of what each company offers consumers as well as their balance sheets. I will not insult your intelligence by outlining the obvious disconnects.

While voicing scant concern over AAPL's absurdly low valuation, the media continues its Netflix lovefest. Nick Bilton of The New York Times jumped on a study that shows Netflix as a primary reason why people cancel or scale back on cable television service.

Bilton led off his testimonial noting that he canceled cable about two years ago and watches video entertainment on his Internet-connected TV. Bilton also notes the study found that, among adult broadband users in the U.S., Netflix subscribers are twice as likely to downgrade or ditch their cable service altogether. Of the 34% of survey respondents who noted that "a growing use of online video" caused them to make the switch, one-third cited Netflix as the main reason why.

Full access to the study will set you back $2,500 so I opted for the executive summary. Here's the part regarding Netflix as the impetus for giving the cable company the old heave-ho:
Click to enlarge




First, I would love a copy of the study. One thing missing from both Bilton's report and the summary I cited is data regarding statistical significance. For instance, following the number trail - 34% of 2,000 respondents (assuming they all answered the question) is 680. Two-thirds of 680 equals 449. There's a good chance that's significant, but I'm not sure. I'm also not sure the extent to which other variables played a role. I also do not know which control variables the researchers used and which ones did not make the cut. Never take research at face value. If you cannot look under the hood, it's not worth much. And I would not pay $2,500 without any guarantee as to a study's rigor.

The study, as well as Bilton, acknowledges that economic concerns contribute most heavily to people's decisions to make cable-related changes. While you can logically construe these results as positive for Netflix today, I'm not sure they paint a bright picture for the future.

First of all, can Netflix continue to do what it does for $8 a month? I've covered the ground of rising content acquistion costs and programmers' concerns over dilution of their content in previous Seeking Alpha articles. At day's end, Netflix will probably have a hard time charging much more than $8 a month for access to old movies and reruns. That leads me to something Bilton left out of his article.

If he's a big television viewer, I think it's safe to presume he needs more than Netflix to feed his appetite. Most television watchers that I know have a slate of new shows, original programming, news and sports that they want to watch every week. This tells me that they've got to be going elsewhere for their fix, be it Hulu, a stream of CNBC, Disney's (NYSE:DIS) ESPN app, or some type of TV Everywhere offering. Of course, for some of these services, you need a cable subscription and/or Internet service from a particular provider.

Bottom line - while Netflix stands as a major online streaming draw, what they do (a) merely fills a niche and (b) has the same appeal as two t-shirts for $4 bucks at the local Wal-Mart (NYSE:WMT). We're not talking about standing in line overnight for an iPad 2 social cache. If you're going to get rid of cable, there's probably a good chance you switched to satellite (I assume that's in the study). But, more so, you're probably putting out more than $8 a month or streaming free on-demand programming via other sources. Calling Netflix a cord cutter, then, is misleading. If your only choice online was Netflix, you'd likely be much less likely to give up cable.

On a related note, Netflix wants me back. I put my account on hold last year. I subsequently canceled. And, all of a sudden, I'm getting emails asking me to return.

Click to enlarge




I really appreciate the efforts. And if I can ever find the time to watch all of those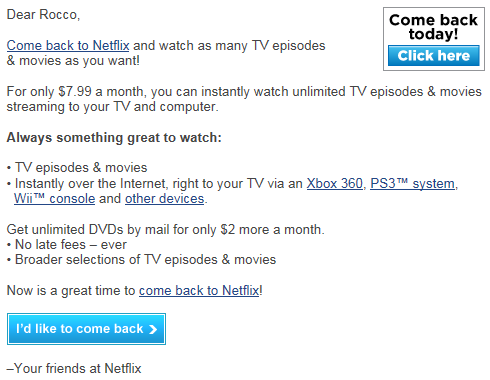 documentaries, old movies, and cult films I had in my queue, I might rejoin. What I'd like even more, however, is for my "friends" in the Netflix Investor Relations department to send me an email. It's not without precedent.

I've asked them questions and received replies in the past. They even read and answered one of my emailed questions on their last pseudo-conference call. For the past week, however, I have been trying to get the company to respond to the story I wrote for Seeking Alpha detailing the proposal that overwhelmingly passed at this month's Netflix shareholder meeting.

In short, a shareholder activist got a proposal on the ballot asking to change the number of votes needed to pass motions involving major corporate governance issues from a super majority to a simple majority. Netflix's board opposed the proposal. They lost big. You can read the details here.

For whatever reason, literally no other media outlet has determined that the story is important enough to report. I guess this gives Netflix IR carte blanche to ignore my repeated requests for comment? Here's a screen capture of my latest plea:
Click to enlarge



Reed Hastings speaks frequently. He recently sat down with All Things D for a wide-ranging interview. I'm not sure if her hands were tied ahead of time, but Kara Swisher failed to ask Hastings questions that might actually matter to investors, particularly about content acquisition costs and off-balance sheet obligations. Again, management dodges the uncomfortable questions that might actually give investors better color on the sustainability of NFLX's undeniable momentum.

By a similar token, when some 20 million-odd shareholder votes go in favor of a proposal that could alter the way your board and upper management does business, you'd think the least you would do as a company is respond. The non-response from Netflix says quite a bit about what it thinks of its shareholders, prospective investors, and, maybe, anybody who does not think the company walks on water.

Rose-colored stories about cord-cutting are all fine and good, but if there's any justice in the world the day will come when Netflix management will have to answer the tough questions it conveniently ignores today. Just as investors and other observers have the right to hear - and absolutely should hear - the results of studies such as the cord-cutting one, they also have the right to know that Netflix basically blows off less than comfortable questions whether through its conference call format or by not responding to repeated attempts at engagement.

Disclosure: I have no positions in any stocks mentioned, and no plans to initiate any positions within the next 72 hours.

Additional disclosure: I may initiate a long or short position in any of the stocks mentioned at any time.