Aetna Inc. (AET) offers a great opportunity for both short-term traders and long-term investors due to a comprehensively solid mix of appealing valuation, technical momentum and strategic long-term growth prospects.
Aetna is a large-cap U.S. provider of healthcare, dental, pharmacy, group life, disability, and long-term care benefits, ranked third nationally in terms of enrollment numbers. The company reports in three segments:
Healthcare, 92.3% of FY2010 revenue, is clearly what the company focuses on. It offers HMO, POS, PPO and indemnity benefit products.
Group Insurance, 6.6% of FY2010 revenue, provides group life, disability and long-term care products.
Large Case Pensions, 1.1% of FY2010 revenue, is a legacy business of various retirement products including annuities and pensions for defined benefit and defined contribution plans.
The company has shown real growth in the last decade, increasing its health plan enrollment members from 13 to about 18.5 million, almost doubling operating revenue from $18.8B to $31B. Operating cash flow increased from $371M in 2003 to $2.5B in 2009 and declined to $1.4B in 2010.
Operationally, Aetna has shown a drop from SG&A ratio from 24.8% in 2003 to 17.8% in 2009. The ratio spiked in 2010 to 19.6% but still represents a very significant improvement in cost control. Although medical loss ratio grew from 78.3% in 2003 to 85.2% in 2009, one notes the increasingly competitive sector landscape and significantly higher Medicare Advantage and Medicaid enrollment.
Sources: S&P Compustat Company Report (login required) and Aetna 2010 Annual Report
AET is trading around 10.2x P/E TTM, which is toward the high end of its one-year P/E channel, but historically low. Its 52-week range is $25-46.01.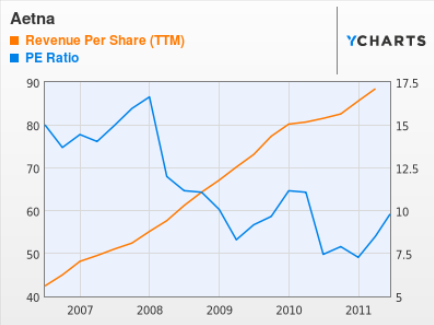 PEG stands at an unimpressive 1.1, although Aetna has shown consistent EPS growth of about 9% for five years. Mean analyst consensus for FY2011 estimates is $4.37, in line with a continued 9% growth rate.
Gross margin of 27.8% sits well above sector competitors:
Coventry Health Care, Inc. (CVH): 26.5%
Wellpoint, Inc. (WLP): 24.1%
Humana, Inc. (NYSE:HUM): 20%
Cigna Corporation (NYSE:CI): 11.4%
Operating margin is in line with competitors:
Cigna Corporation: 10%
Conventry Health Care, Inc.: 8.3%
Wellpoint, Inc.: 8.2%
Humana, Inc.: 6%
The company has delivered quarters EPS results that beat consensus estimates for 9/10 quarters, a great track record. It currently is engaged in a significant share buyback program having approved an additional $740 million initiative earlier in the year (MarketWatch.)
Sources: Fidelity Investments, Yahoo Finance.
Downside Protection: P/Book is 1.68 vs. industry average of 2.80. This looks good in theory, but the ratio is only better than half the companies in the industry.
P/Sales TTM sits at 0.50 vs. industry average of 0.74.
Most encouragingly, P/FCF TTM is 7.6 vs. industry average of 10.40.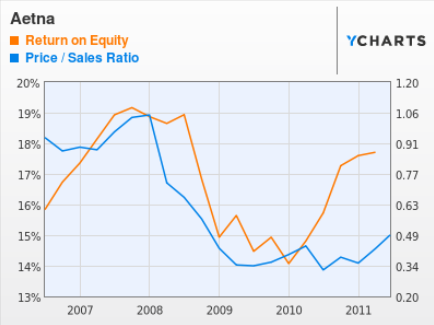 The chart shows P/Sales declining hand-in-hand as ROE declined through 2008, but the ratio has remained historically low as the company improved ROE in 2010 and through the first half of this year, clearly indicating a degree of undervaluation.
Aetna holds $3.5B in cash and $4.98B in debt. It pays a relatively low dividend of 1.39%, but the payout ratio is currently sitting below 3%, implying tremendous room for future increases. The company has 90% institutional ownership and short ratio of 1.1%.
Sources: Fidelity Investments, Yahoo Finance.
Technicals: AET is trading around $43, above 50- and 200-day SMAs of $42.98 and $36.80, respectively. The stock has seen a run up of nearly 24% in the last three months, in part fueled by a strong Q1 EPS beat of $1.43 vs. consensus estimates of $0.97.
[Click to enlarge]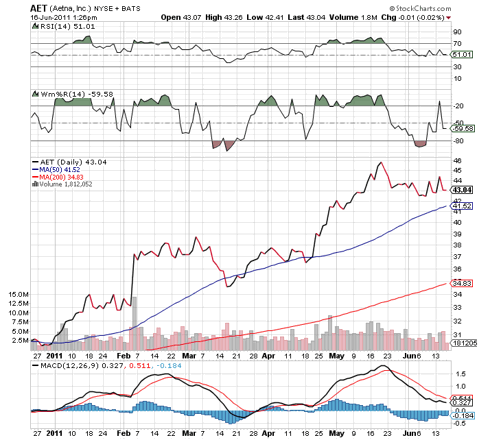 MACD flashed a weak sell signal with a cross under EMA on May 24, but the line sits at a positive 0.37, with a divergence of -0.18. The weakness can be largely attributed to broader market trends. RSI and Williams %R are both neutral.
General sentiment: With a huge quarter EPS beat and significant price momentum behind it, Aetna is receiving a lot of positive attention. Analysts are almost uniformly bullish with no less than six different outlets upgrading the equity to Buy within the last two weeks: Market Edge, Ford Equity Research, Columbine Capital Services, Thomson Reuters and Standard & Poor's.
12-month mean price target is $49.50, implying a 15% upside.
Notwithstanding Keynes' quip about us all being dead in the long run, the strategic outlook for managed healthcare has never been more positive. With an enormous demographic wave set to retire and experience the unfortunate side effects of drifting into old age, the entire sector is likely to see sustained growth.
Aetna seems very well-positioned to deliver shareholder wealth and long-term profitability in light of an impressively consistent track record. Management has shown the ability to deliver clockwork 9% topline revenue growth for the past decade, as well as significant improvements in both gross and operating margin.
More recently, the company has initiated very shareholder-friendly actions such as instituting a dividend and approving over $1B for its share buyback program.
With all of the above in mind, the current summer swoon seems a good opportunity to establish long positions before Aetna reports Q2 FY2011 results on July 28. While the equity is a prime candidate for long-term, buy-and-hold strategies, here a couple of option plays to keep in mind:
Selling October 22 $42 puts for a premium of $2.99 per contract yields an annualized 21.42% (for comparison purposes only). This implies a break-even price of $39, significantly below current price and analysts' mean target.
Purchasing October 22 $43 calls for a premium of $3.15 per contract implies a break-even price of $46.15. A conservative $47 price target, below analyst mean target, yields $0.85 per contract, an annualized yield of about 81% (for comparison purposes only).
Disclosure: I am long AET.