In any down market, it remains a challenge for you not to find value in stocks that have achieved "bargain price" status. Warren Buffett says to "be fearful when others are greedy and to be greedy when others are fearful,"and if you have been watching the declines in the market recently, you can see that there is a lot of fear on the street. It has come to that time again where I have decided to re-shuffle my portfolio where I'm looking to capitalize on both fear and greed.
To start off, I have issued some personal ultimatums. I have decided that I will establish my positions on the arrival of certain conditions. I did such that in an article where I called for the removal of Cisco's (CSCO) John Chambers. I have demanded his resignation in return for my continued holding of the stock; in doing so, I have given the company six months to either appoint a new CEO or reverse the trend of the stock. So for the time being, Cisco will not be churned out of my holdings; let's just say it's on probation. It continues to be a major challenge to not value Cisco, by any measure. Its equipment still powers more than half the Internet.
Sirius XM (SIRI) has been amongst my recent acquisitions. Last week I asked the question, What is wrong with this stock? -- and that was when it traded at $2.15. Since then, Sirius has seen its stock drop to $1.86 before slightly rebounding. I once proclaimed its shares were expensive and since then I have been proven correct. Catalysts for the decline have been linked to the Bedford Report, which last week released its summary on the radio broadcasting industry and suggested that both satellite and conventional radio broadcasters are facing headwinds this spring due greater competition in the car market, and the possibility of an NFL lockout.
In addition, new car sales have shown signs of slowing in recent months, limiting the expansion of satellite radio. The report examined the outlook for companies in the radio broadcasting industry and provides investment research on Sirius XM. What it found were concerns that many Sirius investors have shared for quite some time: Sirius' over-dependence on the auto market.
Another reason was due to Pandora's (P) IPO on Wednesday. Many have speculated upon its relevance to Sirius. Regardless of your views on this issue, one can't realistically say it has had no impact. Pandora has clearly entered Sirius' space with deals with GM (NYSE:GM), Ford (NYSE:F) and Toyota (NYSE:TM). I once made the mistake of saying that P was no competition to Sirius, but this was before it struck deals with auto manufacturers. Now, any debate as to whether P's competition to Sirius is a complete and utter waste of time. But at these levels and with how the stock has now sufficiently consolidated from the post earnings exuberance, the stock is now a screaming buy. Investors who waited patiently for the re-trace have done quite well for themselves, while those that bought the stock at $2.40 and above have to wait a little bit longer. For those of you keeping score, the gap between $1.91 and $1.96 has been filled.
Hewlett-Packard (HPQ) recently failed to meet Wall Street's expectations. Like many companies before that committed this heinous crime, it's suffered the consequences. The stock has taken a beating over the past three months as investors have bailed on what they perceive as a lack of direction within the company. Now everyone is asking questions; specifically, what is wrong with Hewlett-Packard? When a company as prolific as HP has been over the years gets a beating to the degree suffered by the stock after already having a relatively unassuming outlook, it causes me to step back and assess the state of the market today. I'm not here to pass judgment on whether or not HP deserved this beating; it is widely understood that is the result of underperformance. But I would like to know: Is this "over-reaction" complete or should investors take this as a sign of future weaknesses?
Well, I didn't wait to find out. I have closed out my position in HP until the company gets its act together. To date, there have been 11 downgrades on the stock since the middle of May. With continued sluggish PC sales as well as what appears as a lack of misdirection within the company, I can't really say that I see value here yet. Timing the bottom is always a tough thing to do when one tries to avoid catching the proverbial falling knife. But I have to say until I see clear signs of a turnaround it should be avoided. Touching HP right now just might require some stitches.
As Seeking Alpha Contributor Bret Jensen pointed out, the market continues to give up most of its rallies and is looking at a more substantial correction by the end of the summer. However, that does not mean there are not already some bargains out there to be had. In my mind, one of the biggest values not only in the short term but over a much longer period is Apple (AAPL). I had to agree and took on a modest position to prepare for what I think will be a $400 stock by the end of the year. Simply put, Apple is an innovation juggernaut. First it changed the music space with iPod and iTunes. It then changed the smart phone arena and how we even think of phones with iPhone. Now its iPad is out to change the very way we work and upend business models themselves. In fact, the iPad is the fasting growing technical device roll out and adoption in history. How many companies produce one product that changes the way we use technology completely, let alone three? Will iCloud make number four? One has to think (with conviction) yes.
Finally, I have closed out my short position on Lender Processing Services (LPS); this has been one of the best performing shorts that I have had for quite some time. I first established the position at $34 per share and closed it out at $24.52. My instincts tell me that the stock can still drop below $20 in the wake of several cases involving mortgage fraud from various states, but it is always best to never be greedy. The chart below says it all.
[Click to enlarge]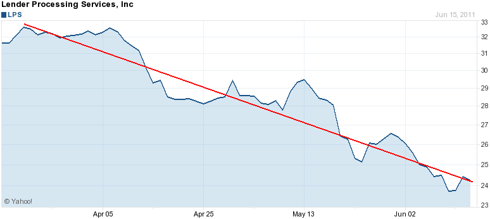 The company, which handles more than half of U.S. mortgage foreclosures, faces various legal and regulatory issues, mainly over its alleged role in wrongful foreclosure practices. It recently entered into a consent order with the Federal Reserve, the Office of the Comptroller of the Currency, and the Office of Thrift Supervision, related to services provided to mortgage servicers by its DocX and Default Solutions operations. Last month, the Federal Deposit Insurance Corp filed a complaint to recover losses of $154 million from an alleged breach of contract by an LPS unit with Washington Mutual Inc. These issues will not end any time soon, nor do I suspect that they will end well.