With the recent down trend in the overall equities market, ag stocks have been knocked down with everything else. They got a little help going down when the USDA's most recent world crop report showed mildly improved conditions from the previous report. Still the more recent data suggest a worsening of the situation.
The U.S. Drought Monitor says that the drought situation has become worse in the U.S. Yes, parts of Texas got some rain, but it wasn't enough to greatly change the drought situation there. The situation has worsened demonstrably in some parts of the state and in Oklahoma. Exceptional drought (D4) was introduced across southwestern Georgia and southeastern Alabama. Less severe drought conditions (D0) have even crept into the Carolinas, Maryland, Virginia and New Jersey. There is D3 drought in parts of Colorado. Parts of New Mexico and Arizona are experiencing exceptional drought (D4), with wildfires spreading across eastern Arizona. The drought conditions in Florida have spread.
In contrast multiple storm systems are forecast for the northern Great Plains, Great Lakes and the Northeast. The Missouri river is flooding in Iowa. It has broken through one levee near Hamburg. A CF (NYSE:CF) plant in Sioux City, Iowa has halted production due to surrounding flooding. It is too early to tell what the damage to the crops will be, but the threat of further flooding is expected to continue into August and perhaps even into September. Corn prices have risen because the corn stockpiles are relatively low (about 5%). The USDA likes to keep them at closer to 10%. The U.S. is the biggest corn producer. Corn prices are expected to rise throughout the summer. Then they are expected to fall to about $5/bushel by December. Ag companies will do well because crop prices are high. Farmers are trying to maximize their output, even with slightly higher fertilizer and seed prices.
The monsoon season is now expected to be about normal. China is expected to produce larger crops this year than last. However, it is expected to consume more than last year. The extra consumption is expected to be higher than the growth in the crops for a net increase in import need. China is now rich enough to feed all its citizens. China will have to import more to do this. It is not alone. The economies of 44 Asian nations are expected to grow by 8% or more this year. The amount of food they demand is sure to grow commensurately. There is still severe drought in France, Germany, the U.K., etc. This will serve to offset the improved crop yields in Russia and the Ukraine this year. In sum, ag stocks are almost sure to do well this season. The low stocks heading into next season will almost ensure they do well next year as well. If we see further disasters such as the flooding in Australia last year, such events would likely add to what will almost certainly be great performances by the ag industry. The higher grain prices are expected to be seen more in livestock prices at the supermarkets.
Several of the one-year futures charts of grains look to be in consolidation patterns. With the above mentioned fundamentals in place, they seem most likely to break out to the high side. The corn chart just looks to be in a strong up trend. This should be bullish for ag stocks longer term (into the year end and possibly much longer). Below are the one-year charts of corn, soybeans and wheat.
The one-year chart of corn: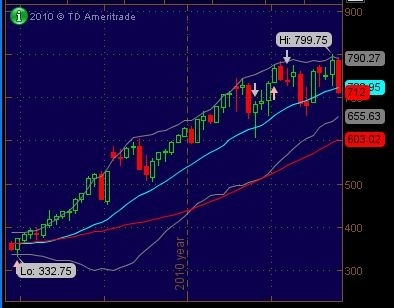 The one-year chart of soybeans: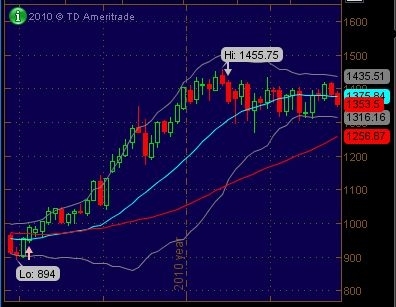 The one-year chart of wheat: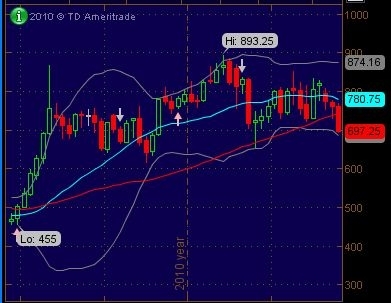 The Greek situation (EU credit crisis) has kept the market reeling for the last month or more. However, the EU wants to kick the can down the road again. Most seem to think the EU will succeed in doing this. This should mean the equities markets will rally soon. The ag stocks are sure to rally strongly with the market. Even in a choppy, consolidating market, ag stocks should rally. Their profits now seem to be relatively assured.
A few of these are Potash Corp (NYSE:POT), Mosaic Company (NYSE:MOS), Agrium Inc. (NYSE:AGU), CF Industries Holdings (CF), Intrepid Potash (NYSE:IPI), CVR Partners (NYSE:UAN), Corn Products International (CPO), Archer-Daniels-Midland Company (NYSE:ADM), Bunge Limited (NYSE:BG), Syngenta AG (NYSE:SYT) and Chemical and Mining Co. of Chile Inc. (NYSE:SQM). The one-year charts for MOS, CPO and CF are below.

The one-year chart for MOS:
Click to enlarge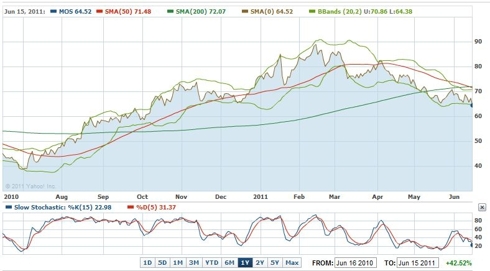 Click to enlarge 
MOS is very near oversold territory. It's sell-off due its recent stock sale is likely over. It may well start to rise from here. The MOS chart shows there is good support in the area of its current price. This makes an up move more likely, especially given the above mentioned fundamentals.
The one-year chart for CPO:
Click to enlarge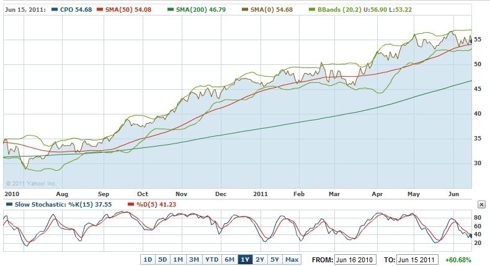 Click to enlarge 
If you want a strong chart, CPO is it. CPO doesn't even seem to have been affected by the recent down trend. With the above fundamentals in place, it seems likely to continue climbing. It is nearly oversold. You could consider legging into this stock at almost any time. However, you should be aware that this stock is more tied specifically to corn. When the corn futures price decline likely starts at some time in September 2011, you will want to monitor this stock closely for any signs of weakness.
The one-year chart for CF:
Click to enlarge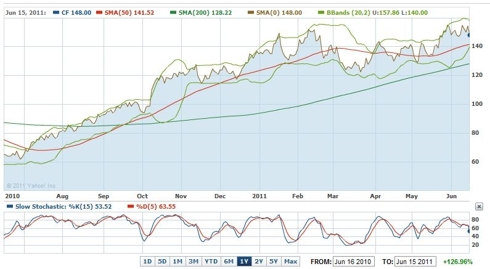 Click to enlarge 
This is another strong chart. CF has been benefiting from the low cost of natural gas, which it uses heavily to make its fertilizer products. It suffered a few years ago when natural gas went up, but the U.S. is teeming with excess natural gas now due to new discoveries. Natural gas prices seem likely to remain low in the U.S. for some time. This should help CF rack up huge profits. However, this stock is closer to being over bought than oversold. I would be more inclined to try to wait for a clear up trend in the overall market before starting to buy it. It is showing strength around the 40 reading on the Slow Stochastic. If it gets there again, I would be inclined to start legging in. It does seem to have been consolidating.
The table below shows some of the relevant financial information for the above three stocks. The data is from Yahoo Finance and TDameritrade.
| | | | |
| --- | --- | --- | --- |
| Stock | MOS | CPO | CF |
| Price | $64.52 | $54.68 | $148.00 |
| 1 year analysts' avg. price target | $84.46 | $63.88 | $167.31 |
| PE | 12.78 | 15.12 | 16.60 |
| FPE | 11.67 | 10.89 | 10.67 |
| Average Analysts' Recommendation | 2.2 | 2.0 | 2.2 |
| Price/Book | 2.62 | 1.92 | 2.42 |
| Price/Cash Flow | 10.69 | 9.17 | 8.67 |
| 5 Year EPS Growth Estimate per annum | 8.00% | 10.00% | 10.93% |
| Beta | 1.20 | 1.15 | 0.90 |
| Short Interest as a % of Float | 4.03% | 1.03% | 3.17% |
| Total Cash per Share (mrq) | $7.51 | $3.49 | $15.91 |
| Market Cap | $28.81B | $4.18B | $10.58B |
| Enterprise Value | $26.35B | $5.67B | $11.06B |
| Total Debt/Total Capital (mrq) | 7.45% | 44.34% | 25.25% |
| Quick Ratio (mrq) | 2.97 | 1.26 | 1.02 |
| Interest Coverage (mrq) | 24.16 | 8.55 | 12.98 |
| Return on Equity (ttm) | -- | 14.34% | 20.93% |
| EPS Growth (mrq) | 143.53% | 246.22% | 4,420.37% |
| EPS Growth (ttm) | -- | 311.75% | 46.89% |
| Revenue Growth (mrq) | 27.85% | 55.73% | 133.68% |
| Revenue Growth (ttm) | -- | 29.41% | 90.79% |
| Annual Dividend Rate | $0.20 | $0.64 | $0.40 |
| Gross Profit Margin (ttm) | 31.49% | 17.98% | 33.98% |
| Operating Profit Margin (ttm) | 26.71% | 10.12% | 31.05% |
| Net Profit Margin (ttm) | 25.26% | 5.86% | 15.79% |
| % Held By Institutions (from Q1 data) | 23.17% | 84.35% | 89.06% |
| % below high of the year | 27.70% | 5.58% | 6.58% |
Of these three stocks CF looks the most enticing as a long term investment. It has great growth, margins, return on equity, low debt, etc. I believe it has suffered from high natural gas prices in the past. Those seem unlikely to reappear in the U.S. anytime soon. For that reason, I believe it has considerable upside.
CPO is strong, but its net profit margin figure is too low for my liking. It is also too tied to corn. I would consider it for a short term trade, but I would prefer to be in one of the other stocks for a longer term trade. MOS is more speculative, but it has tremendous upside. It is worth strong consideration.
Several other stocks that seemed strong on the list were: POT, AGU, ADM and BG. I was less enamored with the others on the list. If you want other ag stocks to consider, you might look at these.
Of course, you can always take an easier way out with an ETF such as MOO, SOIL, DBA or JJG. I think in today's uncertain market you have too go with a cost averaging in scheme (legging in) when you buy. We are close to an area of the market where many expect a bounce (SPY = $125). If we get such a bounce that should give the above stocks a boost up. If we don't get an overall market bounce, these stocks should be able to hold up under extremely bullish sector conditions. They might even rise in the face of a down trend.
Disclosure: I have no positions in any stocks mentioned, but may initiate a long position in CF, MOS over the next 72 hours.