Wondering what high dividend stocks the big boys have been buying during the pullback? So were we, so we screened for high dividend paying stocks with heavy institutional buying over the past quarter, and came up with 2 Energy stocks, and a Utility stock, all 3 of which are listed in our High Dividend Stocks by Sector Tables :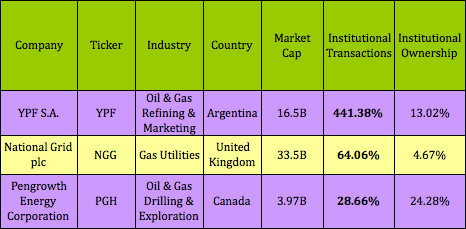 Even with these big increases in institutional buying, these 3 foreign dividend stocks still have a lot of room to grow for more institutional ownership.
Financial Metrics: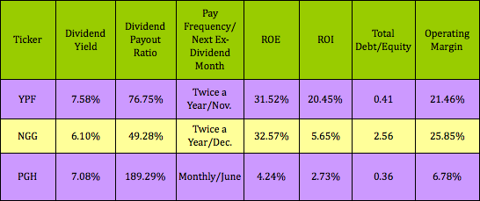 YPF Sociedad Annima (NYSE:YPF) and National Grid (NYSE:NGG) pay semi-annual dividends, which is fairly typical of many foreign stocks, while Pengrowth Energy Trust (NYSE:PGH) is a former trust which converted to a corporation on Jan. 1, 2011, as did many Canadian trusts, due to the change in Canadian tax laws.
PGH's anemic Return on Equity of only 4.24% is typical of many Canadian Oil & Gas exploration firms, which finance their expansion through issuing shares, vs. taking on a heavy debt load. Their dividend payout ratio is also misleading, since, like many energy firms and MLP's, PGH typically gauges its dividends more on distributable cash flow. Their annual earnings release stated that, "During 2010, Pengrowth's distributions declared and capital expenditures were 95% of operating cash flow (before changes in working capital) with the remaining cash being used for debt reduction."
Valuations: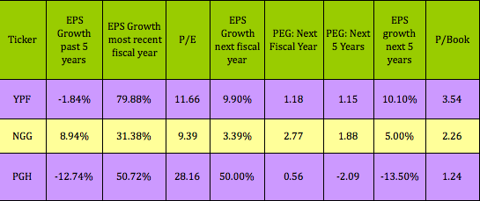 Not surprisingly, energy stocks PGH and YPF sport much lower PEGs for their next fiscal years than utility stock NGG does. It's tough to find utility stocks with attractive growth figures, due to the heavy regulation in the utility industry. Analysts aren't currently impressed with PGH's long-term growth prospects however, while YPF has the most attractive 5-year PEG valuation of the group.
PGH's 1.24 Price/Book valuation is much lower than its peer group avg. of 2.55, while YPF's 3.54 P/Book is higher than its Integrated Oil & gas peers' avg. of 2.16. NGG's 2.26 P/Book is also higher than its peers.
So, other than high dividend yields, what else is attracting institutional buyers to these stocks?
Here are 2 compelling metrics that may be the answer: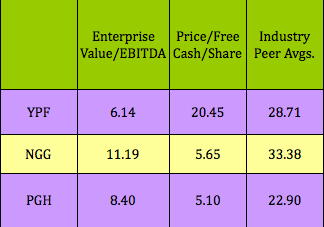 2 out of 3 firms have low EV/EBITDA ratios, while all 3 have much lower Price/Cash Flow/Share than their Industry peer groups.
Share Performance/Technical Data: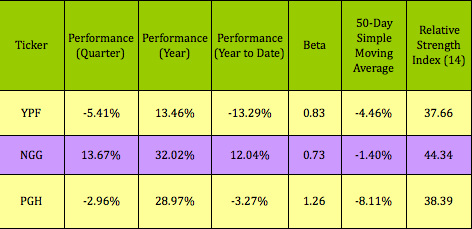 Another attraction is probably the low betas for NGG and YPF. As a utility, NGG has also benefited from its defensive sector being the second leading sector year-to-date, and in the past quarter. In spite of recent institutional buying, all 3 firms are still near the oversold Relative Strength threshold.
Covered Calls:
You can easily double your dividends by selling covered call options for these foreign dividend stocks, as all 3 have call options that equal or exceed their dividend payouts over the next 7-8 months:


You can find more details for these and other covered call sales in our Covered Calls Table.
Cash Secured Puts:
If you to be more conservative, selling cash secured put options will give you a lower break-even price, with fairly high option yields also.
You can find more details for these and other put options sales in our Cash Secured Puts Table.

Note: Put sellers don't receive dividends - we only list them in our tables for comparison. In the above examples, the put options range up to over 2.5 times the dividends' values.
Disclosure: No positions yet.
Disclaimer: This article is written for informational purposes only, and isn't intended as investment advice.