The market gave us a mixed, frustrating day without sitting in a consistent pattern overall or intraday. The market is obviously trying to test these levels at a bottom, but it appears pretty mixed in attitude. When we see CNBC stating poll questions about 40% reversals, we know what the general market consensus is. When we get that much consensus, it is a good time to be in the opposite camp. Thus, we continue to believe we are nearing or at a pretty solid bottom level. Economic data is weak to mixed and crises remain, but we are nearing the end of Q2 and entering the next earnings season. Earnings continue to be strong, and we believe this is a major rallying point.
Let's take a look at some potential positions. For buying:
We believe that Apple (NASDAQ:AAPL) is primed for a comeback and will be making some strong strides near the end of this month. Apple historically does very well in the weeks prior to earnings, and we believe as we get near the end of June that AAPL is primed for a bounce back. It is heavily undervalued at current prices, and it has done nothing in the past six months but give us reason to buy. Tons of free cash flow, great products, killing expectations for sales, outperforming the PC market significantly, and oh yeah ... it will beat again. The stock is amazingly cheap, and we believe you are getting a great steal right now. Playing the options can get you an even better return. We like to sell the AAPL Jul. 11 $310/$305 Vertical Put Spread for $1.00. The max gain is 25%. The probability is 73%.
[Click all to enlarge]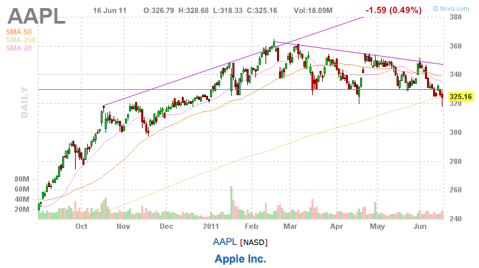 Oil: Last week, we put out a story about why we think oil is headed to $95 per barrel. It happened. Yet, at these levels, the pullback has occurred. We do not see oil at $90. The 200-day MA for oil is sitting at just under $93, which seems like a great support line. Additionally, supply levels, which were the reason we wanted to short oil, are reversing. Supply dropped well below expectations this past week according to the EIA. Further, the dollar is looking a bit toppy short-term. The EIA came out today and raised expectations for oil, and support has come in several times at this level in the past two months. We see long oil as the way to go now. We are in USO Jul. $40 Calls. We would also look to buy UCO or ERX for a nice ETF play. For an oil company, we think Conoco Phillips (NYSE:COP) and Exxon Mobil (NYSE:XOM) look the most primed for a pop.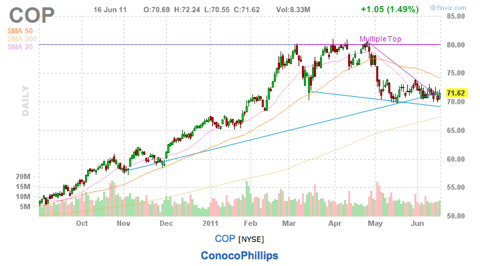 VF Corp. (NYSE:VFC) had a great pop off of its 50-day MA and showed a lot of strength off that level. The stock has dropped nicely from the M&A, and it could be primed for another pop back up to the gap-up. The deal with Timberland (NYSE:TBL) is a big deal for this company and is an automatic revenue and income maker for them. The pullback came on big down days on extremely weak volume compared to the buyout day. We like a comeback if we get a nice up day.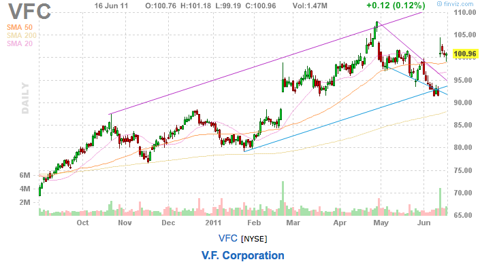 What we would be shorting:
Even if a market returns, we would not like First Solar (NASDAQ:FSLR). The company did not rally big on a day when solar should have. Germany said it was doing away with subsidy cuts, and most of the solar companies rallied big. The problem for First Solar is chronic. It has very inefficient panels, and everyone is catching up in price. Insiders are selling massive amounts of shares. Literally on any down day, this stock is a great one to intraday short. The upside is very limited, and it has a strong downward price channel. Other solar companies that seem to be in the same boat are LDK Solar (NYSE:LDK) and Yingli Green (NYSE:YGE).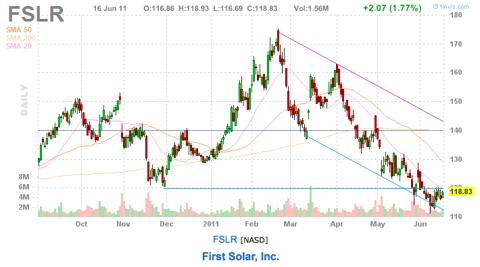 We were interested to see what Pandora (NYSE:P) could be trading on our EquityAnalytics pricing system. The company gets a Sell rating with a $4 PT from us. This PT is defintiely an estimation with a lack of information available to us about the company's debt levels, cash levels, etc. The company came out with 160M shares to start off, and it may not make significant money for a couple years. We love the product, but this stock smells a lot like Sirius XM (NASDAQ:SIRI). We would be long-term short holders or buying some puts as soon as they are available.
Giorgio's Corner likes:
Option Trade: iShares Brazil (NYSEARCA:EWZ)
iShares Brazil has had a rough couple weeks after bring sold off from $80/share at its high in April. The sell-off has largely been due to weakness EWZ's top 10 holdings: Petrobras (NYSE:PBR), Vale (NYSE:VALE), and Banco Bradesco (NYSE:BBD).
Despite the sell-off, EWZ seems to have support at $70/share and has a multiple bottom at that level. Currently, we're interested in selling the July 68/67 Vertical Put Spread ("Bull Put Spread") for 0.25, with a max potential loss of 0.75. If the Dow declines to 11,500, EWZ should hold $68/share. The probability that this spread will expire worthless is over 70%. (Option probability was found using a calculator at Optionistics.com.)
Max Gain: 0.25
Max Loss: 0.75
Max Return: 33.33%
Breakeven Point: $67.75
Cisco (NASDAQ:CSCO) seems to have support at $15/share. Currently, we're interested in selling the July 15/14 Vertical Put Spread for 0.33 with a max potential loss of 0.67. If the Dow declines further, I'm not sure Cisco will follow as the stock handled well yesterday when the market was down over 180 points and has multiple support below it. We must remember that short interest in Cisco is low because funds had to buy millions of Cisco shares during the Nasdaq recalibration. The probability that this spread will expire worthless is 52.26%.
Max Gain: 0.33
Max Loss: 0.67
Max Return: 49.25%
Breakeven Point: $14.67
Disclosure: I have no positions in any stocks mentioned, but may initiate a long position in AAPL, USO, UCO, ERX, COP, XOM, VFC, SIRI, EWZ, PBR, VALE over the next 72 hours.