It's no secret that SIRI is a volatile stock. And for good reason: SIRI offers an interruptive technology in radio, and radio has not changed much in over 100 years. Despite this, SIRI has not created 2 back to back years of profit in their 20 years in existence. This article is not going to analyze whether or not satellite radio is profitable or not. I think it can be profitible, and there are many diehard satellite radio fans who will pay well for the service. Rather, this article will analyze whether you, the shareholder, should be willing to loan $2 a share to Sirius XM, a fiscally irresponsible company. Here are 5 reasons I believe you should not.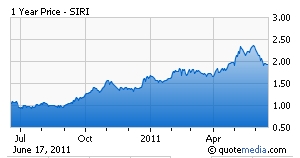 1. SIRI has a history of debt
Despite increasing its subscriber base to nearly 20 million, SIRI has not shown any motivation to reduce its debt load. Things came to a head when John Malone of Liberty Media Corp (LCAPA) gave SIRI a half billion dollar loan to stay out of bankruptcy. Their current long term debt sits at 3 billion, of which 200 million became due last year (page F-5 of their 2010 10-K filing). They have carried long term debt since 2000 and it has increased 6 out of the last 10 years.
2. SIRI has made a practice of diluting its common stock
Sirius XM has increased its outstanding common stock 1.5 billion shares in 2007 (page F-5 of their 2007 10-K filing). to 3.9 billion in 2010 (page F-5 of their 2010 10-K filing). Furthermore, they are authorized by shareholders to issue another 5.1 billion shares (page F-5 of their 2010 10-K filing). If you bought SIRI in 2007, which at that time had an average price of $3.26, and you held until now, the value of the purchase after current dilution is now $1.25
3. SIRIs equipment is expensive and aging
Of all the assets SIRI carries, the largest tangible assets are its satellites. Combining the 5 satellites they acquired from XM, they have a total of 10 satellites, 9 of which are in orbit, and one which will likely never be launched since its useful life is up in 2010. Of the 9, 4 reach the end of their useful life in 2013 (page 4 and 5 of their 2010 10-K filing). It's hard to pin down the exact cost to build and launch a satellite, but $350 million each is a fair estimate considering they valued construction at $727 million over 2 years on the FM-5 and XM-5 satellite, launched in 2009 and 2010 respectively (page F-21 of their 2010 10-K filing). WIth this in mind, SIRI is potentially looking at $1.4 billion in expenses to replenish its "fleet". With $433 million in cash on hand, they will likely need another loan (page 2 of their Q1 2010 10-Q filing).
4. SIRI's subscriber base is not generating enough income
SIRI depends on its subscribers for its revenue. Last year, 85% of their 2.8 billion in revenue came from their 19.4 million subscribers, which is about $10.30 a month per subscriber (page 34 and F-4 of their 2010 10-K filing). Yet, they were only able to show 47.5 million in operating income (page F-4 of their 2010 10-K filing). Why is that? They paid 295 million in interest and 120 million on debt extinguishment, reducing their operating income of 465 million to the paltry 47.5 million in income before taxes (page F-4 of their 2010 10-K filing). This is likely to not improve in the near term (see #1). Their profit/loss statements will continue to be plagued by debt payments.
To support a P/E ratio of 20 with the current price of $2.00/share at 3.9 billion shares, they would need to increase their 47.5 million in net income to 390 million. This is assuming they don't increase the number of common shares to the theoretical maximum of 9 billion, in which case revenue would need to increase to over a billion. Alternatively, they could raise their prices to about $80/month to make up the gap. Although I do not think that would please the current subscriber base.
5. SIRI's net subscriber base is not growing fast enough
SIRI added a bit over 850k net subscribers to its 2009 average base of 18.53 million, to finish 2010 at 19.38 million (page 34 of their 2010 10-K filing) This was about a 4.5% increase. I already described in #4 that they need to increase revenue 8 fold to get their P/E ratio right, and 4.5% subscriber increase per year ain't going to cut it.
In review, the issues with SIRI for the average investor holding common stock are incredible. Will they continue to turn a profit? Probably. However, the real question is, how much dilution will you, as the stock holder, suffer in the process. SIRI has serious debt issues, aging assets, and a revenue base that is beginning to look saturated. They have shown that they have little regard for the shareholder or fiscal responsibility by continuing to mislead shareholders into thinking this mountain of debt can be tackled without common stock holders being the collateral.
Disclosure: I am short SIRI.