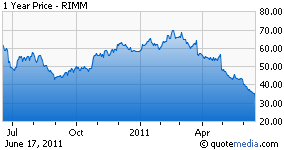 Research In Motion (RIMM) reported Q1 earnings Thursday after the close, and it does not look good for RIM, to say the least. With the plethora of coverage that RIM will receive following this earnings report, data and analysis will be limitless. However, there are three key points investors should focus on to see where the company is going: BlackBerry shipments, gross margin, and RIM's cost-cutting measures.
First, the company projected Q2 BlackBerry shipments of 11-12.5 million units, which in the best case would be growth of 3.3% off of the 12.1 million figure last year. Why is this bad? You say it is still growth, right? Well, the smart phone market is expected to grow 55% this year, according to IDC. If RIM is forecasting that it will manage growth of only 3.3% at best, what does that say about the BlackBerry? It says that the product is not competitive with what competitors are putting out. It is not even in the same ballpark.
The company also guided that gross margin is expected to continue deteriorating with the company projecting a gross margin of 39% in Q2, which would be a fall of 5.5 points year-over-year. OK, that's not good for any company, nevertheless a leader like RIM. What does this say? Not only is the company losing market share extremely quick, but the share it is maintaining is because of its pricing strategies. It is becoming the Wal-Mart of smart phones. Goodbye premium product, hello commodity.
To make matters worse, the company announced that it will streamline operations and cut workers. It's not that this is a bad move by itself. But any growth company, especially one that is competing in an area that is growing at rates of 55% yet is cutting heads, raises a big red flag. Instead of focusing on designing the next phone, the company is busy trying to cut expenses. Companies that should be focused on cutting expenses and becoming more lean are ones in mature industries, not hyper growth ones. The bottom line is that if the company had more confidence in its product and ability to turn itself around, it would be focused on its next phone not counting pennies on the bottom line.
After previously suggesting that RIM could be interesting if it fell by 50%, I would like to revisit that statement and suggest not investing in it at all unless the company is able to stem declines in its business or reinvent itself in someway none of us are expecting.
Disclosure: I have no positions in any stocks mentioned, and no plans to initiate any positions within the next 72 hours.