| | |
| --- | --- |
| Average Trading Volume (last 90 days) | 842,211 |
| Market Capitalization | $3.47 b |
| Short Interest (% of float) | 17.9% |
| EV/EBITDA (TTM) | 16.6X |
| | | | | |
| --- | --- | --- | --- | --- |
| | 3/11 Q1/11 | D | 12/10 Q4/10 | D |
| in $ millions | | | | |
| Revenue Growth | +24.0% | | +11.8% | |
| | | | | |
| % Sales Surprise | +6.0% | | In Line | |
| % Earnings Surprise | +2.8%% | | +9.0% | |
| | | | | |
| DSO | 72 v 66 | +6 days | 61 v 54 | +7 days |
| DSI | 98 v 98 | Flat | 75 v 67 | +8 days |
| | | | |
| --- | --- | --- | --- |
| | 3/11 Q1/11 y/y | Consensus | Variance |
| in $ millions | | | |
| Revenue | $180.9 v 145.8 m | $170.0 | +$12.9 m |
| Gross Margin % | 55.1 v 56.4 | 56.0 | - 90bps |
| SG&A % | 26.6 v 24.6 | 25.2 | +140 bps |
| R & D % | 10.3 v 9.9 | 9.5 | +80 bps |
| Operating Income % | 18.3 v 21.9 | 21.3 | -300 bps |
| Tax Rate % | -2.8 v –10.5 | 14.5 | -17300 bps |
| Diluted Non GAAP EPS | $0.36 v 0.35 | $0.35 | +0.01 |
| Other Noteworthy Items: | | | |
| Other Income | $ 3.7 v 0.8 m | $ 5.3 m | -$1.6 m |
| Share Count | 118.0 | 118.8 m | -0.8 m |
Key Issues
Higher than expected Q1/11 revenues of $180.9 m were more than offset by lower than expected GAAP operating margins of 18.3% (300 bps below Street expectations). Absent a $0.07 benefit from a tax benefit (as opposed to an expected 14.5% tax provision), EPS would have missed Street consensus by $0.06. Similarly, in Q4/10, in-line revenues and lower than expected operating margins (due to lower gross margins and higher SG&A) were more than offset by higher than forecast other income of $11.2 m. Furthermore, while net income increased y/y in Q1/11, free cash flow (CFFO-cap ex) declined to $5.0 m from $17.3 m y/y.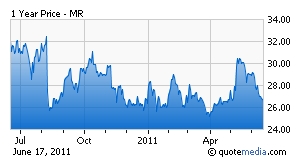 In the Q1 release, management reiterated its FY11 goal for net revenues and non-GAAP net income to grow in excess of +16% y/y and +10% y/y, respectively. In Q1, Mindray exceeded this revenue goal but fell well short on non-GAAP net income. The Q1/11 conference call (CC) (held May 2, 2011) focused on the sustainability of the revenue growth trajectory and on whether the operating margins would stabilize at current levels.
In Q1, revenue growth in China (40% of revenues) was +16% y/y, a meaningful acceleration from the +2.7% y/y reported in Q4 and lending credibility to management's guidance that China revenues would grow in the "high teens" in 2011. Tender sales, which represent centralized government procurements, dropped substantially over the past year. According to management, the Chinese government has instead been allocating funds directly to hospitals. These hospitals purchase directly from vendors such as Mindray. These "non-tender" sales (representing 89% of Mindray's Q1/11 China revenues) have accelerated significantly over the past 3 quarters (+24% y/y, +19% y/y, and +1% y/y).
International sales (60% of revenues) increased 30% y/y, lead by 40% advances in Latin America, Asia, and Western Europe. The United States and Eastern European markets increased +20% y/y while Africa and the Middle East declined.
On the conference call, management upped its China growth forecast from mid teens to high teens while lowering ex-China growth from high teens to mid teens due to weakness in Africa and the Middle East.
Q1 gross margins were 55.1% (vs 56.4% y/y), 90 bps worse than expectations. Management attributed 100 bps of the y/y decline to a Construction Tax and Education Surcharge imposed by the Chinese government. An additional 30 bps of the decline was attributed to strengthening of the Chinese Yuan currency. Many Street models currently are expecting FY11 gross margins to be around 55.8% to 56.0%, down just 90-110 bps maximum from FY10. This could be challenging, especially given that the company's growth plans in China are predicated on robust growth in the mid-and low- tiers of the market.
Q1 SG&A was 26.6%, +200 bps y/y and 140 bps worse than expected. Management had warned on the Q4 CC (held March 1, 2011) that SG&A would increase in FY11 as part of a conscious effort to reignite growth by investing in the direct sales channel. On the Q1 CC, it suggested that 100 bps represented a permanent increase due to these investments while the rest of the increases in SG&A were non-recurring beyond FY11. R&D was 10.3% of revenues, 80 bps above expectations. R&D is expected to remain between 9% and 10% in FY11.
On the CC, management commented that price declines were within normal parameters. Nonetheless, in the 20F filed April 28th, 2011, the following new language (underlined) was inserted:
With the current global market competition, we are facing more pricing pressure, particularly by competitors in the China market, including pressures to provide financing, which we anticipate will continue in the near term.
This pressure to finance may in part explain some of the build up in A/R. DSO increased to 72 days (vs 66 days y/y and 61 days q/q). Management instead attributed most of the DSO increase to a higher percentage of U.S. sales in Q1 (as compared to Q4). According to the company, DSOs tend to be higher in the U.S. than the corporate average. Mindray discloses its allowance for doubtful accounts annually in its 20F. As of December 31, 2010, the allowance was $7.6 m (5% of gross A/R) versus $7.8 m (6.4% of gross A/R) y/y.
On Friday, March 16, 2011, Mindray announced that its CFO, Ronnie Ede, was stepping down for personal reasons. Mindray's previous CFO resigned March 4, 2009.
Disclosure: I am short MR.