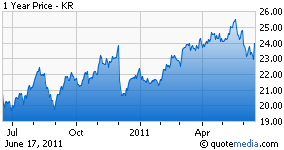 The Kroger Company (NYSE:KR) reported Q1 2011 earnings Wednesday before the opening bell. Kroger earned $0.70 per diluted share on $27.5 billion in revenue. Estimates were for earnings of $0.64 per share on $26.65 billion in revenue.
"We are pleased with the exceptional overall results the Kroger team achieved in the first quarter. Our associates delivered on all facets of our customer first strategy. We achieved strong sales, earnings, and cash flow growth," said Chairman and CEO David Dillon.
Net earnings rose 16% from the year ago period. Revenue rose 11%. Identical supermarket sales without fuel rose 4.6% in the first quarter. Continued cost efficiencies and higher sales volume contributed to the earnings beat.
Despite a difficult economy, stagnant wage and job growth, and rising prices, Kroger continues to be able to pass forward cost increases while growing its customer base.
Kroger raised its full year earnings outlook to $1.85-$1.95 per diluted share vs. previous guidance of $1.80 - $1.92. The company expects identical supermarket sales growth (ex-fuel) of 3.5%-4.5% vs. previous guidance of 3%-4%.
The company noted that the consumer is still pinched and that the consumer did seem to be weaker in the latter part of the fiscal first quarter. This seems to coincide with the "soft patch" we are seeing in the economic data. Despite this, sales growth continued at Kroger, albeit at a modestly slower pace. The company said that higher fuel costs had likely contributed to this slower growth.
Kroger's stock is up about 7% year-to-date and about 18% over the last 12 months.
Click to enlarge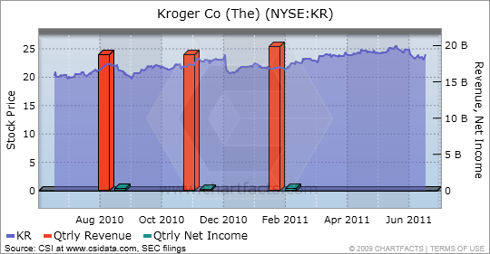 Click to enlarge
Kroger trades at a forward P/E of 12.55 and a price-to-cash flow ratio of 5.36. The company has a very respectable return on equity of 26%. Kroger has grown revenue at an annualized rate of 6.3% over the last five years. Over the same period annualized earnings growth is 5.8%. Kroger has a dividend yield of 1.8% and has raised its dividend at an annualized rate of more than 10% over the last three years.
Value Analysis

| | |
| --- | --- |
| Metric | KR |
| Market Cap | $14.5 B |
| Recent Price | $23.99 |
| Forward PE | 12.55 |
| Dividend Yield | 1.83% |
| 3 Year Div. Growth Rate | 10.10% |
| Payout Ratio | 24.00% |
| Price/Book | 3.43 |
| Price/Cash Flow | 5.36 |
| Price/Sales | 0.17 |
| Price/Earnings Growth | 1.45 |
| Price/Owner Earnings | 10.47 |
| Return on Equity | 25.97% |
| Debt/Equity | 1.76 |
| Revenue TTM | $82.19 B |
| Operating Cash Flow FYE | $3.37 B |
| Capex FYE | $1.92 B |
| Capex/Cash Flow FYE | 57% |
| 5 Year Rev. Growth Rate | 6.30% |
| 5 Year Cash Flow Growth Rate | 4.20% |
| 5 Year Earnings Growth Rate | 5.80% |
| Net Profit Margin | 1.36% |
| Current Assets | $7.62 B |
| Return on Assets | 4.75% |
| Long-term Debt | $7.3 B |
I recommended Kroger in an article published on January 3rd, Five Stock Picks for the New Year. At that time the stock traded at $22.36. It is up 6.7% since the recommendation. The stock has traded as high as $25.48, but has recently come off its highs. It was up $1.04 (4.53%) today.
Kroger still looks like a good buy. The company has done an excellent job of revamping many stores. Kroger is intentionally trying not to compete head-to-head with Wal-Mart (NYSE:WMT). The company has added large wine selections, knowledgeable staff, and enhanced private label products to appeal to higher income customers. The strategy seems to be paying off as sales continue to increase. Kroger is also tying in-store purchases to fuel discounts to improve customer loyalty. With gas prices pulling back, consumers may not feel as pinched and may spend more inside the store.
My personal year-end price target for Kroger is $27.00. I derived this target by applying a P/E multiple of between 13.5 and 14 to a $1.95 earnings projection. This would represent a 12.5% increase from today's closing price. The 1.8% dividend yield and a current $1 billion stock buy-back program add to the appeal. Kroger is one stock investors may want to put in their cart.
Disclosure: I am long KR.