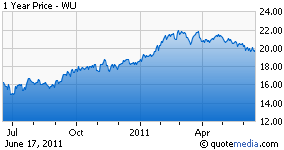 Western Union (NYSE:WU) has a long and very interesting history that plays an integral part in America's Manifest Destiny, and that story continues today in the company's leading role in international remittances. The company was one of the original members of the Dow Jones Transportation Average in 1884 and has endured every market cycle and new disruptive technology since its inception in 1851.
Investment Thesis
Western Union is positioned for long-term success because of the combination of demographic trends, new market opportunities, and its advantages of scale. The company is poised to expand its share of the global remittance market, and that should support continued strong cash flow, allowing shareholders to be rewarded with acquisitions, share buybacks and increased dividends.
Overview
The business consists of these operating segments:
Consumer-to-consumer (C2C): Money transfer services between consumers.
The global financial crisis has certainly dampened growth in this, the most important of Western Union's business segments. At least 200 million people live outside their country of origin. Primarily, immigrants move from poorer to wealthier countries in search of opportunity. When these immigrants leave their nations of origin, they often leave behind family members in need of support. Most money transfers are typically sent to cover the living expenses of relatives residing in other countries.
Global Business Payments: Payments made by consumers or businesses to other businesses.
This business primarily caters to "underbanked" customers and allows for the payment of bills direct to businesses - even internationally, or on someone else's behalf.
Other Operating Segments: Money order and prepaid services.
The company offers Visa and Mastercard branded prepaid credit cards. This business segment has come under regulatory scrutiny as it is seen as a highly effective mains of laundering money internationally. The prepaid business segment competes head to head with Green Dot and NetSpend. Prepaid cards act as a store of value for customers who do not have access to traditional checking accounts.
Risk
Competition - As large institutional banks expand into developing markets, Western Union is facing increasing competition from international banks offering remittance services.
Technology - As customers in developing nations have increased access to the Internet, the company faces competition for online payment firms such as PayPal. Likewise, as customers gain access to mobile devices this expands the options for transferring funds.
Immigration Reform - Any change in immigration laws worldwide could make it harder for people to relocate to developed economies, which would hurt money transfer volume.
Brand Value - While Western Union has earned a reputation as a safe and reliable way to send money, it is very unlikely that customers feel any attachment or a have a sense of loyalty to financial institutions in general or Western Union in particular.
Opportunity
Demographics - The demographics behind immigrant population growth are firmly in place for the foreseeable future. Slow population growth in developed nations and the vast disparity in standards of living for poorer nations is what drives the C2C market, the heart of Western Union. With around four billion underbanked people in the world, Western Union's global network has great potential to provide a variety of customer services.
Scalability - Western Union is the clear leader in an industry where size confers strength. The money transfer business is scalable because the cost of processing additional transactions is minimal. This gives the company a cost advantage over rivals. Also, the company's size creates a network effect, as each new agent makes using Western Union more convenient for customers.
Growth - On a related topic to scalability, Western Union still has plenty of room to grow as it has barely penetrated the remittance markets of India and China. Also, the company can continue to grow its market share in established markets because its unique cost advantage allows it to price out competitors.
Technology - Instead of a threat, I think new technologies will allow Western Union to grow remittance volumes and capture greater market share. Reading recent conference transcripts, the company is intensely focused on online payments, mobile-to-mobile payments, prepaid card services and micro-lending services. The company can use its agent network, brand recognition, international compliance capabilities, and global reach to make moving money around the world faster and easier. Like First Date Corporation or Visa (NYSE:V) and MasterCard (NYSE:MA), Western Union is in the business of driving transaction volume, and new technologies promote that end.
Conclusion
Western Union's moat can be a little hard to understand. The person sending the money typically has numerous options at his/her disposal from traditional banking operations. However, the person receiving the funds does not. This is the strength of the company. While it may seem obvious that global economic growth and new technologies will chip away at Western Union's position serving underbanked customers, these same factors also allow the company to expand into a much larger financial institution offering services beyond C2C international remittances, primarily in online and mobile payment solutions, and prepaid card services.
Western Union is the type of company a younger Warren Buffett might have liked (he used to a shareholder, FYI). A strong generator of free cash flow. The reinvestment needs of the company are quite small. New agents often require little more than hanging a sign in the window. The company's market position effectively allows it to set prices for the industry, pushing prices down to a level that competitors can't match. It is also aggressively expanding its global agent network and expanding its product offerings to monetize the network. If management remains focused on changes in the market, new technologies should prove to be a source of growth rather than a threat. The company is making meaningful progress in electronic channels, Westernunion.com, account-to-cash, mobile payments and pre-paid cards. These efforts will continue to give the company access to new customers and provide more choice for existing customers to continue doing business with Western Union.
Disclosure: I have no positions in any stocks mentioned, and no plans to initiate any positions within the next 72 hours.