As we noted yesterday, Apple (NASDAQ:AAPL) just ended a streak of 551 consecutive days of closing above its 200-day moving average. While the AAPL streak was impressive, it actually wasn't the longest active streak of consecutive days of closing above the 200-DMA. That honor belongs to Netflix (NASDAQ:NFLX), which has closed above its 200-day moving average for the last 620 trading days. At 568 trading days, Chipotle (NYSE:CMG) also has a longer active streak than AAPL had.
In the table and charts below, we highlight the ten members of the '500 club,' as in stocks that have closed above their 200-DMAs for at least 500 straight trading days. While NFLX and CMG are not too surprising, who would have thought that Hormel (NYSE:HRL) would be among the stocks with the longest streaks? At this rate, HRL's streak is beginning to resemble the shelf life of Spam!
A look at this list pretty much sums up the state of America right now. With a lot of eating (HRL, MKC, and CMG) while lying on the couch in our underwear (LTD) and watching TV (NFLX, DTV, and TWC), it figures that a company that specializes in cardiovascular disease (NYSE:EW) has also been above its 200-DMA for the last 542 trading days!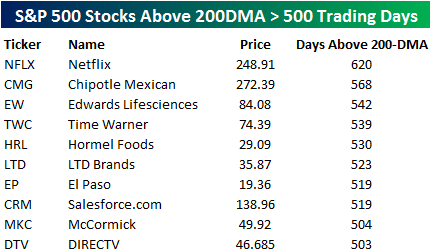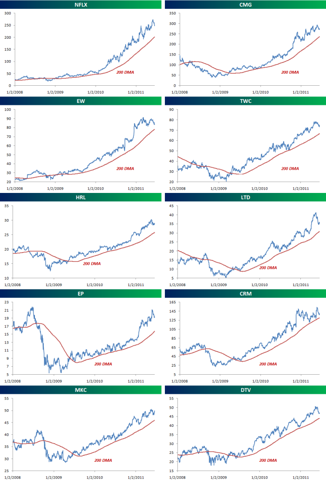 (Click charts to expand)