I was stunned to read a long and silly post by technology gadabout Jason Calacanis today. In it, he basically says that the technology IPO market is just a ticket to the poor house for retail investors.
It always amazes me when someone with a fairly large readership and a brain publishes an article with a bold conclusion that is contrary to readily available public information on the topic. And this one is a doozy.
JC uses the technology IPO "universe" of LinkedIn (NYSE:LNKD), Pandora (NYSE:P) and Renren (NYSE:RENN) and the pre-IPO firms of Facebook and GroupOn (NASDAQ:GRPN) to build his case that people are only going to lose money in the technology IPO market. This is the exact same argument as saying that Nokia (NYSE:NOK), Research in Motion (RIMM) and Finisar (NASDAQ:FNSR) have seen their stocks get crushed and therefore nobody will make any money in the stock market.
Of course, we do follow the technology IPO market and actually work with the data every day, so we're more aware of the facts than the average bear. But really? A guy who professes to be an expert in startups and technology should have a better sense of capital markets than this.
Investing in technology IPO stocks is no different than anything else. You do your work, compute an intrinsic valuation and work your positions based on the delta between market value and intrinsic value. Short term aberrations like LinkedIn and Pandora can always occur. Pandora has an IV of $8. If it gets below that, it might be an interesting investment. Obviously anyone buying at $23 is unlikely to make money unless they know something that nobody else does.
[Click to enlarge]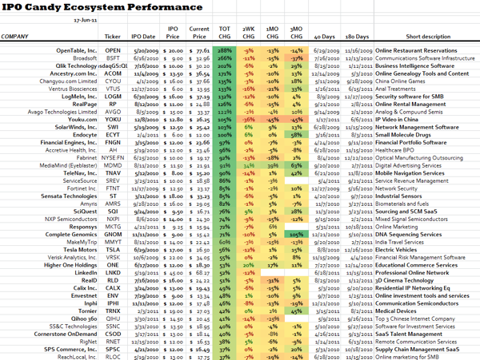 Just to provide some data to back up our point, the image above captures 40 or so technology IPO names that are up from 37% to 288%. Some are well-known, many are not. They have all had ups and downs. Not all have offered great aftermarket opportunity based on opening price, but the point is that the technology IPO market is no different than the stock market in general. You need to do your work and make investment decisions based on that.
Yes, there are also many losers, to be sure. That's why it takes research to get it right.