Followers of my work know that one of my pillars of investing is to follow investor sentiment, and look for extremes that help us indentify trading bottoms in the market. Sentiment is an important piece of the puzzle, and many of the indicators I follow are flashing similar signals to prior market bottoms. So let's take a look to see if bearish investor sentiment has reached an extreme.
Investor Surveys
Investors Intelligence – The II survey currently shows the narrowest spread between bulls – bears at 11% (37% bulls, 26% bears) since the market bottom of last September 2010.
AAII – This survey of individual investors shows that bears are currently exceeding bulls in this poll by -14% (29% bulls, 43% bears). Moreover, bears have exceeded bulls for 6 consecutive weeks now. That is the longest stretch of consecutive weeks since July 2009.
NAAIM – This is another survey of investment managers where they poll how the managers are positioned. In the graph below, you can see that the managers are highly bearish right now. Since the bottom in 2009, there have only been two readings more bearish than now. So we are getting to extreme levels.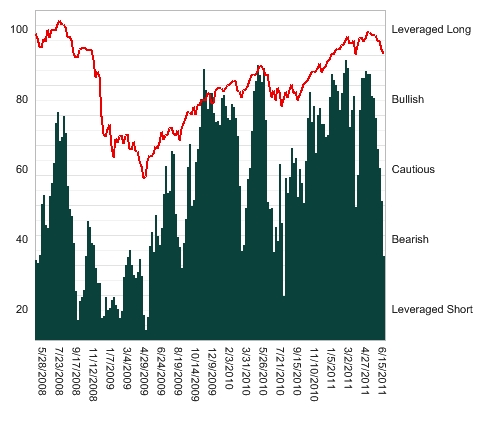 Option Indicators
CBOE Put/Call ratio – yesterday the p/c ratio hit 1.36, the highest reading since the flash crash last year. But I like to look at the 10-day moving average of this indicator to smooth things out. The chart below shows that over the last 2 years, we have only seen 2 higher readings on the chart. So the rush to buy downside protection is also at an extreme inflection - (click charts to expand).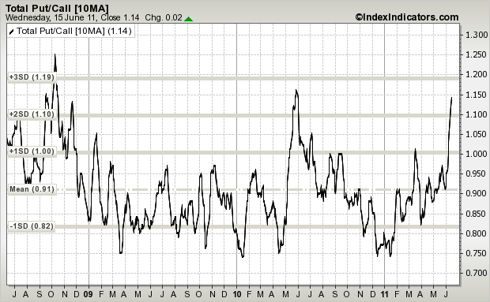 Volatility Index – The VIX is another options-based indicator that gauges fear in the market. In the last 2 days, the VIX has spike 35%. Today it topped the 24.50 level before backing off. While there have been higher readings in recent years, this level (represented by the solid blue line) has been a pretty good ceiling.
Mutual Funds
Rydex Nova/Ursa ratio – this indicator tracks the flow of funds between the bullish market timer funds at Rydex versus the bearish market timing funds. As you can see below, the ratio has plunged recently and is nearing levels it reached last summer prior to a meaningful market bottom.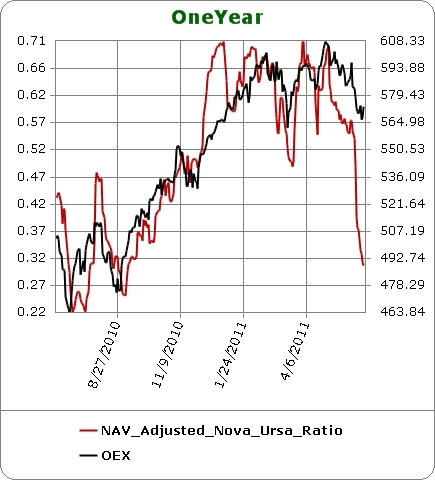 Anecdotal
– Kudos to my colleague Doug Kass for highlighting this today, but there is always anecdotal evidence of bearish extremes to which contrarian investors take notice. Remember the "Al Michael's bottom"? Today, Nassim Taleb's firm issued a call for a 40% drop in the S&P 500 (NYSEARCA:
SPY
). We shall see if this becomes the "Taleb bottom".
As you can see from the above indicators, bearish sentiment is reaching similar extreme levels that in the past have led to good trading bottoms in the market. Sentiment isn't a perfect timing indicator, but it is a necessary ingredient to a sustainable rally. Ideally from here, we need some catalyst to spark a market rally. Then, as bearish sentiment and bearish bets in the market get unwound, it adds gas to the fire and will add additional upside pressure on the market to help fuel the next advance.
Disclosure: I have no positions in any stocks mentioned, and no plans to initiate any positions within the next 72 hours.