The performance of Iceland after default is not going to calm citizens in Greece, Spain, Portugal, Ireland or Great Britain. The IMF released a Country Report for Iceland on June 6, 2011 titled, Iceland: Fifth Review Under the Stand-By Arrangement, and Request for Modification of Performance Criteria and Rephasing of Access — Staff Report; Informational Annex; Staff Statement; Press Release on the Executive Board Discussion; and Statement by the Executive Director for Iceland.
I guess they didn't want to mislead anyone about the content of the report.
The content was fascinating because it had projections of how Iceland is growing compared to advanced countries. The situation is they're doing somewhat better than average. The chart below shows that in 2011, Iceland is projected to have a growth rate of 2.3% compared to 2.2% for advanced economies. As the year is half over and the IMF raised the estimated growth for Iceland, it's probably pretty good.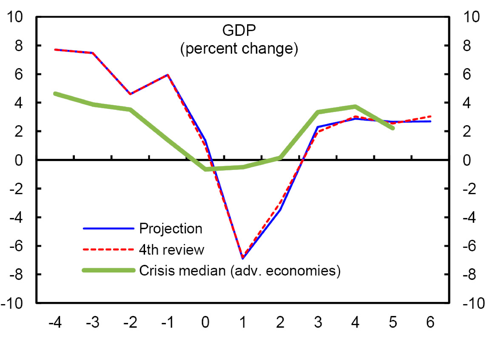 Click to enlarge
(Click to enlarge)
United States is growing slightly faster at 2.5% but Europe is worse at 2.0%.
The comparison versus Ireland and Greece should be a real shocker to Austerians as Iceland is projected to grow three times faster than Ireland, 2.3% versus 0.6% and, well Greece is projected to grow -3% so it's infinitely faster. This is detailed in the table below The Program numbers are what the IMF targeted when they started working with the country. Note that there was a much bigger miss for Ireland than Iceland in 2010, though the absolute decline in Iceland was worse.
GDP % Change Versus Year Ago
2009
2010
2011
2012
2013
2014
2015
2016
Prog.
Est.
Prog.
Proj.
Proj.
Proj.
Proj.
Proj.
Proj.
Iceland
-6.9
-3.0
-3.5
2.0
2.3
2.9
2.7
2.7
3.0
3.0
Ireland
-7.6
-0.2
-1.0
0.6
1.9
2.4
2.9
3.3
3.0
Greece
-2.0
-4.2
-4.5
-3.0
Source: IMF
The unemployment rate in Iceland in 2011 is projected to be 7.5%. down from 8.1% in 2010. The unemployment rate in Ireland is projected to increase to 14.5%, up from 13.6% in 2010 while Greece is projected to reach 14.8% unemployment, up from 12.4 % in 2010.
The data is from the IMF Ireland Country Report dated May 20, 2011 and the Greece Country Report dated March 16, 2011. The blanks are because I could not find the corresponding numbers.
I guess the Irish are consoling themselves with the fact that they have done the right thing and kept all those bankers in their million-dollar homes while Iceland defaulted on their debts and is just looking after themselves.
However, I don't think the Greeks are taking it very well.
Disclosure: I have no positions in any stocks mentioned, and no plans to initiate any positions within the next 72 hours.