I would like to think that Tesla Motors (NASDAQ:TSLA) named the company after a rock band, not the inventor/scientist Nikola Tesla. Tesla belts out the following instructive lyrics in its hit song, Signs:
Signs Signs
Everywhere there's signs
(Expletive) up the scenery
Breaking my mind
Do this, don't do that
Can't you read the sign
There's a meaningful relationship between the point rock band Tesla tries to make in that song and investor sentiment toward TSLA. If Research in Motion (RIMM) and Apple (NASDAQ:AAPL) have not and do not continue to prove the following point I am not sure what does. A Series 7 license, an MBA, and the subsequent ability to take apart a company's balance sheet means absolutely nothing when evaluating the attractiveness of an investment.

Considering the bigger picture - what I like to call "the story" - and paying less attention to what the Wall Street research establishment tells you constitutes a much wiser investment strategy. Just as having long hair should not make a difference in the workplace, not giving a hoot about P/E ratios should not matter in the markets. They've proven to be quite unreliable anyhow, at least in several high-profile cases, including RIMM and AAPL.

Sure, Tesla loses money and sports a seemingly outrageous market cap. And, yes, most people will not buy an electric vehicle (EV). A small segment of the population can afford what Tesla offers now (the Roadster) and what they will offer anytime soon (the Model S). But all of those pesky, and irrelevant, details get in the way of an excellent investment story.





The San Francisco Chronicle/SF Gate is about to release details of a story, noting that Tesla's Roadster is almost sold out. Tesla CEO Elon Musk alluded to this on the company's last earnings call. I believe the 8K Tesla filed today has something to do with the news out of San Francisco:
Click to enlarge



I will leave the details to the Chronicle story (it will be available at the above-referenced link when it goes live), respecting the fact that it got the scoop. But here's an excerpt from the iPad version of the story, which confirms the connection I made when I saw the 8K, after receiving the Chronicle's alert: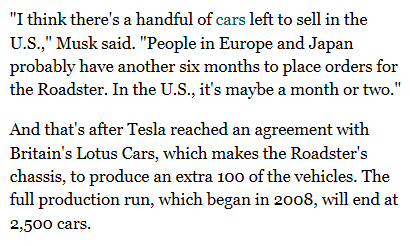 Do the math. And then consider the reality that Model S reservations have been going strong, even before Tesla's system is up and running in every key international market. Canada just came online recently.

Detractors will point to Tesla's financial "metrics" and scoff at vehicles only rich people can afford as a second or third car. Think about Canada. I doubt the Model S will become the official car of Saskatoon, but I can certainly see them weaving the dense streets lined with high-priced and trendy condos in Vancouver and Toronto. Same goes for San Francisco, Santa Monica, New York City and other places where lots of affluent people reside. All Tesla needs to do is capture a sizable chunk of that upper echelon niche.

While it has gotten away from this to some extent, Tesla uses the Apple model of producing a superior product, loaded with social cache, that not everybody can afford. It's an excellent way to create pent-up demand before you release something that's within the reach of the masses' pocketbooks (the Model X for Tesla and products like the iPod Shuffle or, even, iPad2 for Apple).

During hard times, if you're going to go long stocks that sell consumer products, whether toilet paper or cars, go with the ones on opposite ends of the extreme. In a shaky economy I want to be long the companies that sell the products people - even those who are not affluent - need and long companies like Tesla that offer products that, even in a bad economy, the well-off want and can afford.

Disclosure: I am long TSLA.