The big lesson of last week (and last year's Greek crisis): The EU situation is a financial crisis driven by political decisions.
To anticipate the coming weeks' market movements, focus on what is likely to serve the policymakers' priorities. It's all about the banks, not the PIIGS. Always has been. Read on for details.
PRIOR WEEK MARKET DRIVERS
According to most financial media, events surrounding the risk of Greek default were the prime market drivers.
It's All About Fear Of Greek Default, Right?
More specifically:
Greek Default Threat To Global Banking, Economies, Financial Markets
The only thing that really mattered last week was the threat of an imminent banking crisis posed by an imminent Greek default. All else last week was essentially irrelevant in influencing market movements.
Overall markets continue to believe the EU would, as it always has, grudgingly provide the cash needed to avoid a Greek default that in turn would likely spark another global banking crisis at least as bad as that ignited by the failure of Lehman Bros. bank back in 2008, which began the ongoing Great Financial Crisis.
While this consensus will likely prove correct, continued failures to reach agreement over the past weeks have undermined confidence in the EU's ability to act before building uncertainty sparks a full blown global crisis, just as happened almost exactly a year ago.
Events toward the end of the week suggest that the brinksmanship and bargaining is ending, as dissent over the nature of further Greek bailouts has collapsed from fear that the banking system and thus financial markets cannot withstand anything that could be seen as a loss to Greek bondholders.
Here's a short summary of why a default of Greece or any of the PIIGS risks causing a global financial crisis similar to that seen after the Lehman Brothers bank collapse.
It would cause a spike in the perceived risk of all PIIGS bonds, as the assumed support of the EU is disproven. Thus yields of all PIIGS bonds soar beyond what these nations can afford to pay in order to reflect that risk, effectively locking them out of credit markets. The likely result would be:
Both these nations and unknown numbers of large banks exposed to these bonds risk imminent insolvency unless provided ongoing credit or a bailout. Both core and peripheral nation banking systems in the EU would be at risk.
Not knowing which banks are in trouble, but knowing that many could be, would be enough to cause a freeze in interbank lending, credit, as well as plunging financial markets, a run on banks, etc.
The crisis would hit the US at almost immediately, because:
Thus toward the end of the week the EU showed significant signs of progress towards making sure Greece gets the cash needed to avoid default until at least July.
EU Commissioner Michael Barnier told a British radio station that a restructuring is "off the table", so no private bondholders will take losses at this time, avoiding a default and the crisis it would likely cause.
That Germany had backed down on its demand that private investors bear at least some loss was basically revealed at Friday's press conference on the results of the latest French-German talks.
Actually, It's All About The Bondholders
Here's the key to understanding the prime motivations of the decision makers so you can anticipate developments in the EU crisis and plan your trading/investing strategy accordingly.
Protecting The To-Big-To-Fail Is The Real Goal
If you understand what best serves that goal, you can anticipate what will actually be done and plan trading or investing strategy accordingly.
As always, the first priority of policy makers in the EU, US and everywhere else is protecting the solvency of their banking system, not the PIIGS. Deferring a crisis until July is unlikely to help Greece, but it may be enough time to prepare a bailout plan for the affected banks. Regardless of what happens to the PIIGS, if confidence can be maintained in the banking system, the risk of crisis in the EU and US will be greatly diminished. If that can't be done by July, then the cash is likely to be found to prevent Greece and anyone else from defaulting until September, or whenever.
In sum, until a banking rescue plan for the EU and US TBTFs is in place, PIIGS will be kept out of default if at all possible in the short term. Once such plans are in place, PIIGS will be abandoned, if the current loans-for-austerity is still in place. Political support for this approach cannot endure. Taxpayer suffering on all sides to bail out vital but unsympathetic fat cat bankers is politically unsustainable. None of the governments involved that has faced a national election has survived, with the exception (as of this writing) of Greece.
Indeed, the other likely scenario, and bigger risk, is that one or more of the current governments of one or more funding or debtor nations is replaced with a new regime with a specific mandate to renege on its unacceptably painful burden to fund bailouts or accept their conditions, before plans to keep banking systems stable are in place. If that happens, we have a global financial crisis.
LESSONS FROM THE PRIOR WEEK FOR THE COMING WEEK
Viewed from this perspective, suddenly otherwise inexplicable policy actions make sense.
The EU
Deferring a crisis until July is unlikely to help Greece, but it may be enough time to prepare a bailout plan for the affected banks. Regardless of what happens to the PIIGS, if confidence can be maintained in the banking system, the risk of crisis in the EU and US will be greatly diminished. If that can't be done by July, then the cash is likely to be found to prevent Greece and anyone else from defaulting until September, or whenever.
The only question is whether this calms markets enough. This past week saw hints galore at the dangers if markets stay nervous. For example:
French banks with high Greek exposure were put under credit review, as will some Portuguese banks once Portugal's new government settles in.
Spanish 10 year bond yields continued to inch up towards 6%, considered a red flag that would indicate access bond markets is now beyond Spain's means and that it too will need aid, which current bailout funds cannot afford to provide.
The US
Suddenly, US policy appears more rational.
QE 2
It's most obvious, direct result was to provide demand for US debt instruments and thus keep interest rates low and credit relatively easy to get. Given that the US economy is suffering from excessive debt, encouraging more debt and spending when the private sector is cutting back on debt makes little sense. Demand for loans is low, and so is the supply of creditworthy borrowers. However, keeping interest rates low makes perfect sense if the goal is to minimize more mortgage defaults as a huge wave of mortgage rates reset from 2011-12.
US Aid To Europe Via IMF Contributions And Other Emergency Bank Aid
It's been widely reported this past week that much of the emergency bank bailout money from 2008-10 wound up in Europe. As noted above, as insurers against PIIGS default and money market fund exposure, the US financial sector is about as exposed as France and Germany.
Expect Support From China Too
China is expected to show additional support for the EU next week. No surprise, given that the US and Europe represent the 2 largest sources of both China's forex reserves AND export income. China is also a large holder of PIIGS bonds, particularly those of the most vulnerable states, Greece and Portugal.
LESSONS FROM THE CHARTS
Here's a few key big picture technical perspectives that will help you determine entry and exits for positions opened or closed in the coming week.
Overall Risk Appetite Per The S&P 500
Looking at the daily chart for the S&P 500 as an overall barometer of risk, a few points stand out (click to enlarge):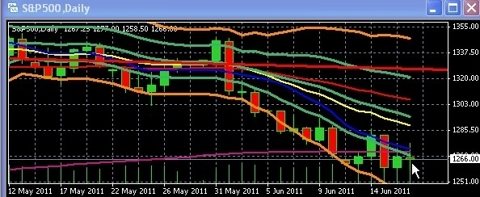 S&P 500 DAILY CHART COURTESY OF ANYOPTION.COM 03jun190512
While the index, and by extension most other risk assets, remains within the Double Bollinger Band Sell Zone (DBBSZ), the area bordered by the lower 1 and 2 standard deviation 20 period Bollinger Bands (the lower green and orange bands). That suggests downward momentum.
On the other hand, the past week shows some signs of bottoming in the near term.
The index remained in a rather tight, flat trading range, despite all the bad news, suggesting resilience that is a foundation for a near term bounce if things don't get noticeably worse. As noted above, we expect the odds favor at least some calming on Greece (again, the fate of the banks, really) over the coming week.
Notice that the index closed (see pointer) at the upper range of the DBBSZ) and just below its 200 day EMA (purple). It won't take much of jump to make a break above these key resistance points and thus move from a bearish to neutral, possibly bottoming, technical outlook.
Gold Weekly Chart: Both USD And EUR Distrusted
Gold is neither a risk nor safety asset, it is a currency hedge that can rise or fall in good times or bad, depending on how markets feel about the 2 major currencies, the USD and EUR. What is the longer term weekly gold telling us (click to enlarge)?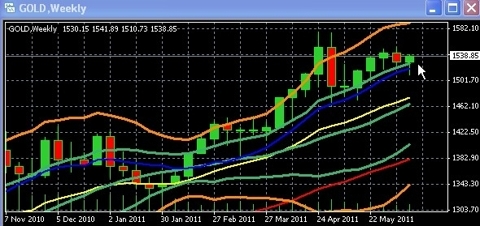 GOLD WEEKLY CHART COURTESY ANYOPTION.COM 05jun19 0536
Given the worsening economic fundamentals of both the US and EZ, it's not surprising that gold, unlike the S&P 500, remains within Double Bollinger Band Buy Zone, the area bounded by the upper 1 and 2 standard deviation Bollinger Bands (orange and green). That suggests continued entrenched upward momentum, making gold's uptrend one of the more reliable up-trends.
However, anyone entering long on gold should keep stop losses not too far below the $1500 zone, given the double layered support of the upper 1 standard deviation Bollinger Band (green) and 10 week (or 200 day) EMA (blue). That support could be broken if the EU can get markets more relaxed about the near term fate of the Greece and thus the EUR.
EURUSD Monthly Chart: Any EUR Bounce Higher Unlikely To Endure
For a longer term view of the EURUSD, look at its monthly chart (click to enlarge):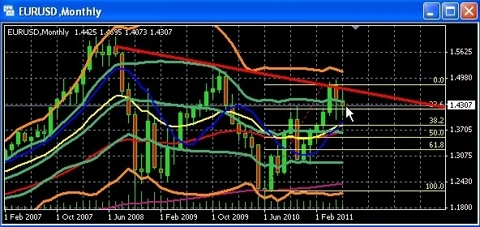 EURUSD MONTHLY CHART COURTESY OF ANYOPTION.COM 06jun190545
They key point is that since the start of the Great Financial Crisis in late 2008, the EURUSD has been in an overall downtrend, which was reinforced over the past 7 weeks as the pair recorded a new lower high.
This is not surprising, as it reflects the longer term unresolved fundamental problem of the PIIGS debt crisis, insofar as it jeopardizes the health of EU banking and thus of the EUR.
COMING WEEK
Greek Default Contagion Fear: Peaking Or Receding?
As noted above, if policy makers can stay rational, the coming week has a good chance of seeing easing concerns about Greece, so be careful about shorting the EUR.
Here's the timetable of the key events.
By the end of Tuesday June 21st, we'll know the outcome of the Greek no-confidence vote on the current Papandreou government. Popular opinion in the financial press is that if the government survives, that will be seen as a Greek acceptance of the austerity measures needed in order to receive the cash needed until July. Per journalist Martina Stevis, the vote will be at Midnight or 5 PM ET.
We believe, unlike most, that in fact the Greek vote will be irrelevant in the near term. Given the contagion risks noted above, the Trioka (EU/IMF/ ECB) will make sure Greece doesn't default until they've got a plan lined up to save the financial sector, regardless of whether Greek parliamentarians vote for the austerity plan or reject it in favor of funds to spend the summer on vacation at a luxury resort.
June 23-4 EU Summit: This was supposed to be the deadline for a resolution of this year's Greek crisis. If not, expect them to find at least enough cash to keep Greece, (really the bondholders) supplied with cash until at least July, or whenever arrangements are made to keep the financial system and thus global economy, stable.
Again, plenty of risk, but in the end any default by Greece or anyone else is likely to be deferred, regardless of how much taxpayer money is needed, until there's a plan to maintain confidence and stability in the EU and US banking systems when the defaults do finally hit.
I'm sorry if I sound flippant or cynical.
Ramifications
Expect a bounce in risk assets, especially the EUR, once Greece's default is deferred. If by some chance markets are not convinced of this happening , expect very much the opposite, with the EUR testing support at 1.4000. If uncertainty continues, a plunge to the lows of a year ago for the EURUSD, global stock indexes, and most commodities is quite conceivable.
Be cautious about shorting the EUR, and those short it already should consider tight trailing stops to protect profits or minimize losses. Given that policy from both the ECB and the Fed is not going to be kind to their respective currencies in the coming months, gold and other currency hedges might be the safest uptrend out there, at least until we see signs of deflation.
FOMC Rate Statement Wednesday June 22nd
No change in rates expected, but significant if it provides any surprises about the Fed's outlook on the US economy, QE 2's termination, or the pace and extent of rate increases. Expectations are so low that there is greater potential for upside surprise for the USD given the amount of downside already priced in. If markets are still uncertain about a Greek rescue the USD and US bonds will be pushing higher regardless of what Bernanke announces, short of a massive QE 3. That is not expected.
Other Economic Calendar Events
It's a typically light late month calendar. If the above EU and Fed meetings don't dominate market sentiment, the following might:
Tuesday: Australian monetary policy meeting minutes, UK public sector net borrowing, EU German ZEW economic sentiment survey, Canadian retail sales, US existing home sales
Thursday: German, French, and EU flash PMIs together could affect sentiment if their overall theme is clearly positive or negative. US new home sales, UK inflation report would normally be notable, but the BoE, like the Fed, seems determined to keep rates low unless inflation gets much worse.
Friday: US core durable sales, UK BoE Gov. King speaks.
DISCLOSURE /DISCLAIMER: THE ABOVE IS FOR INFORMATIONAL PURPOSES ONLY, RESPONSIBILITY FOR ALL TRADING DECISIONS LIES SOLELY WITH THE READER. IF WE WERE SURE WHAT WOULD HAPPEN, WE WOULDN'T BE TELLING YOU FOR FREE, NOW WOULD WE?