Quite a bit happened with Netflix (NASDAQ:NFLX) at the end of the week. I fully realize Netflix bears, myself included, have called quite a few tops in the stock, only to be promptly run over by its awe-inspiring momentum. Despite the power Netflix seems to pull out of its back pocket at will, I stick to the short case I have made in a long list of articles I have written about the stock. What Netflix does, on several counts, is not sustainable; therefore I expect the bottom to eventually fall out. And the higher Netflix shares climb, the harder they will fall. Just ask Research in Motion (RIMM).

First, look at Netflix's recent performance, courtesy of FreeStockCharts.com.

(Click to enlarge:)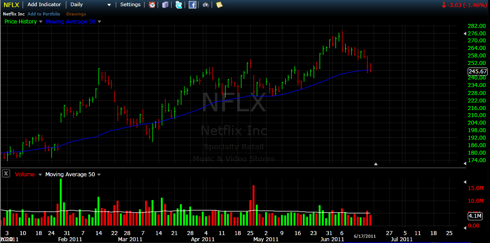 Click to enlarge

After powering to yet another all-time high of $277.70, Netflix retreated to Friday's closing price of $245.67. Often Netflix rises even when the broader market exhibits weakness. Consider the following charts, which show the correlation between Netflix's performance over the last year and the SPDR S&P 500 Trust ETF (NYSEARCA:SPY) and the PowerShares QQQ Trust ETF (NASDAQ:QQQ).

(Courtesy of AssetCorrelation.com; Click on images to enlarge)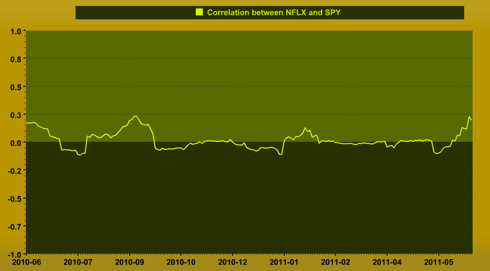 Click to enlarge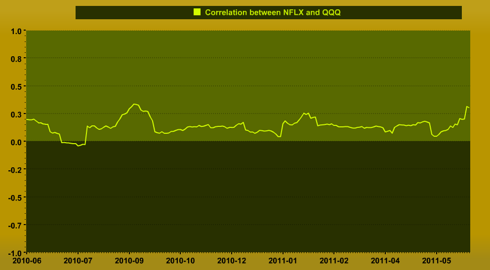 Click to enlarge

As you evaluate these correlations, remember that Netflix has returned roughly 95% over the last year; SPY and QQQ come in at approximately 16% and 15.5%, respectively. Not surprisingly, Netflix has shown a weak correlation with both SPY and QQQ. At times, and more so with SPY, it has exhibited none or a negative correlation. In both cases, however, the correlation between Netflix and these two key index trackers appears to be strengthening. This could indicate that Netflix no longer trumps the sentiment of the broader market -- a potentially bearish signal.

Several events over the last few days have contributed to Netflix's break from its high. Certainly, broader market weakness does play a role. According to a note Bloomberg sent out to its subscribers last Thursday, even I play a role:

(Click to enlarge)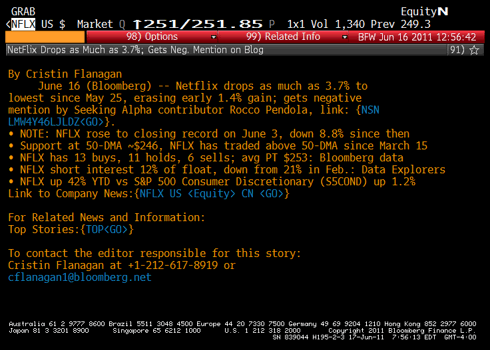 Click to enlarge

When an organization as respected as Bloomberg implies that I have any power whatsoever over a stock tightly held by institutions, you know something is seriously wrong.

The article Bloomberg referenced discusses Netflix's apparent refusal to respond to my request for comment on a corporate governance-related proposal that passed at the company's recent shareholder meeting and my questioning of a study that claims Netflix provides the impetus for consumers to cancel or downgrade cable service. If anything would send the stock down, I would hope it's the non-response on the shareholder vote. Investors should be concerned when (a) the media refuses to cover and (b) Netflix refuses to give color on what is, as defined by the SEC, part of a material event.

Friday's news helped drive Netflix down even further. It started with a blog post by the company's VP of Content Acquisition Pauline Fischer, noting that the Sony (NYSE:SNE) movies available for online streaming through Netflix's agreement with Starz (Liberty Media: LSTZA) would be unavailable due to a "temporary contract issue between Sony and Starz." Of course, there's always more to the story.
Later on Friday, the Associated Press reported the news, adding the following:
A person familiar with the matter said Netflix's explosive subscriber growth triggered a clause in Sony's agreement with Starz that resulted in the stoppage. The person was not authorized to speak publicly and requested anonymity.
Of course, that's a pretty vague statement. It's not easy to figure out exactly why "explosive subscriber growth" would result in Sony pulling its content from the Starz deal. One possibility could involve a Sony initiative that does not get too much attention, at least relative to Netflix, Hulu, YouTube (NASDAQ:GOOG), and the various TV Everywhere platforms -- Crackle.

(Click images to enlarge)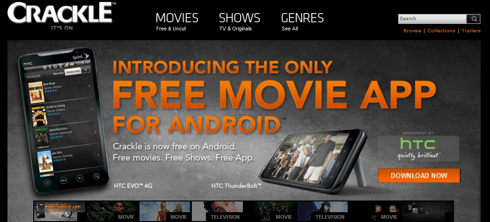 Click to enlarge

Crackle offers free-of-charge streaming access to various Sony-owned movies and television shows. According to Crackle's website, it can provide its content for free because it runs commercials. As I have argued, as more programmers like Sony start to deliver content through their own TV Everywhere initiatives, there's less and less room in the space for a go-between like Netflix. Once content creators figure out how to best monetize these platforms, the need to accept Netflix's check no longer exists.

In Sony's case, why allow Starz to reap the rewards of picking Netflix's pockets while the $8-a-month Netflix service continues to dilute your programming to an ever-expanding subscriber base? It makes very little sense, particularly when it takes away from an effort such as Crackle. I don't think this will be the last such "temporary contract issue" we hear about. Don't forget, Disney (NYSE:DIS) appears poised to take its streaming efforts further after aggressively launching it's ESPN app initiative. And, of course, Time Warner (NYSE:TWX) could very well attempt to duplicate the early success it has seen with HBO Go, through similar endeavors culled from its formidable programming stable.

As BTIG analyst Richard Greenfield notes, this dispute could lead to an early and renegotiated deal between Netflix and Starz that would include more lucrative terms for Sony. Bottom line - the situation is incredibly sensitive. Netflix will need to pay up, not only to satisfy Starz, but so Starz can keep studios like Sony and Disney happy; happy to the point where they feel like it's worth their while to keep their movies on what amounts to be the shelves of a 99-cent store.

The perfect storm continues to brew for Netflix. The company reports quarterly earnings on July 18th (my 36th birthday). I would not necessarily call a NFLX earnings miss a birthday present. At the end of the day, I don't want to see anybody fail. That said, as with RIMM, I do not believe Netflix management communicates all that well with its shareholders.

The list of the issues Netflix fails to adequately address -- or address at all -- continues to grow. From shareholder proposals to less-than-transparent conference calls to its growing content acquisition costs and the terms of the deals that produce these expenses. I think the writing has been on the wall for a while. Behind the confident facade of Netflix's sharp CEO, there's disorder in the house. Taken together, I think it adds up to earnings misses that could rival RIMM's woes long before I even think about turning 37 years of age.

Disclosure: I have no positions in any stocks mentioned, and no plans to initiate any positions within the next 72 hours.