As turbulent markets at home have rattled confidence throughout Q2, many investors are looking for some reprieve from the Jekyll and Hyde nature of Mr. Market (to cite Ben Graham).
But looking around the investing universe, one can end up pulling his hair out in aggravation, as nothing seems to offer reprieve these days. Treasuries and risk free instruments are yielding rock bottom returns. The BRICs are potentially cooling off and inflation worries have replaced growth expectations in the headlines. Europe seems to feel like a barren wasteland, with the likes of Greece acting as a bottomless pit of bad news. Tension is still ripe in MENA, with the uncertainty over oil supply and political stability. Domestically, QE3 remains a question, 2012 elections are nearing, inflation worries persist, and 10% unemployment goes on and on and on… you get the point.
The status quo is not good, and our recovery has been far from impressive. While economists believe that chances of a double dip recession remain under 20%, Wall Street analysts are divided in their growth expectations. Q2 earnings are approaching, and I am NOT optimistic.
There Is A Light…
One market that is keeping its name out of the news, for the right reasons, is Indonesia. This archipelago offers perhaps a more interesting profile than that of any of the other more publicized emerging markets. It has proven to be a winner, posting greater than 6% growth rates since 2006 while the rest of the world was battling recession. Indonesia, China, and India were the only members of the G20 to post net growth during this time. What's more impressive is that they've managed to control the "hot money" that plagued southeast Asia during the late 1990s, and keep inflation steady at about 5%. The country has managed its debt, running a slight current account deficit, and in March was upgraded by Standard & Poor's, citing a positive outlook.
This stark change from the past comes as the Post-Suharto Era (the beginning of a democratic Indonesia), which began in 1998, as the deeply corrupted and underachieving nation opened its eyes to the fact that its regional peers were booming. After a shaky introduction to democracy, Susilo Bambang Yudhoyono's (SBY) regime was elected in 2004. He appointed the Wharton School trained economist Boediono as Vice President, and the regime enacted broad economic and political reform. Although the nation still struggles with corruption, the regime has made significant strides at controlling inflation of the past, silencing militant organizations, and directing investment into the nation in a sustainable manner.
Human Capital
Despite certain controversies, SBY's regime has done a lot of good for the nation, and was reelected in 2009 with relative ease. Such success could never have been realized without the willingness of Indonesia's people. When one looks at the Indonesian population, it is clear that they are on the brink of economic prosperity. This nation of 230 million people has a 92% literacy rate (97% among youth). More than a third of its population is under 18 years old and average life expectancy is at 71 years. Unemployment is at 7%, and while most of the economy is based around agriculture, services, and manufacturing, education is improving. Demand is growing for more skilled labor. Over 95% of children regularly attend school primary school, while secondary school enrollment is around 75%.
All of these statistics indicate that Indonesia is a very advanced, developing nation. However, there is a massive disconnect in terms of wealth. GDP in 2010 reached $1.033 trillion up from $974 billion (6% increase) in 2009 and $932 billion (11% increase) in 2008. This ranks 16th in the world, just behind the GDP of Canada. GDP per capita however, only stood at $4,300 in 2010. While this is up from $4,100 in 2009 (5% increase), and $3,900 in 2008 (10% increase), GDP per capita ranked 122nd in the world behind the likes of Sri Lanka and Swaziland.
Indonesia's budding population will soon demand more skilled work to reduce the great disparity between GDP and GDP per capita. In doing so, the country will rely more heavily on its vast natural resources; including an abundance of oil and natural gas, textiles, minerals, rubbers, timber, and some of the most fertile and usable land in the world. It has the potential to be a shipping Mecca, with its proximity in the center of Southeast Asia, and other regional powerhouses such as Singapore and Hong Kong.
Where Are They Going?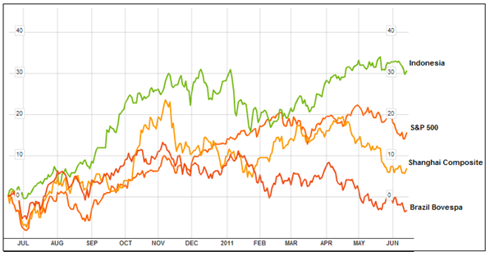 The graph above (click to enlarge) tracks the performance of the Jakarta Index, S&P 500, Shanghai Composite, and Bovespa throughout the past 12 months.
Skeptics still believe that so much money has been invested into the country that it cannot continue at this blistering pace. But when one looks into what's driving growth, there is ample reason to believe it will not slow.
Growth expectations in 2011 are at 6.4%, rising to 6.7% in 2012, according to the World Bank.
Rising commodity prices will further stimulate growth as the Country has an abundance of natural resources.
Indonesia is a net exporter with geographically diverse trading partners, hedging it against country-specific risk.
Further ratings upgrades are expected as many ratings agencies, analysts, and economists maintain positive outlook on Indonesia.
Indonesia will continue to build crucial infrastructure, demand better jobs, and an overall balanced economy, and is not heavily reliant on foreign imports.
What Do I Do About It?
The best bet for investors would be to look for Indonesian heavy industry, infrastructure, communications, and banking stocks. For American investors however, finding these stocks might prove to be a challenge, and with the blistering pace of the Jakarta Index and the overall economy, a sector ETF could be a great addition to a portfolio. Two prominent ETFs which have proven winners are EIDO and IDX.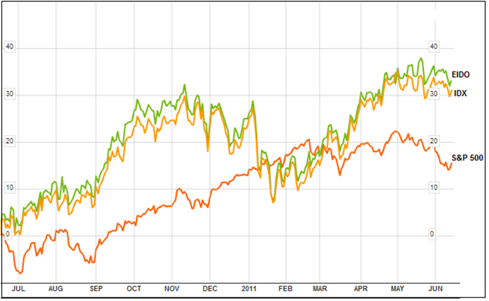 The graph above (click to enlarge) tracks the performance of EIDO, IDX, and S&P 500 throughout the past 12 months.
IDX tracks the Market Vectors Indonesia Index. Financial companies make up a quarter of the total portfolio while materials, energy, and telecom make up a combined 35% of the fund's holdings. The fund has an expense ratio of 0.68%.
EIDO tracks the MSCI Indonesia Investable Market Index. Like IDX, it is most heavily weighted in financials with over a quarter of the total holdings concentrated in this sector. Unlike IDX however, consumer services and consumer goods represent about 27% of the fund's holdings, and industrial materials represent 16%. EIDO's expense ratio is 0.65%.
Not much else can be said about IDX or EIDO. These ETFs are designed to track the broader Indonesian economy, and compelling reasons to invest can be found in the country's profile. I am generally not a proponent of ETFs or indexing, but one can hardly rebuke the success that they have had while the rest of the world has been gripped in the stranglehold of volatility.
Disclosure: I am long EIDO.