With many banks fetching price to book ratios of less than one, analysts are publishing upbeat reports advocating a cheap financials sector. But we believe that the financials sector' price is justified by its dire financial strength.
Regulators monitor tier 1 capital ratio to gauge banks' financial strength. Tier 1 capital ratio is the ratio of a bank's core equity to its risk-weighted asset. Because an asset is simply equity plus liability, and long-term debt is the stickiest part of liability, it should be adequate to use a long-term debt to equity ratio as a proxy to estimate financial firms' financial strength. We don't have data at hand for the entire financial sector, so we use JPMorgan Chase & Co. (JPM), the number one holding of [[XLF]] as a representative.
Long-term debt to equity ratio of JPM:
| | | | | | |
| --- | --- | --- | --- | --- | --- |
| 2006 | 2007 | 2008 | 2009 | 2010 | 2011 Partial |
| 1.40 | 1.73 | 1.69 | 1.70 | 1.85 | 1.89 |
Using shareholders' equity as a yardstick, JPM's long-term debt increased 1.89 - 1.40 = 49%
,
comparing to its pre-crisis level. Moreover, the ratio rose in 4 of the past 5 years, indicating that its financial strength is still deteriorating.
Financials sector's dire situation is reflected by our ETF ranking system: XLF was ranked at the bottom of all sector ETFs for weeks.
We consulted our ETF ranking system to gain insight into which sector is likely to outperform and which sector is likely to underperform. The ranking system is based on valuation, financial condition, and return on capital and has predictive power. For a brief understanding of our methodology, please read "ETF Ranking: A New Fundamental Approach That Drives Short-Term Return."
Last week's snap back of XLF signals that investors are increasingly looking at the upside of the market. The positive sentiment should benefit all sectors. If the trend reverses here, we would recommend betting on a fundamentally strong sector to profit from the upside. If this is only a brief pause in the downtrend, a fundamentally strong sector is also the safest place to hide.
Action Plan for the Week
We list this week's ranks of offensive sector ETFs in the table below, together with last week's ranks.
| | | |
| --- | --- | --- |
| ETF | Rank as of 6/18/11 | Rank as of 6/11/11 |
| | 66.73 | 67.56 |
| | 63.13 | 63.60 |
| | 58.70 | 58.54 |
| | 46.10 | 46.73 |
| | 38.09 | 39.29 |
| | 20.27 | 20.88 |
XLE holds its top position in the past week. XLF holds its bottom position as well.
Let's reevaluate the long XLE / short XLF recommendation we made last week. Its expected return is proportional to the spread between the ranks of XLE and XLF. The spread is at 66.7 – 20.3 = 46.4, less than half point lower than that of the week before, which was at 67.6 – 20.9 = 46.7. Although the spread shrank, less than half point is hardly of any significance.
Depending on a trader's market view, we recommend three trading plans:
Bullish: Long XLE, the one with the highest rank. Although the ranking system is designed for a one week return, traders may hold it for four to six weeks because the ranks of ETFs change slowly.
Bearish: Short XLF, the one with the lowest rank.
Neutral: Long XLE and short XLF for the same dollar amount.
We picked the last one mainly due to our neutral market view. As mentioned before, spread is an important factor for this plan. At 46.4, the spread is fairly large. Because 10 rank points translated to 1.7% annualized return, our expected annualized return is 1.7% x 46.4 / 10 = 7.9%. It is noteworthy that this number is derived from the past 10 years. The S&P 500 (SPY) returned merely an annualized 2.5% in that period. A 7.9% return is really more than three times the market return. That said, historical returns do not guarantee future performance.
It should be noted that although the ranking system is designed for short-term return, the best strategy for investors is to follow it continuously and allow profit to accumulate. It is not for gamblers who hope to make a big hit and take money off the table right after it. This mindset will make gamblers second-guess a short position in face of any technical strength.
We also list top 10 holdings of XLE and XLF together with their weights in the respective ETFs and their fundamental ranks. Interested investors can start from the list and come up with their own long and short plans.
Company

Weight (%)

Rank

Exxon Mobil Corp. (XOM)

17.64

88.37

Chevron Corp. (CVX)

13.56

97.85

Schlumberger Ltd. (SLB)

7.75

70.56

CONOCOPHILLIPS (COP)

5.07

86.68

Occidental Petroleum Corp. (OXY)

4.84

47.88

Apache Corp. (APA)

3.45

45.56

Halliburton Co. (HAL)

3.36

79.59

Marathon Oil Corp. (MRO)

2.81

84.05

Anadarko Petroleum Corp. (APC)

2.72

51.3

Baker Hughes Inc. (BHI)

2.66

75.39

JPMorgan Chase & Co. (JPM)

9.21

35.24

Wells Fargo & Co. (WFC)

8.16

37.84

Citigroup Inc. (C)

6.3

8.97

Bank of America Corp. (BAC)

6.12

9.03

Goldman Sachs Group Inc. (GS)

4.05

4.44

American Express Co. (AXP)

2.87

9.77

U.S. BANCORP (USB)

2.67

9.83

MetLife Inc. (MET)

2.41

10.06

MORGAN STANLEY (MS)

2

5.5

Simon Property Group Inc. (SPG)

1.92

3.01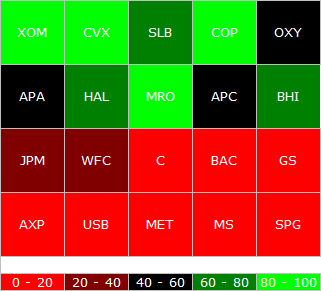 Thermo-gram: Energy and Financials
Appendix: Please see the "Between Fundamental and Short Term Returns" section in our methodology article (linked above).