When the market tanks, it's time to look at some of the smaller companies that still have upward momentum. According to Barchart, Raptor Pharmaceuticals (NASDAQ:RPTP), still hit 12 new highs last month in spite of a falling market (click to enlarge image):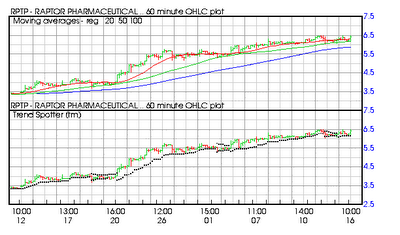 Raptor Pharmaceutical Corp. (RPTP) is dedicated to speeding the delivery of new treatment options to patients by working to improve existing therapeutics through the application of highly specialized drug targeting platforms and formulation expertise. Raptor focuses on under served patient populations where it can have the greatest potential impact. Raptor currently has product candidates in clinical development designed to treat nephropathic cystinosis, non-alcoholic steatohepatitis (`NASH`), Huntington's Disease (`HD`), aldehyde dehydrogenase (`ALDH2`) deficiency, and a non-opioid solution designed to treat chronic pain and potentially thrombotic disorder. The company's preclinical programs are based upon bioengineered novel drug candidates and drug-targeting platforms derived from the human receptor-associated protein (`RAP`) and related proteins that are designed to target cancer, neurodegenerative disorders and infectious diseases.
Factors to Consider
Barchart technical indicators:
88% Barchart technical buy signal
Trend Spotter buy signal
Above its 20, 50 and 100 day moving averages
12 new highs and up 62.24% in the last month
Relative Strength Index 74.10%
Trades around 6.52 with a 50 day moving average of 4.31
Fundamental factors:
Although small and not widely followed Wall Street brokerage analysts have released 4 stong buy and a buy recommendation on this pharma
They project earnings will increase by 24.70% this year and another 32.80% next year
General investor sentiment:
As measured on Motley Fool 86% of the individual investors think this one will beat the market
CAPS members vote 24 to 3 that this will be a winner
The more experienced All Stars agree 7 to 2
Summary
Raptor Pharmaceuticals (RPTP) is a niche player and hopes that the under served illnesses will allow them to avoid competition. I'm not sure if this strategy will work long range, but right now analysts predict they will make money and investors are watching this holding rise.
Disclosure: I have no positions in any stocks mentioned, and no plans to initiate any positions within the next 72 hours.