Upcoming Events - Full Phase 2 human growth hormone dose ranging study (hGH-CTP) results Q3 2011, initiation of Phase 3 in adults (2012), and Phase 2 in children (Q3-Q4 2011).
Prolor Biotech (NYSEMKT:PBTH) – based in Nes-Ziona, Israel, engages in the development and commercialization of bio-better proteins and peptides. Utilizing their proprietary CTP enhanced recombinant proteins, the company aims to leverage its technology platform to provide new, enhanced versions of current recombinant proteins in a safe, efficacious, and reliable manner. By utilizing this strategy, Prolor hopes to achieve less expensive and faster clinical trials since endpoints and study protocols will be the same as those used for existing therapies. Additionally, Prolor believes its strategy of targeting therapeutic proteins already approved by the FDA, with proven safety and efficacy, allows them to lower the risk profile of their proprietary development portfolio compared to de novo therapeutic protein development. The lead candidate, long-lasting human growth hormone, is currently in Phase 2 trials for hGH deficient adults.
Interim Phase 2 Data - Recently, Prolor released interim data on their ongoing Phase 2 trial. The positive interim data from 34 patients follows PROLOR's announcement in February that hGH-CTP demonstrated a good safety profile, as confirmed in a review of interim data by the independent Data and Safety Monitoring Board. Still not complete, the study will enroll up to approximately 65 patients total.
Designed as an open label, switchover trial in responding adult patients (i.e. normal IGF-1 levels, the clinically accepted biomarker for hGH levels) currently on daily injections of hGH, patients were placed into one of 4 dosing cohorts. Receiving either 30%, 45%, or 100% of the cumulative weekly total of hGH, patients were injected once weekly for a month and their IGF-1 levels monitored. A fourth experimental cohort was given a 100% cumulative dose every other week. The goal of the study is to determine the dose ranges that provide hGH deficient adults with IGF-1 levels within the normal range (+/- 2 standard deviations, SD).
The preliminary data (30% and 45% cohorts) indicate that Prolor's hGH-CTP has a half-life approximately 10 fold longer than commercial hGH, providing the ability to replace daily injections with weekly, at a minimum. Delving more deeply into the numbers, at the 45% dosing range, patients' IGF-1 levels were within +/- 2 SD, the range endocrinologists look for, 100% of the time over the 7 days. Furthermore, IGF-1 levels stayed within a tighter range, +/- 1.5 SD 93% of the time. Based on these results alone, it is likely that Prolor could use this dose to initiate a larger, Phase 3 trial. In the 30% cumulative dosing arm, the results were quite informative and positive. While staying in the range of +/- 2 SD 64% of the time, and the narrower +/- 1 SD 43% of the time, the IGF-1 levels never dipped below – 2.5 SD. This provides effective information, as some endocrinologists prefer lower levels. Importantly, no spike of IGF-1 was observed at the start of the week in either cohort. As with the Phase 1 trial, safety and tolerability remained excellent with no antibodies formed.
Prolor is currently preparing for additional trials for its long-lasting hGH-CTP in both pediatric indications and adult indications. Later this year PBTH plans to initiate a 6 month trial in children in Europe, where the end point will be growth, as opposed to the previously used IGF-1 levels (additional details not released yet). While some investors may worry how relevant the biomarker IGF-1 is on the clinical outcome, it is a clinically validated biomarker and I believe this trial will also be successful, given the successful Phase 1 and 2 trials. In the first half of 2012, PBTH plans to initiate a larger, Phase 3 study in adults for hGH. I expect as the full trial results from the Phase 2 become available, additional details will be unveiled for these upcoming trials.
Pipeline: Recently, in addition to the interim Phase 2 data, Prolor announced favorable preclinical obesity data. While obesity is a forbidden word in biotech at the moment, this project is very promising and merits closer investigation. Injecting a long lasting version (not CTP, but a reversible pegylation technology, which is unproven) of the natural human appetite suppressant oxyntomodulin, Prolor aims to use this natural weight loss tool to help in the fight against obesity. Much of the preclinical and scientific publication data is promising (suppression of appetite without loss of energy levels), and a once weekly injection of a small amount of OXY-RPEG (reversible pegylation) would be reasonable.
Additionally, PBTH plans to initiate a Phase 2 trial for its factor 9 (F-IX-CTP), a long lasting version of the clotting factor needed in patients with hemophilia B. In preclinical models, mice treated with Prolor's long-lasting treatment lost half as much blood as the beneFIX (current marketed drug) treated mice did, and approximately 1/3rd as much as the untreated group. In second bleeding events the beneFIX treated mice bleeding persisted over 3x as long compared to the Factor IX - CTP. Furthermore, the Factor IX - CTP group experienced no spontaneous rebleeding events 12 hours post-second bleeding event, compared to 50% for the beneFIX group. Prolor intends to begin roughly a 70 patient Phase 2 trial sometime in 2012.
Risk Factors: While low-risk (relatively speaking) from a clinical success perspective, the risks around Prolor revolve primarily around the competitive landscape. There are multiple companies with hGH products currently on the market, including most of the large pharmaceutical players. In addition, clearly affirming the potential market size for the area, other firms have initiated programs in the long-lasting hGH space. While I believe Prolor is the current front-runner (they have obtained orphan drug designation in both adult and pediatric indications), major delays could prove fatal to PBTH. However, in the hemophilia B (factor 9) market, Biogen (NASDAQ:BIIB) appears to be the current front runner. While it is hard to ascertain the dosing regimen from Biogen's presentation, there is reason to believe Prolor's candidate is superior. However, Biogen has Orphan Drug Designation in the indication and is currently ahead in trials.
Also a comparison of Prolor's milestones from February and the recent investor presentations reveal slight delays in some of the progress of Prolor's programs.
Valuation and Financials: With cash and cash equivalents of $22 MM expected to last through 2012, PBTH doesn't need to access the capital markets or ink a partnership in the near future. Given the fragmented and crowded hGH market however, I would not be surprised if Prolor inks a marketing deal or a partnership with a larger hGH player sometime in early 2012. Currently, there are 54 MM shares outstanding and 60 MM fully diluted.
With the hGH market standing at approximately $3 BB and growing at 7% annually, market penetration in 2016 (2 years after approval, possibly) of $400 MM is reasonable. Additional assumptions of 20% profit margin, 90% royalty rate, 65% success rate, and 80 MM shares outstanding discounted back 20% to 2012 and multiplied by a P/E ratio of 25 (consistent with newly profitable biotech companies) yields a NPV of $7/share. It should be noted that this NPV calculation excludes all other clinical programs. While of course these assumptions are simply my conservative estimates, every investor should evaluate these assumptions and perform their own due diligence.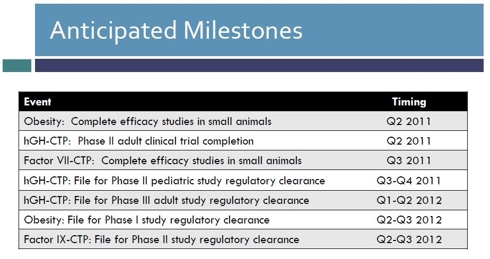 Click to enlarge
(Click to enlarge)
Conclusion and Future Directions: Overall, I believe Prolor's higher risk obesity program offers significant potential upside in addition to its (relatively) lower risk hemophilia and growth hormone biweekly Phase 2 cohort. More globally, I view the approach of greatly improving existing biologics by increasing their therapeutic life as an attractive niche and believe Prolor possesses a respectable competitive advantage in this area. Financially, Prolor's stock has suffered greatly in 2011 and remains well below levels a year ago, making Prolor an attractive contrarian value play as well. A conservative model for future earnings discounted back to the present excluding all clinical programs except hGH gives a high net present value ($7/share) for the stock. Maybe this is why large owner and director Dr. Frost keeps buying shares on weakness.
Disclosure: I am long PBTH.