Leggett & Platt, Incorporated (NYSE:LEG) is an international diversified manufacturer that conceives, designs, and produces a range of engineered components and products found in many homes, offices, retail stores and automobiles. The company's operations are organized into 19 business units, which are divided into 10 groups under four segments: Residential Furnishings, Commercial Fixturing & Components, Industrial Materials, and Specialized Products.
Sales, Earnings, and Free Cash Flow
| Years | Revenue (in millions) |
| --- | --- |
| 2006 | $4,267 |
| 2007 | $4,250 |
| 2008 | $4,076 |
| 2009 | $3,055 |
| 2010 | $3,359 |
Sales have been pretty dead over the last decade. In 2001, LEG had revenues of 4.1 billion, and after peaking in 2006, sales have slumped. Growth rates for both 5 and 10 year revenue are negative - only the 1 year period has shown growth, but after a disasterous 2009, where sales fell over 25%, there really was only one way to go, up.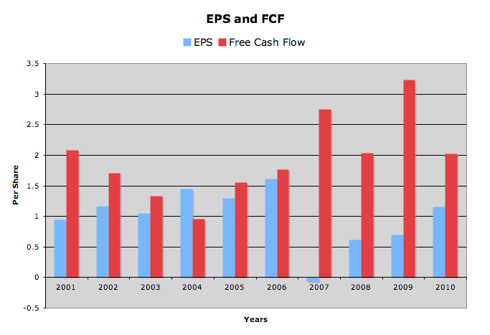 Earnings have been erratic, and much like sales, are basically where they were a decade ago. Over the most recent 10 year period, earnings have only grown by an average of 2.24% annually. LEG earned $0.94 a share in 2001, and that has only grown to $1.06 a share in 2010.
Free cash flow has seen much the same fate. Though the graph looks impressive during the recession, when free cash flow grew to a high of $3.23 a share, looking back ten years, its growth is basically flat. LEG produced $2.08 a share in fcf in 2001 - in 2010, it was $2.02.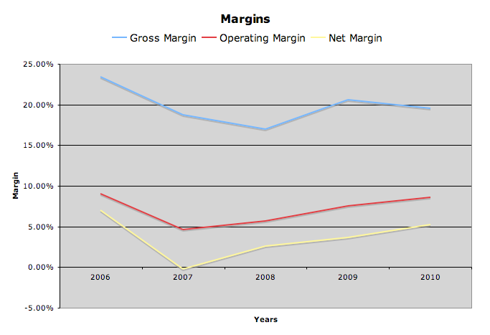 Margins took a steep dive in 2007, though they seem to be recovering well, as shown by the nice uptrend in the graph. I generally prefer to see stable margins over time, even if revenues fall.
Dividends
If there is one thing Legget and Platt has going for it, it is very shareholder friendly management. The company makes a point of declaring its intention of returning more cash to shareholders as often as possible, and it's refreshing to see a company so committed to its owners.
LEG has paid an increasing dividend for 40 consecutive years, putting it near the top end of dividend growth histories. The company claims compounded annual growth over that time of approx. 14% - I have not done the calculations myself, but that's very impressive, and I'll take the company's word for it.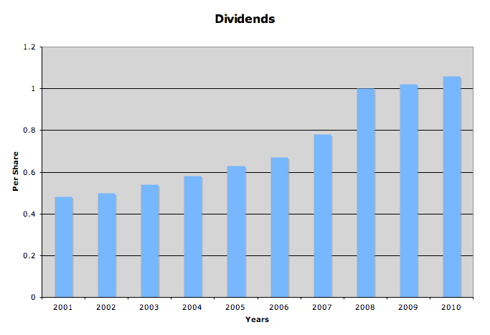 Looking at more current numbers, the 10 year compounded growth of the dividend has been 9.11%, much higher than the growth in eps. Over a 5 year period the growth is even faster, averaging 12.2%. The most recent increase was a 3.8% raise to the quarterly payout, from $0.26 to $0.27. I expect an increase to come in the third quarter of this year to $0.28, for a full year 2011 dividend of $1.10.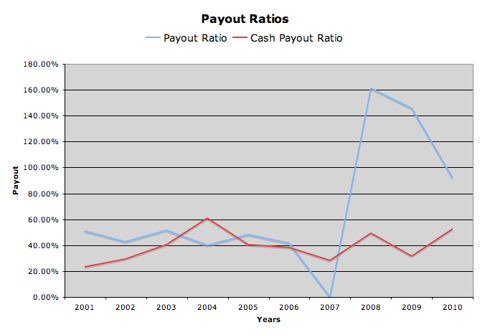 The payout ratios show a very different story. Looking at an earnings based payout ratio, we see that 3 times in the past 5 years the dividend was greater than earnings (2007's payout ratio was omitted from the graph for visual purposes, but it was 1300%). This throws up a red flag.
However, the cash based ratio has been much steadier, and stayed at a much more comfortable sub-60%. So even though earnings have lagged for LEG, the company's ability to throw off cash has more than covered the dividend, and should be able to support future growth, at least for the next few years.
Balance Sheet
Financially, LEG is very sound. The company has a debt-to-total-capital ratio of 33.4%, and this has been pretty steady for the past decade. The interest coverage ratio is 8.7, and I would not expect LEG to have any issues paying back debt in the near future. In fact, over the past 5 years total debt has decreased from over $1 billion to $764 million, indicating LEG has been cleaning up its already good finances.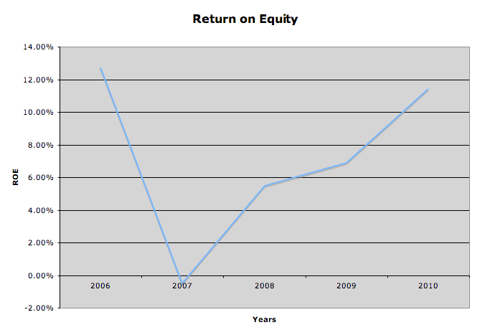 Return on Equity has been volatile, and not nearly as steady as one would hope. Even in the better years, a ROE of under 15% is nothing to write home about - but it's still better than the sub 10% that investors received during the recession.
Stock Price Valuations
Current price - $23.46
5 year low p/e - 17.3
Current p/e (ttm) - 20.4
Current p/e (forward) - 16.8
5 year high yield - 6.4%
Current yield - 4.7%
*I excluded 2007 from the earnings calculations since eps was negative. I also based the current yield on the expected 2011 rate of $1.10.
Conclusion
Overall, I don't see anything enticing about LEG. Though the company is very shareholder friendly, the business is not growing. A long history of dividend increases and massive share buybacks are no substitute for actual organic growth and an economic moat. Even the yield, high for a company that is not big pharma, tobacco, or an MLP/REIT, just isn't enough to get me excited. The stock price has been stagnant for a decade, and though in a cyclical business, I don't see any reason for big price movements in the near future. I'll pass for now.
Disclosure: I have no positions in any stocks mentioned, and no plans to initiate any positions within the next 72 hours.