Apple (NASDAQ:AAPL) is a unique company due its size ($300B), earnings growth rate (95%) and volatility (1.4β). This presents an exceptional opportunity for investors to capitalize on both its long-term capital gain prospects and short-term option premiums. I have recommended option strategies on Apple since 2010 with tremendous results. For reference, please view the first and other articles in the series to fully understand the strategy and its strong potential returns.
Click to enlarge


Click to enlarge
A brief recap of recent Apple news (down $6.94 (-2.1%)):
Apple recently fell below a $300B market capitalization for the first time in 2011, thus erasing all appreciation for the year. In this year Apple has announced the iPad 2, robust quarterly earnings, iOS 5, and numerous Mac upgrades. Despite all of these positives, the stock is virtually unchanged on the year. In addition, Apple has become one of the largest mobile phone companies and continues to have the unrivaled premier tablet. Competitors including Research in Motion (RIMM), Microsoft (NASDAQ:MSFT), Nokia (NYSE:NOK) and Samsung (OTC:SSNLF) are left scratching their heads trying to compete. Simply reviewing RIMM's competitive position should show how disruptive Apple is. I understand that the economy is still struggling to recover and the entire market is fighting an uphill battle, but Apple is a best of breed of company that should not be at a year low.
Below I present three possible scenarios and the potential returns for the June 24 weekly options (Source: TD Ameritrade). The first scenario represents a negative outlook for Apple while the final two scenarios are more realistic in my opinion. As a general rule, selling calls with higher strike prices has greater potential return but additional risk of loss due to the lower (or lack of) downside protection. For more information on the fundamentals of covered calls, consult Investopedia.
Click to enlarge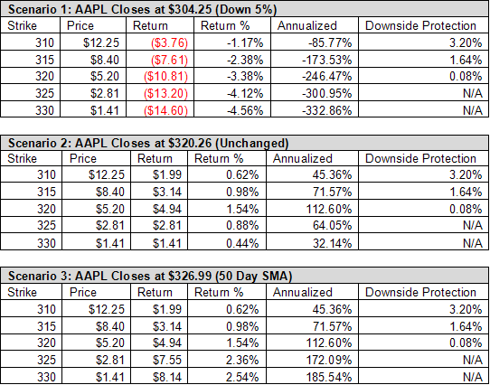 Click to enlarge
Additionally, if you would like even more information, I have prepared a sensitivity analysis for absolute return and percent returns, respectively. After studying the information above, these two charts make it easy to pick a strike price based on where you believe Apple will close on Friday.
Click to enlarge

Click to enlarge
With this information, executing a short straddle on AAPL June 24 (Weekly) 320s while long the stock is the optimal risk-return strategy. If Apple closes above $320 the return is $10.00. If you are uncomfortable using a short straddle, I suggest a buy-write on the 320s. An alternative related strategy is to sell only the out-of-the-money puts and collect the premium without having to purchase the stock outright. Selling either covered calls or puts is simply isolating the legs of the short straddle to assume less risk. Note that if the stock declines to the strike price, you are obligated to buy the stock (or closeout the position).
Disclosure: Author holds a long position in AAPL.