We looked at five major chip manufacturers to see, based on their growth prospects, valuation and fundamentals, which might make attractive investments. We looked at Applied Materials, Inc. (NASDAQ:AMAT), Intel Corporation (NASDAQ:INTC), STMicroelectronics NV (NYSE:STM), Taiwan Semiconductor Manufacturing Co., LTD (NYSE:TSM) and Texas Instruments, Inc. (NYSE:TXN).

We first turned our attention to each company's intrinsic, or fair, value. Our analysis gave us the following, using analysts' projected five year growth rates:
Click to enlarge



It appears that STM is selling at the biggest discount to intrinsic value, given its projected growth rate of 18%/year. INTC is the only other company that is selling at a discount to intrinsic value of 25% or greater.

For reference, each company's past five-year annual growth rate in FCF/Share and EPS is shown below:
Click to enlarge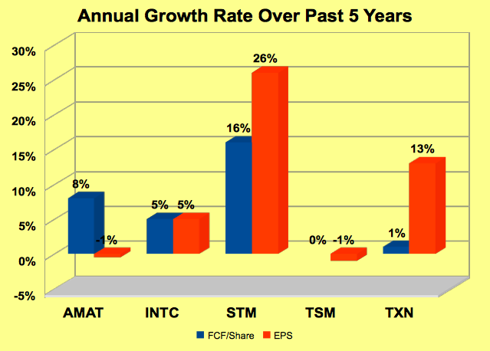 It is interesting to note that other than STM, it appears that most analysts believe the companies will grow much faster over the next five years than they did over the past five.

Our valuation ratio analysis gives the following:
Click to enlarge



Looking at EV/EBITDA, all stocks except for TSM are trading near or below our target of 7. STM is also trading for close to book value, making it stand out in the valuation ratio analysis. When we factor future growth into the picture, only STM and INTC have PEG ratios below 1.0.

Switching our focus to return on investments, we get the following analysis:
Click to enlarge



INTC, TSM and TXN all have ROIC above our target of 15%. INTC and TXN's ROIC has declined over the past 3-4 years, but both seem to be rebounding since last year.
Click to enlarge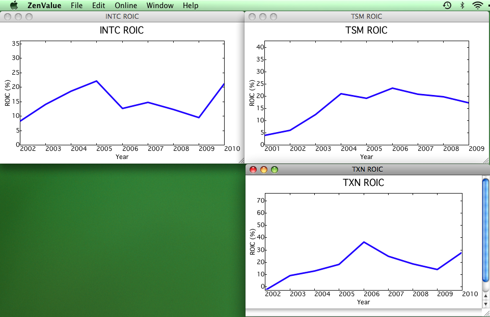 For the other two companies, STM is notable in that the management has not been able to bring the ROIC into double digits for the last eight years.
Click to enlarge



Next we look at the debt and liquidity of the five companies. Our analysis gives us the following:
Click to enlarge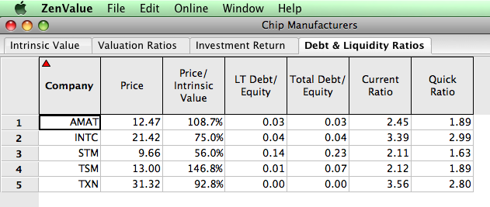 All companies have debt to equities well below our threshold of 50% and are showing sufficient liquidity to cover their current obligations. We look for a current ratio over 1.5 and a quick ratio over 1.0.

Finally we look at the dividends. We focus not only on the dividend rate, but also the payout ratio to determine how sustainable the dividend is. Other than TXN, all companies have a dividend yield of 2% or greater. TSM has the highest payout ratio, 67%, which might give concerns about the dividend's sustainability.
Click to enlarge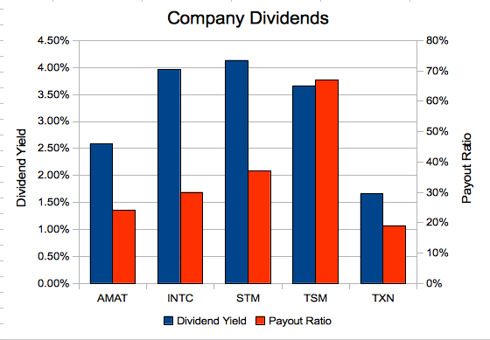 We have compared these stocks based on their valuation (discount to intrinsic value and traditional valuation ratios), their return on investment, their debt and liquidity, and finally their dividend yield. In our opinion, INTC stands out as the stock combining the best of these characteristics, having a low valuation (25% discount to intrinsic value and PEG less that 1.0), a high return on investment (ROIC >15%), and a sustainable, significant dividend (3.96%).
Disclosure: I have no positions in any stocks mentioned, and no plans to initiate any positions within the next 72 hours.