In my book, published two years ago, I went through the ups and down of the "Anatomy of the Worst Decade in Stock Investing – 1998-2008". To sum up, starting in 1995, the S&P 500 went up 300% in five and a half years, down 50% in three, up 100% in five, and down 50% in one and a half. Since then, we have merely shifted the financial crisis from the private to the public sector, without solving any real long term problem. So the question is, is this correction the beginning of another roller coaster ride? As Joseph Shaefer of Stanford Wealth Management adequately penned in his post of June 17, this is the hardest "soft patch" in a long time.
We just went up 100% since the March 2009 lows. From the 1932 low to the 1937 top, the Dow Jones went up 400%. The situation is comparable – New Deal then, New Deal now. Plus, the Fed is providing liquidity, while they did not then. So there is a case to be made for some more substantial gains over the next 3 years. This would tie into the political cycle. Democrats should lose control of Congress in 2012, giving Republicans a chance to reverse some of the deficit imbalances by 2014.
In this scenario, provided all of my assumptions are correct, we can easily devise a strategy.
However, there is the short term. I was looking briefly at Barclays (NYSE:BCS) because of Europe. Since 5/2/11, BCS is down 11%. This compares to Goldman (NYSE:GS) and JPMorgan (NYSE:JPM). But Bank of America (NYSE:BAC) is down 14%, Caterpillar (NYSE:CAT) down 15% and United Rentals (NYSE:URI) down 18%. Now, to be sure, the S&P is "only" down 6%, so some stocks have done better. Utilities, for example. In addition to paying good dividends, their business is not usually affected by the current environment. NextEra (NYSE:NEE) is down 1.6%; Portland General (NYSE:POR) is up 0.6% - but beware, Pacific Gas & Electric and South Jersey Industries (NYSE:SJI) are both down 10%. And while NetSuite (NYSE:N) is up 4%, Cisco (NASDAQ:CSCO) is down 16%. This is just a random sample. The reality is a hard "soft patch", indeed.
So, my question, short term, is: did we start another wave down, of the kind that can last through the 2012 campaign, or is this a normal correction which will end within a few weeks? Until I figure it out, we know what we know and the outlook is not pretty: 1) European sovereign debt and the incidence of another potential systemic write-down – the jury is due today and while the IMF, Sarkozy and Merkel caved in on June 16, Friday's 0.3% S&P rally was anemic, with the NYSE advance/decline ratio going from 5.5 at the open to 1.7 at the close, and with the Composite down 0.3%; 2) slowdown in the US, probably in China, and certainly in Japan; we'll see what impact this has on Q2 earnings, and guidance – reporting season starts with Alcoa (NYSE:AA), July 11; I am not hopeful; 3) debt ceiling – drop dead date August 2nd; I expect a deal before that, as well as on the deficit; nothing major, but a lift to the dollar, not necessarily a positive; 4) derivatives debate – on the backburner, no longer a short term issue but still a huge one; 5) technical market conditions with targets on the S&P anywhere from 1250 to 1016 – we are a 1272; and 6) on June 22, the CBO will print its new outlook for the Deficit, 10 years out; if still at $5 to $7 trillion, with $35 trillion in tax receipts, watch the impact on rates as QE2 ends.
On the positive side: 1) the end of QE2 does not mean a withdrawal of liquidity by the Fed; this does not explain the current correction in stocks, something else is at work here; 2) oil is likely to come down, for three reasons – trading curbs, renewed slowdown, Gaddafi not an "if" but a "when"; 3) fear is starting to show – nobody is venturing an upside target to the market, but beware, the put/call ratio is only 0.4
My conclusion:
a. Technically: I don't see 1250 as a meaningful support. The first Fibonacci retracement at 25% from the July 2010 lows is at 1277; the next one at 38.2% is at 1231. The most likely, should this turn bad, is the 50% retracement at 1190. This also happens to be the 25% retracement from the major March 2009 low. If the driver is Europe, this was obvious on Wednesday: the market reversed Tuesday's gain of 20 odd points, while the Euro lost 3 cents against the dollar. On Friday, it only regained 10 points of course, while the Euro regained 2 cents. On the upside, the pivot points are 1286 and 1302 but, in the absence of substantial improvement both in Europe and in Washington, I am not willing to consider them until the "hard patch" broadly recover. This was one of the conclusions of my book. For once, politics drive the market.
b. Fundamentally: I have no clue as to earnings, because of the sudden deterioration in data starting in late May. I think technology should be weak, except for cloud computing. Retail, the discounters, maybe. Construction – we need to wait some more, my data points are URI and TOL. Banks, we've talked about. Utilities – OK, provided their dividends are not at risk, as in 2009. Sure, multiples look cheap, given when the 10-year rate is. This, unfortunately, is not necessarily a good sign. Sometimes, cheap means just that.
c. Psychologically: There is some fear, but not the sell-off type. The put-call ratio is still 0.4. We need a few more of last week's bull traps to really get to the diaper indicator level.
d. What do I do: When the markets behave "normally", that is within a reasonable trading range of say 5%, I feel I can tell the difference between a "good" and a "bad" stock – at least I try. When the markets go crazy like they have for the past six weeks, a very rare occurrence in June, there is no point in trying. Good stocks will have the same erratic behavior than bad ones. What I do in this case is stay put. I keep the stocks I truly like and sell the momentum ones. I then hedge my exposure – not easy because my long betas are greater than my short betas, plus it is tiring, intellectually.
e. Net net: I am 50% long, 40% short, with a tactically longer position through the week-end. I own stocks either because the risk of not owning them is greater than their potential downside, or because my horizon is long enough that I am willing to ignore their volatility. They are:
1) Federal Agricultural Mortgage – AGM ($20). The Fannie (OTCQB:FNMA) to the farmers. They had a small exposure to ethanol related business, which I hate, but last I looked it was minimal. Here, I feel comfortable with the collateral of the assets – farmland. Very low multiple of 5, which may imply some hidden risk, and extremely small float and market cap ($177Mn) – which means it does not have an institutional following, good or bad.
2) Active Power – ACPW ($2.4). Fly wheel manufacturer, i.e. large scale Uninterrupted Power Supply, with Caterpillar as marketing partner. $200 Mn market cap, $70 Mn in sales, growing above 10%. Still burning about $1.5 Mn per quarter, with $13.5 Mn in cash. One of those that could double if sales pick up – with cloud computing as a downstream driver. Volatility at 20% or so.
3) Sallie Mae – SLM ($15.9). Student loans. Net interest margin of 4.11%, delinquencies down to 5.1%, charge-off down to 3.9%, 8 times EPS estimates of $1.74, 2.5% dividend just reinstituted, buyback of $300Mn, 10% growth rate. I like their business as long as rates don't go up.
4) Maxwell Technologies – MXWL ($14.6). Manufacturer of ultracapacitors now being used in high-end cars to supplement battery power. Sales ramping up fast, now $140Mn. Just announced start-up module for diesel truck engines in cold climates. Last quarter was the first break-even, and they need to raise capital for working capital. Always a little expensive at 2.8 times sales, but so event driven that I need the exposure. Volatile though – down 24% since May.
5) The above, except for SLM I suppose, are "sporty". My more "serious" list is: DD ($49.5), TOL ($20), JOE ($19.2), JCI ($37.1), IR ($43.6), HON ($55.9), TYC ($46.5), ADSK ($35.7), URI ($23.3), N ($34.2), TMO ($62.2), NLC ($26.5), TJX ($50.1), GTI ($18.5), NEE ($56.7), IMAX ($29.7), VECO ($50.3). Some I own, some others I am watching.
6) BONUS for those who read the post to the end: my favorite chart, which we can talk about if you wish:
click to enlarge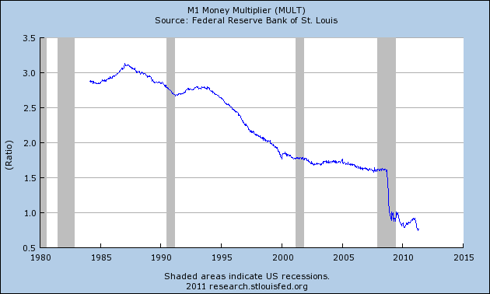 Disclosure: I am long AGM, ACPW, SLM, MXWL, JCI, IMAX, URI, VECO, JOE, TOL.
Additional disclosure: I may initiate a position in all the other stocks mentionned over the next 72 hours.