Hot Topic (NASDAQ:HOTT) is a mall rat retailer of teen trinketry, fads and stuff. Can you think of a more despicable area of the market right now? I can't. You would have to assume that most of these teens have middle class parents who are funding these purchases, or the teens are paying out of pocket from their teen jobs. When you combine the inherent fickle nature of this product line with our economic mess, you have a repulsive outlook for this stock. This is considered neither low end or high end retail, both of which which are doing well, but the middle, where retailers are swimming against the tide.
Even before the tide was turned against middle retail, HOTT embarked on a downhill slide beginning in 2004 with EPS results spiraling down into the red where they currently reside. All this has made the stock an object of short sellers. The float is currently 7.5% shorted.
But before you jump on the short bandwagon, read on. Earnings have suffered, but cash flow has not. It has held steady over the last five years, even through the recession. In fact, they pay around a 4% dividend making them one of the highest yielding apparel retailers out there. And as H.J. Honeycutt pointed out in his article here on Seeking Alpha back in May '09, "Why Hot Topic Is a Dangerous Short," much of what these stores sell could be considered low end clothing. The printed shirts and whatnot have price points that put them in line with necessity clothing spending, but with flare and coolness.
From a purely technical view, it looks most interesting, to me at least. One of the things I look for is washed out sellers. This is where a stock's sellers have all become frustrated and left, and this is evidenced by a gradual reduction of trading volume over the years. If a stock has been left in very strong hands, it will go through the sharp market events like October '08 with a very muted reaction. This is certainly the case with HOTT now:
Click to enlarge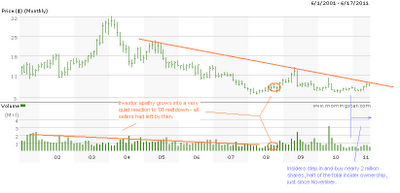 Here we see the stock left for dead, and it was dead as a door nail across the '08 event. Since then, it has started to attract some buying attention, but has stayed in the downtrend. The price action has become quiet, and it is not following the market moves very well. This is all good technical action.
But perhaps the best evidence for a future climb is the insider buying that has set in on this stock. It has been massive and concentrated. Just since last November, insiders have grabbed up nearly 2 million shares per Yahoo Finance's transaction listings, something like $10 million worth. That's roughly half of the total insider ownership scooped up in just the last six months. That's very unusual, heavy-handed buying. What do they know?
Part of what the insiders may be emboldened by is the new leadership of Lisa Harper, who was announced as the new CEO March 22.
Click to enlarge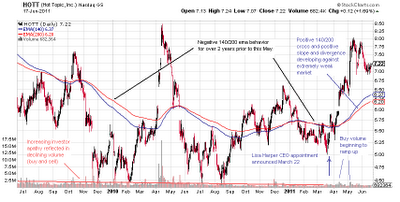 The company's leadership is being redone, and it got Lisa Harper from Gymboree. And, as the above chart shows, her announced CEO position at Hot Topic caused an immediate technical improvement in the stock action, even in the wretched market we've had lately. She led Gymboree, another kids' clothing retailer, from '02 to '06, and the stock price climbed from the $30s to the eventual $65 buyout price paid back in October by Bain Capital, a private firm.
The market, and apparently the insiders, think the odds are good that the shakeup will move HOTT out of its downtrend. The stock hasn't really left the station yet, still trading near the seller washout levels with no big volume building yet. It sports some good valuation numbers - price-to-cash flow of 7.7 and price-to-sales of 0.5 according to Morningstar. But, because of the bad EPS, you have to consider this a speculation - dangerous to short and dangerous to buy. I would also wait for the market's downturn to clearly put in a bottom, which may knock HOTT around a little. But for the dangerous speculation portion of your portfolio, this stock may be of some interest.
Disclosure: I have no positions in any stocks mentioned, but may initiate a long position in HOTT over the next 72 hours.