Republic Airways' (RJET) primary operating subsidiary, Frontier Airlines, has long used the tagline: "A whole different animal." But, wounded by high oil prices and a brutal competitive marketplace, Frontier has become an endangered species. Is it heading for bankruptcy yet again?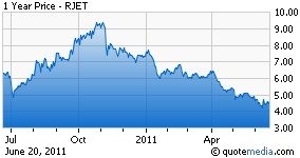 Frontier has had a storied but troubled history. The first incarnation of Frontier, founded in 1950, started to fail in the early 1980s and entered bankruptcy in 1986. Remarkably, much of the same management team returned and formed a new Frontier Airlines in 1994 that would again be a Denver-based airline.
While Denver's old Stapleton Airport had not had enough passenger flow to support comfortably three hubbed airlines [United (NYSE:UAL), Continental, and Frontier], the newly relaunched Frontier of 1994 re-entered a more promising Denver market, as Continental pulled out of Denver in 1993. In addition, Denver also was in the process of opening the humongous new Denver International Airport that would support greater capacity (but also saddle Frontier with higher operational costs; DIA is one of the most costly airports to operate from in the US.)
With the death of Denver-based Western Pacific Airlines in 1998, it appeared that Frontier had secured a comfortable spot as one of two carriers in the large Denver market. Frontier ordered an impressive new fleet of A318 and A319 planes and the future appeared bright. But things turned dark in the middle of the past decade with the return of a third carrier to the Denver market. Southwest (NYSE:LUV) has set up a robust operation in Denver that now serves more than 40 cities directly. Frontier was unable to withstand increased competitive pressures and high fuel prices, and it entered bankruptcy in 2008.
Southwest attempted to purchase Frontier in 2009, but surprisingly, Republic Airways emerged the winner of the bidding war. The combined Republic/Frontier company retained Frontier's brand and attempted to move forward. But the merged company has struggled. Republic's hub, Milwaukee, has been faced with heavy competition and has become a consistent money-loser. Denver is still the stronger of the company's hubs, however, Southwest's growth has put a major dent in Frontier's operations.
In fact, in April, Southwest surpassed Frontier's market share in Denver. Frontier has returned to being in the uncomfortable position of being the weakest carrier in a three-airline market. With United (UAL) still dominating Denver and Southwest aggressively adding capacity, it is unclear whether there are enough scraps left for Frontier to survive off. The situation has gotten so rough that, according to the Denver Post, Denver International Airport is preparing for the potential departure of one of the airport's hubbed airlines. By process of elimination, we can conclude this refers to Frontier.
Frontier's corporate parent, Republic, had been profitable at times over the past few quarters, but recently, the company's operations have firmly moved into the red. CEO Bryan Bedford has made fairly pessimistic comments about the state of operations throughout this year and has emphasized the need to cut more than $100 million of expenses to remain a viable enterprise. While Bedford's rhetoric has been quite alarming, his urgency appears to bringing results. The most obvious fruit was last week's agreement with pilots for concessions. Republic's filing stated that:
On June 10, 2011, Frontier reached a tentative agreement with FAPA (Frontier Airline Pilot's Association) pursuant to which FAPA agreed in principle to, among other things, (i) the postponement of certain pay increases, (ii) reduced Company contributions to the Pilots' 401(k) plan, (iii) reduced accruals for vacation days and sick days and (iv) an extension of the collective bargaining agreement by two years (collectively, the "Investment"). The agreement is subject to ratification by the Pilots and final board approval by the Company. The vote on ratification is expected to conclude by June 17, 2011.

In exchange for the Investment, FAPA will receive an equity stake in Frontier. The Company has agreed to certain other conditions which must be met during the term to continue the Investment by FAPA. Those conditions include aircraft growth at Frontier, a liquidity raise of at least $70 million by the Company through one or more debt issuances or other financings, material execution of Frontier's restructuring program by the end of 2011, and a good faith effort by the Company to attract equity investment(s) in Frontier that would reduce the Company's ownership of Frontier to a minority interest by December 31, 2014. In addition, the Company has agreed to establish a profit sharing program for Frontier employees.
There's a lot of interesting information there. Republic has agreed to inject substantially more liquidity into Frontier, and give Frontier more aircraft. Republic also intends to attract enough equity investment into Frontier that Republic would no longer be the majority owner of Frontier by 2014.
While it's hard to tell how all this will play out, it seems that Republic is tentatively putting Frontier up for sale again. By giving Frontier more liquidity and cutting expenses, the threat of bankruptcy is off the table and so there is time to prepare Frontier for a potential sale. And if Republic is looking to become a minority-owner, one has to think it is open to selling the subsidiary entirely. But is Frontier worth much (or anything at all) to potential buyers?
The answer rests in two factors -- the price of oil, and Frontier's ability to maintain a loyal customer base in Denver. Oil at present levels is a significant problem for Frontier, but it shouldn't be enough to bankrupt the company. Republic's 2010 quarter that ended Sept. 30 produced $21.3 million (58 cents a share) in net income despite oil being in the $80-range. With crude presently at $93, Republic should be able to survive. But if oil returns to the triple-digits, it is hard to see the company being able to survive.
Republic's bigger problem is not oil but instead competition. The company's smaller Milwaukee hub has been under heavy attack from Southwest's AirTran subsidiary as well and is now perennially losing money. Republic's ill-fated decision to embrace fuel-guzzling E170 and E190 jets has left it at a competitive disadvantage with AirTran in Milwaukee.
Frontier's future still depends on Denver. Frontier has tried to position itself as the middle option between Southwest's barebones service and United's legacy model. Frontier's low fare/pretty good service model has attempted to carve out a niche in between its two competitors. The question remains, though, whether there is enough demand to support a middle player. Price-conscious customers will typically fly Southwest while those seeking the perks of a legacy carrier will go with United. Oddly enough, Frontier has still not been able to establish partnerships with other airlines that would increase the attractiveness of the company's frequent flier program. Though Denver has hosted three airlines numerous times, one of them has always ended up leaving. While Denver has been rapidly growing in recent years, it is still unclear whether the city is dynamic enough to support three airlines.
All that said, Republic Airways' stock already seems to be pricing in a high probability of complete business failure. Republic shares are trading near their all-time low and have fallen 50% since their most-recent peak last November. In that same time, the Guggenheim Airline ETF (NYSEARCA:FAA) has fallen less than 20%. The recent cost-cutting agreement with Frontier's pilots ensures that the airline will have liquidity to survive for a while longer. With oil prices starting to fall again, and Frontier's cost structure improving, it is still possible that the company will be able to reverse its fortunes. While Republic Airways' future is deeply uncertain, the stock seems to represent a fairly cheap call option at this point. The upside, if Frontier survives and/or is sold, appears to be greater than the downside.
Disclosure: I have no positions in any stocks mentioned, and no plans to initiate any positions within the next 72 hours.