The ongoing debt crisis in Europe has brought down shares of National Bank of Greece (NBG) for the past few months. From protests in Athens over austerity measures to downgrades on Greece's credit ratings by Standard & Poor's and Moody's, shares of National Bank of Greece are down more than 30% over the past three months.
So, does National Bank of Greece still remain a buy?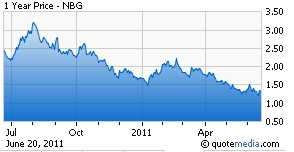 First, some basics. National Bank of Greece, founded in 1841, is the largest commercial bank in Greece with a market capitalization of $6.41 billion. The bank has operations in Greece, Turkey and Southeastern Europe. The 52 week high for the stock is $3.23 and the 52 week low that was set last Thursday is $1.17. Before 2008, the stock was trading north of $10/share and in 2009 it climbed to $8/share.
Let's take a look at some of the pros and cons of NBG from their 2011 Q1 earnings release (NBG Group Q1.11 Results):
Pros:
- P/E of 8.5 and a forward P/E of 7 (via Google Finance)
- Finansbank (Turkish segment) had net profits of 151 million euros, up 28% yoy
- Total net profit is up 157 million euros
- Operating expenses down 1% yoy and 9% qoq
- ECB funding is down 3.2 billion euros since beginning of 2011 (and still decreasing)
- Provisions at 381 million euros, up 21% yoy
- Core Tier 1 ratio at 11.8%
Cons:
- Bank revenue in Greece down 3% yoy
- Uncertainty about the debt crisis
- Slow/stagnant/decreasing growth within Greece
- Potential possibility for a haircut in event of restructuring
- Lending sluggish and profitability down (-42% yoy) in SE Europe segment
- Deposits down 4% yoy
Conclusion:
National Bank of Greece appears to face more rough times ahead. Until the debt crisis is handled and a resolution happens, the stock will continue to face bumpy times ahead. If Greece were to restructure its debt, shares of National Bank of Greece could fall further as investors sell off their positions in the stock.
National Bank of Greece appears to be undervalued. The stock also boasts a forward P/E of 7 and P/E of 8.5, significantly lower than many of its peers in the banking sector. It has produced profits in its Turkish segment, within Greece, and in South East Europe operations.
Finansbank continues to grow at a robust pace and it remains a valuable asset to hold in the event of a restructuring. Finansbank's profit was up 28% yoy and the Turkish segment represented 26% of core banking revenues. When Finansbank and SE Europe operations are combined, they make up 36% of core banking revenues. The debt crisis may continue to hamper operations in Greece, yet growing operations abroad will continue to fortify their balance sheet.
The bank has also decreased its borrowing from the ECB the past few months and it continues to fortify its balance sheet. Core Tier 1 ratio is 11.8%, higher than Banco Santander's (STD) 10.9%, Banco Bilbao's (NYSE:BBVA) 9.8%, and Bank of Ireland's (NYSE:IRE) 9.7%.
Probably the most surprising fact is that the bank has remained profitable during this debt crisis. The bank has lowered operating costs in all of its banking sectors to counteract sluggish growth within Greece. Speculation also still persists that the bank is still looking to take over Greek Alpha Bank (OTCPK:ALBKY), a move that undoubtedly would strengthen National Bank of Greece in the future.
Aside from restructuring or complete default, it appears that much of the pessimism and bearish sentiment is baked into the price already. Greece is continuously downgraded and the stock rarely moves down significantly on such news. Conversely, on even the slightest hint of good news, the stock makes large gains. Once a solution to the debt crisis emerges (and I can guarantee protesters in Athens will streamline that process), the stock looks poised for gains.
The stock is trading at all time lows and looks to be a valuable long term growth play. There are many different players that want the debt crisis to turn out for the best. From Obama stating default would be 'disastrous' to future sentiment towards the euro and further European integration, many have vested interests in the crisis being solved as quickly as possible.
To conclude, the bank has been around since 1841 and they have successfully endured World War One, the Nazis in World War Two and the Greek Civil War. I fully expect them to withstand a pragmatic (and often stubborn) Merkel, a German-led ECB and a sluggish Greek economy and come out stronger than ever before.